Now Available: The Operative's Dossier
Exalted, Mage: The Ascension, Realms of Pugmire, Sales, Trinity Continuum: Aberrant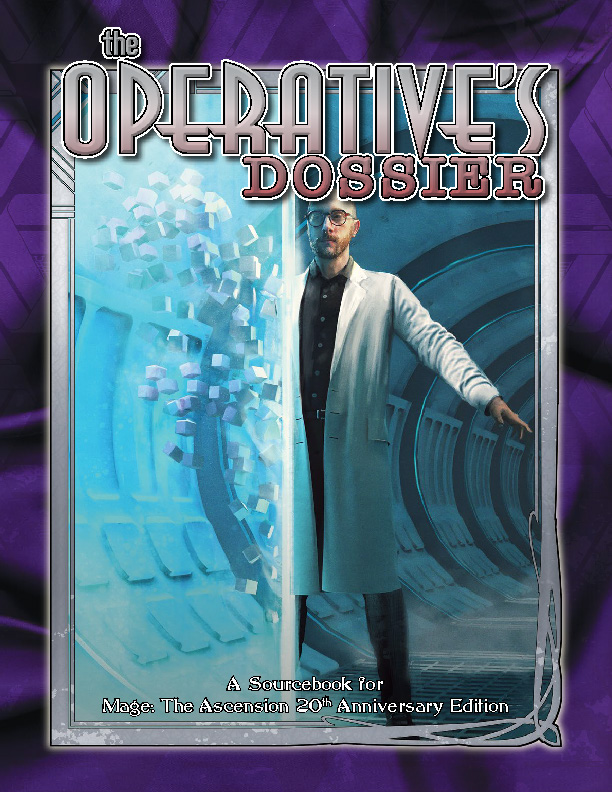 Now available in PDF and print: The Operative's Dossier for Mage: The Ascension 20th Anniversary Edition!
A New Mission for a New World
For five centuries the Ascension War has pitted the Enlightened against Reality Deviants. Bloodshed and horror from this conflict have nearly torn the world apart on a number of occasions. In the hopes of creating a safe environment and shepherding the Masses to Ascension, the Technocratic Union has used colonialism, conditioning, and violence to bring their vision of a unified Reality to fruition. At the dawn of the 21st Century it appeared as if victory was within the Union's grasp, but Control failed to consider one major factor in the War for Reality: The Masses.
Now as anti-science sentiment, climate change, misguided nationalism, and plague threaten the very fabric of Reality, the Union must swallow its pride and seek new alliances. Failure to meet this challenge ends with the Technocratic Union in a dominant role over a broken, dead world. The Technocracy has come to understand that humanity's destruction is imminent. The Union lacks the tools to save humankind on its own. Thus, new alliances must be formed.
The Operative's Dossier includes:
Digital Web 3.0: New rules for accessing the Digital Web in the 21st Century, including the introduction of Augmented Reality.
Mission Statements: A collection of story hooks that can be dropped into an existing Chronicle or serve as the basis for an all new Technocracy story.
The Technomancer's Toybox: A collection of Devices, Adjustments, and Procedures to aid the Agents of the Technocracy in saving Reality from imminent doom, as well as rules for building Constructs and incorporating Terranorming into your Mage 20th Anniversary Edition Chronicle.
Unlikely Allies: Guidelines for inter-faction play, incorporating mages of the Council of Nine, The Disparate Alliance, and the Unaligned in your Technocracy campaign.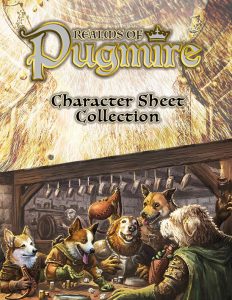 Also available: free Realms of Pugmire Character Sheet Collection!
"Be a good dog. Protect your home. Be loyal to those who are true. These are the words of the Code of Man."
— Sister Picassa Collie, Shepherd of the Church of Man
Contains interactive PDF character sheets for Pugmire, Monarchies of Mau, Pirates of Pugmire, and Squeaks in the Deep!
These interactive sheets can be filled out in most PDF readers directly — either fill them out and print the results for a professional-looking character sheet, or just print a blank sheet and fill it out with pencil. The choice is yours!
Other Recent Releases
Did you miss one of these recent releases?
Sales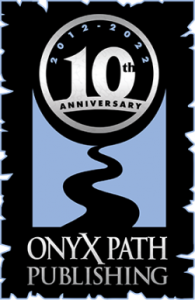 It's Onyx Path's 10th Anniversary! Every month in 2022, we'll be celebrating another one of our published game lines.
June is Crossroads Continent month! You can get the Peoples of the Crossroads Continent PDF at 90% off!
Indie Press Revolution has 50-75% off select Onyx Path products, and Studio 2 has select titles on sale too!
Stay tuned for more OPP10 sales the rest of this year!
Crowdfunding Update
Our crowdfunding campaign for a deluxe edition of Exalted 3rd Edition's Exigents: Out of the Ashes launched three weeks ago on Indiegogo! It funded to 100% in 40 minutes, and 200% only nine hours in! Exalted fans are amazing. We're currently at $127,145, or 363% of our original $35,000 goal, thanks to our 1342 backers.
We've hit the following stretch goals:
Exigents Companion: Miracles of the Divine Flame x2 (extra Charm content for our four playable Exigents), Chosen of Masks (a design seed for an Exigent upon which you can build your own Charm set), Bearers of the Spark (a list of gods who might serve as patrons to Exigents), Thousand Venoms Mistress (design seed), Chosen of the Dice (design seed), The Bleak Warden (design seed)
Exigents Jumpstart: Great Forks
Streets of Great Forks gazetteer
Exigents desktop wallpaper
Did you miss one of our previous Kickstarters? The following Kickstarted products are still open for preorders via BackerKit:
Community Spotlight
The following community-created content for Scarred Lands has been added to the Slarecian Vault in the last week:

The following community-created content for Realms of Pugmire has been added to Canis Minor in the last week:
The following community-created content for Storypath has been added to the Storypath Nexus in the last week: