Now Available: They Came from Outer Space! Plus Yugman cards!
Mage: The Ascension, Sales, Scarred Lands, They Came From Beneath The Sea!, Trinity Continuum: Adventure!
Now available in PDF from DriveThruRPG: Storypath Tasty Bit: They Came from Outer Space! for They Came from Beneath the Sea!
Keep Watching the Skies!
These Archetypes, Tropes, and other details merely scratch the surface of what you can do with an Outer Space!game. If you maintain the era and setting as laid out in They Came from Beneath the Sea!, you need change very little to make this supplement work for your group.
We look forward to seeing your Astronuts and Survivors fighting side by side, all while the Eccentric and Mouth get to argue over who gets to declare "the end of the world is nigh!"
This PDF is part of the "Storypath Tasty Bits" program, where every month in 2021 Onyx Path offers a small product that ties into one of its Storypath games.
Check in every month to see what's coming next!
Also available: Scarred Lands Spell Cards II: Yugman's Guide, and Scarred Lands Magic Item Cards IV: Yugman's Guide are now available in print!
Pay Heed to the Wisdom of Yugman the Sage
A century and a half after the Divine War, the titans lay defeated and scattered across Scarn and beyond. As the people of Ghelspad work to build a new world on the war-torn remnants of a fallen paradise, new heroes rise, and new threats emerge. Yugman the Sage brings an overview of these new heroes and villains, as well as the tools they use to rise to power
Sales
It's March Mystery Month on DriveThruFiction! Save 25% on a number of Onyx Path fiction titles until the end of the month!
We've also got some titles in the Classic Digital to Tabletop RPGs Event, although technically in this case it went the other way around. If you enjoyed classic games like Vampire: The Masquerade – Redemption, you're currently playing Werewolf: The Apocalypse – Earthblood, or you're looking forward to the upcoming Wraith: The Oblivion – Afterlife, there are some titles here for you!
Crowdfunding Update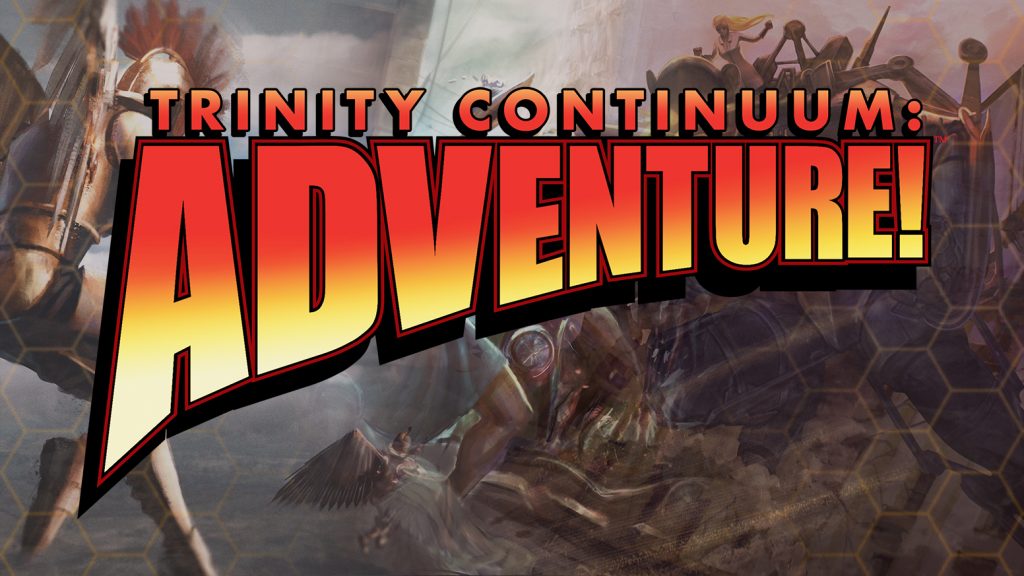 Last week was rough: we launched our Kickstarter for Trinity Continuum: Adventure!, with about a 12-hour overlap before our Indiegogo for Mage: The Ascension 20th Anniversary Edition: Victorian Age ended!
Victorian Mage funded in just under 21 hours, and ended with almost exactly 300% with $104,045 of our original $35,000 goal, thanks to our 1294 backers!
We've reached the following stretch goals thus far:
Backer T-Shirt
Victorian Mage Jumpstart: Jumpstart scenario, plus Instant Mages x2
Penny Dreadful fiction (2004) added to backer rewards
Victorian Mage digital wallpaper
Bizarre Tales and Unusual Characters: Expanded Bizarre Tales, Expanded Unusual Characters x2
Victorian Age: Vampire trilogy
VTT Tokens and Assets: Expanded
Art budget increase!
Weird Wonders & Revolutionary Magick
Is that not enough? Well, we have good news: When the BackerKit goes live, in an Onyx Path first, we'll continue to count BackerKit preorders towards the Indiegogo pledge totals for 60 days so we might be hitting even more stretch goals!
On the Trinity Continuum: Adventure! front, we funded in 3.5 hours, and are currently at 213% of our $35,000 goa, thanks to our 1191 backers! Kickstarter's new built-in Add On utility is a real help. We've hit the following stretch goals:
Trinity Continuum: Adventure! Storyguide Screen
Trinity Continuum: Adventure! Jumpstart: With 6 ready-made characters
Adventure! Addendum: Sensational hideouts
Thrilling Tales!: A scenario PDF featuring a playable chapter from the Adventure! audio drama, Deadly Eclipse!
Did you miss one of our previous Kickstarters? The following Kickstarted products are still open for preorders via BackerKit:
Community Spotlight
The following community-created content for Scarred Lands has been added to the Slarecian Vault in the last week:

The following community-created content for Realms of Pugmire has been added to Canis Minor in the last week:
The following community-created content for Storypath has been added to the Storypath Nexus in the last week: