Now Available: They Came from Plan Nine!
Realms of Pugmire, Sales, Scarred Lands, Scion, They Came From Beneath The Sea!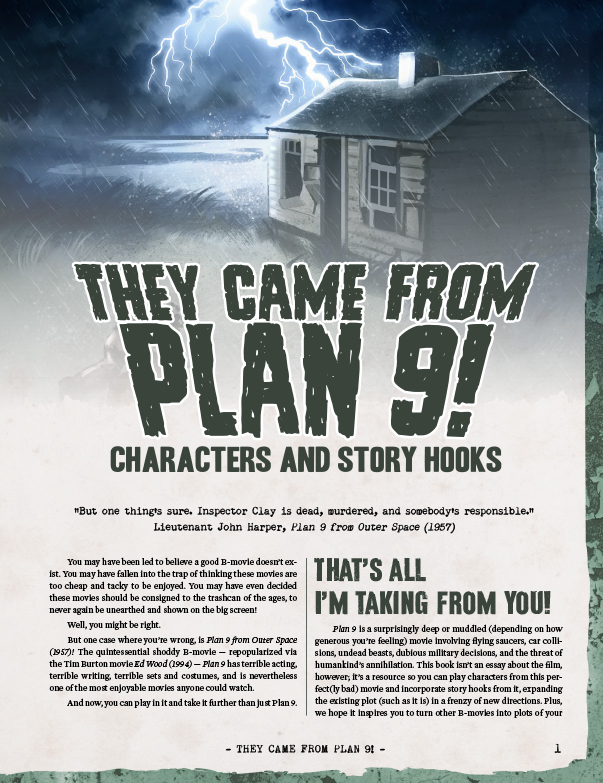 Now available in PDF from DriveThruRPG: Storypath Tasty Bit: They Came from Plan 9!
Greetings, my friend. We are all interested in the future, for that is where you and I are going to spend the rest of our lives. And remember, my friend, future events such as these will affect you in the future. You are interested in the unknown, the mysterious, the unexplainable. That is why you are here. And now, for the first time, we are bringing to you the full story of what happened on that fateful day. We are bringing you all the evidence, based only on the secret testimony of the miserable souls who survived this terrifying ordeal. The incidents, the places. My friend, we cannot keep this a secret any longer. Let us punish the guilty. Let us reward the innocent. My friend, can your heart stand the shocking facts about grave robbers from outer space?
They Came from Plan 9! is a micro sourcebook for They Came from Beneath the Sea!, allowing you to play the characters from cult B-movie favorite, Plan 9 from Outer Space!
The horrors and wonders you'll find in this supplement provide you with the full character sheets and even story hooks for Directors to use in their games, allowing you to tell stories within the movie, and expand plots laid down in this Ed Wood "classic," perhaps even discovering the horrifying Plan 10 in the process!
This PDF is part of the "Storypath Tasty Bits" program, where every month in 2021 Onyx Path offers a small product that ties into one of its Storypath games.
Check in every month to see what's coming next!
Sales
RedBubble is currently offering 25% off all clothing items with the checkout code GETDRESSED.
DriveThruRPG's Christmas in July sale continues, with up to 25% off hundreds of Onyx Path digital titles. If we've had it on DriveThru for over a month, it's probably on sale.
Crowdfunding Update
Squeaks in the Deep launched two weeks ago on Kickstarter! Squeaks brings the Underground, and its mice and rat species, to the Realms of Pugmire. We funded to 100% in under four hours! We're currently at $35,067, or 234% of our $15K goal, and have two weeks to go.
We've reached the following stretch goals:
Squeaks Guide Screen
Squeaks T-shirt
Rabbits setting supplement, with PC rules
Squeaks digital wallpaper
Squeaks VTT token pack
Squeaks VTT map pack
Did you miss one of our previous Kickstarters? The following Kickstarted products are still open for preorders via BackerKit:
Community Spotlight
The following community-created content for Scarred Lands has been added to the Slarecian Vault in the last week:

The following community-created content for Realms of Pugmire has been added to Canis Minor in the last week:
The following community-created content for Storypath has been added to the Storypath Nexus in the last week: