Now Available: They Came from the Bermuda Triangle, plus the final Assassins preview!
Sales, Scion, They Came From Beneath The Sea!, Trinity Continuum
Now available in PDF: Storypath Tasty Bit: They Came from the Bermuda Triangle! for They Came from Beneath the Sea! and our final Tasty Bit of 2021! (Don't worry, we confirmed earlier this year that we'll be continuing Tasty Bits into 2022.)
There are few places on this wide world quite so mysterious, quite so confusing, quite so terrifying, as the Bermuda Triangle. This is what makes it a perfect spot for battles, explorations, and high seas hijinks in They Came from Beneath the Sea!
They Came from the Bermuda Triangle! includes:
Simple combat rules for maritime battles betwixt trawler, canoe, submarine, cruiser liner, and more!
New aquatic alien threats native to the Bermuda Triangle!
Multiple stories set in the Bermuda Triangle, ready to be run for your group!
Rules for vehicles in They Came from Beneath the Sea!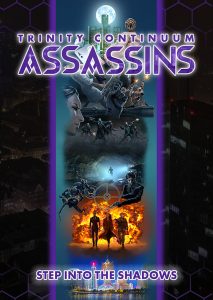 Also available: Today the final part of the manuscript for the Trinity Continuum: Assassins pre-order went live, so anyone who has previously pre-ordered Assassins (or who pre-orders now) will get access to the full 179 page manuscript for the book! Note that this manuscript has not yet been edited or laid out. Pre-order customers will also get the first look at the completed PDF, at which time an errata form will be available for feedback. We hope you enjoy it!
Other Recent Releases
Did you miss one of these recent releases?
Sales
Onyx Path has added the Scarred Lands Players Guide for Pathfinder to the Mega Bundle for Kentucky Tornado Relief.
Indie Press Revolution has just days left in the end-of-year sale, offering 40% off select Onyx Path releases!
Crowdfunding Update
Did you miss one of our previous Kickstarters? The following Kickstarted products are still open for preorders via BackerKit:
Community Spotlight
The following community-created content for Scarred Lands has been added to the Slarecian Vault in the last week:

The following community-created content for Realms of Pugmire has been added to Canis Minor in the last week:
The following community-created content for Storypath has been added to the Storypath Nexus in the last week: