Now Available: W20 Changing Ways!
Realms of Pugmire, Sales, Vampire: The Masquerade, Werewolf: The Apocalypse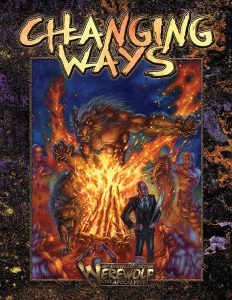 Now Available in advance PDF from DriveThruRPG: Changing Ways for Werewolf: The Apocalypse 20th Anniversary Edition!
Changing Ways is an in-depth look at what it means to be a werewolf, both on a personal level and as part of a pack. It digs deep into what it feels like to have bones re-knit after breaking, the range of senses available across all forms, and the sudden heady rush of the Gifts and Rites bestowed by spirits. It also provides a look at what life is like for lupus and metis werewolves, characters who have had experiences alien to any person. It shows the many ways that werewolves organize in packs, and how those packs are designed as groups of warriors, rather than aligned to the behavior of wolves.

Changing Ways contains:

A detailed look at what it means to grow up as a lupus or metis werewolf, and how that colors a character's perspective.
More information on what it feels like to be a werewolf, a creature that changes in both body and mind.
Frameworks and organizations for packs, along with new tactics and systems for forging the pack as part of play.
Our Thank You, Darcy Cat audio adventure for Pugmire (currently available on DriveThruRPG) is now also available via Indie Press Revolution!
The world of Pugmire comes alive in this full cast audio drama experience! The police dogs have called Alistair Afghan to discuss the crimes of his valet, Darcy Cat. But this misunderstanding leads to the discovery of a deadly secret deep in the heart of Pugmire society. Will Alistair and Darcy be able to save Pugmire from this threat?

Credits:

Alistair Afghan played by Austin Beach

Darcy Cat played by Mike Janson

Inquisitor Max Collie played by Scott Phillips

Inquisitor Constable Ruby Labrador played by Danielle Reese

Other parts played by the cast

Written and adapted for audio by Eddy Webb

Music by Dayn Leonardson
Storytellers Spotlight
The following community-created content has been added to the Storytellers Vault in the last week: