Now Available: W20 Pentex Employee Indoctrination Handbook, plus New Year New Game, and more!
Chronicles of Darkness, Exalted, Sales, Werewolf: The Apocalypse
Now available in PDF and print from DriveThruRPG: the Pentex Employee Indoctrination Handbook for Werewolf: The Apocalypse 20th Anniversary Edition!
POLICIES AND PROCEDURES 

The Pentex Employee Indoctrination Handbook is the gold-standard corporate guidebook for employees of the world's finest multi-national corporation and many of their subsidiary companies. This volume contains the main Pentex handbook, along with the Guide to Werewolves, and this year's round of updated corporate handbooks for our subsidiaries.

MONKEYWRENCHED! 

This is the unredacted version, replete with notes from the higher-ups! It took a lot to get this information out, so it's had a chance to go through some monkeywrenchers' hands before going to you. Make good use of it!

The Employee Indoctrination Handbook contains:

A guide to working for Pentex itself, along with the Guide to Werewolves given to certain staff.
Employee handbooks for Endron, Magadon, RED network, Sunburst, and Tellus
Notes on the contents, from both werewolves and the Board of Directors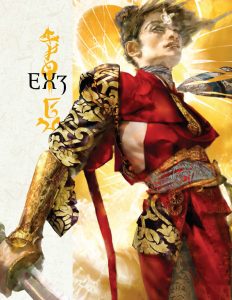 Currently running: DriveThruRPG's New Year, New Game sale! The sale runs for four more days.
There's a great Exalted 3e Bundle featured at 52% off, which includes:

Exalted 3e
Exalted: Tale of the Visiting Flare
Fanfare for the Chosen: An Exalted 3rd Edition Music Suite
Miracles of the Solar Exalted

There are also more than 70 Onyx Path products included in the sale, ranging from as far back as 1997's Trinity through to Scarred Lands' d20 releases and Onyx Path's more recent releases for the WoD and CofD!
Also currently running: The Chronicles of Darkness 1e bundle from Bundle of Holding! It runs for five more days.
The bundle includes in its Player Collection ($17.95):

World of Darkness 1e Rulebook
World of Darkness: Armory
Armory Reloaded
Skinchangers

Included in the Storyteller Collection (above the threshold price of $29.20):

World of Darkness: Changing Breeds
Antagonists
Urban Legends
Tales from the 13th Precinct
Dogs of War
SAS: Ruins of Ur
Ready-Made PCs: Legacy Security and Courier Services
The Harvesters SAS collection

Ten percent of your payment goes to the All Hands Volunteers charity.
Storytellers Spotlight
The following community-created content has released on the Storytellers Vault over the last week: