Onyx Path Saturday at Gen Con 2015: featuring Exalted & More
Cavaliers of Mars, Exalted, News, Press Releases, Pugmire, Scarred Lands, Scion, Trinity Continuum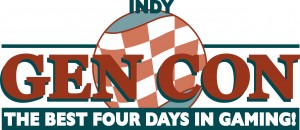 Saturday at Gen Con 2015 in glorious Indianapolis!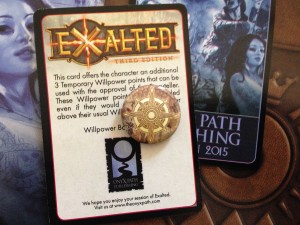 If you come by our booth at 1103 in the convention center, we are giving away an Exalted collectible pin, and a card that you can use as a Willpower bonus during your game! We're only giving these out today, and will have different pins and cards for the rest of the con.
Lots of games featured today, including:
Exalted 3rd Edition: with the core rulebook Backer PDF almost in backers' hands, we can't say much about this epic and long-awaited game (spoilers!), but we'll say what we can!
Scarred Lands: 2016 looks to be a big year for the rebirth of this beloved fantasy game, and we're actually spending this Gen Con talking up illustrators for the project. We also have the first new adventure for the new edition, The Gauntlet of Spiragos, for sale at the booth.
Scion 2nd Edition: With the new system in playtesting, Scion is poised for greatness and developer Neal Raemonn Price will be at the 10am panel and signing at 1pm at the booth and more than willing to start revealing how this modern day classic has been re-imagined.

Cavaliers of Mars: Creator Rose Bailey will be at the 3pm panel and pretty constantly at the booth to impart the depth and breadth of this swashbuckling setting across the red sands of Mars. We'll have a limited number of Cavaliers of Mars Quickstarts at the booth and also available on DTRPG.
Trinity Continuum: Uber-developer Ian Watson will be at the 10am panel and will be at our booth most of the con. Stop by and let him regale you with how we are readying this multi-game, multi-time period, multi-genre, legendary setting for launch in 2016.
Pugmire: Creator Eddy Webb will be at the 3pm panel and really often can be found around the booth, and he really wants to tell you all about our new fantasy game of uplifted dogs who have begun to explore the world they have inherited from mankind. We'll be giving away collectible pins, cards and posters featuring the first six characters we've revealed, and an introductory booklet written by Princess Yosha Pug that delightfully presents the world through her eyes. There are demos at the booth all convention, and beta-playtest sessions being run by the Wrecking Crew in their gaming area. Woof!
Our Saturday schedule of events is:
10-11am: What's Up With Trinity, Scion, and Scarred Lands? (SEM1572633) at the Crowne Plaza Hotel- Union Station
11am-12: Art Portfolio Reviews for aspiring illustrators
12-1pm: Return to the Return to the Castle of Gender Diversity in RPG Art (SEM1580484 ) with Rich Thomas and other Industry Insiders at Rm 210 or 211 at the Convention Center
1-2pm: Developer signing with Neall Raemonn Price and David Brookshaw at the booth
2-3pm: Pugmire Demos at the booth
3-4pm: Dive Into Pugmire & Cavaliers of Mars (SEM1572637) at the Embassy Suites
C'mon and drop by – we won't get freaky. Much.