OPP10: Scion Month, Part 1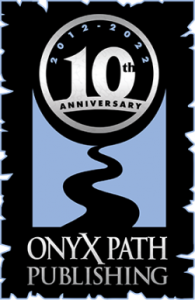 2022 is Onyx Path's tenth anniversary, so every month this year, we're celebrating a different game line!
May is Scion month.
For the first half of the month, the core PDFs from the Scion 2nd Edition game line are on sale for 10% of their original prices, for our 10th anniversary. That means it's 90% off!
You can check the sale on DriveThruRPG! This includes:
Scion Second Edition Book One: Origin
Scion Second Edition Book Two: Hero
A Light Extinguished (A Jumpstart for Scion 2e)
Heroes for the World (Ready Made Characters for Scion 2e)
Scion Second Edition Book One: Origin (Phone Version)
Scion 2e VTT Hero Signature Tokens
Scion 2e VTT Origin Signature Tokens