Pugmire Squeaks Right In! [Monday Meeting Notes]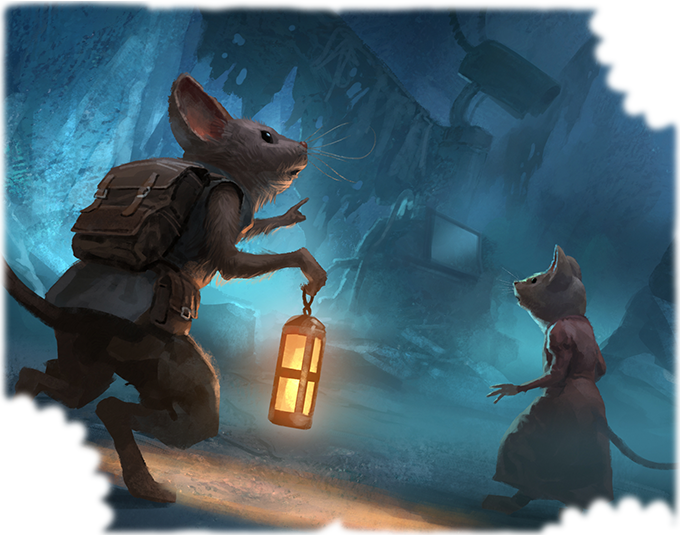 After a delay last week, our Squeaks in the Deep Kickstarter skittered right into our meeting today with our long-awaited approval from Kickstarter itself! I mean right while we were discussing strategic options in crowd-funding!
Which is great, because with that there's no need to delay any further! The Squeaks in the Deep Kickstarter for Pugmire will start Tuesday, July 13th at 2 pm EDT (TOMORROW!)
Since we had to let folks know that we were not going live as originally planned last week, a bunch of potential backers and concerned citizens sent us messages of support. Which was really awesome and appreciated! Sorry if us delaying the KS caused anybody distress or led anybody to wonder if there was something wrong with the text, or our KS info, or even that something had happened to Eddy!
It was literally "circumstances outside our control", like we said in the delay message, with Kickstarter itself so inundated with KS reviews that we had to wait longer than we ever had before for their OK to run the Squeaks KS campaign. KS deliberations and processes have always been inside a black box to us, so we only have their explanation to go by. So that's what I'm sharing with you all, here.
Bigger picture, I would not be surprised if they too are running into issues due to the changing economic environment due to 2020 and Covid (see the end of the meeting notes, below, for more on that).
Littler picture, although still super important to all of us, is that now we're concerned that the delay cost this KS a lot of impetus. A lot of excitement from folks ready to back last Friday. So, please, if you can, help us get the word out! Kickstarter campaigns rely on several things, and losing that initial wahoo! (which is one of those things) means we need to rely even more on word-of-mouth and people telling other people about the Kickstarter.
That's where you come in!
Here's some of the cool things you can mention; maybe you have friends who'd be interested in:
a) An easy to play game perfect to use with either Pugmire or Monarchies of Mau, or both, as an introduction to TTRPGs! It's simplified 5e fantasy!
b) Mice and rats, in a world along with dogs and cats. It is sooo easy to jump right in to the setting conceptually as we all know how our pets all act (as well as the broader cartoon versions that come to mind), and you don't need to start with any sort of deep roleplaying – but the setting itself can be as complex and deep as your group needs. It is built for a group to dive in right at their sweet spot.
c) With Pugmire itself, the emphasis has been on adventuring and exploring, with Mau, we're looking at swashbuckling and intrigue, and Squeaks focuses largely on underground (dungeon) exploring in the classic fantasy gaming mode. Also super-easy to explain to a group used to that play style. Then all the styles can be combined for whatever your group wants their game to feature.
d) Psionics. That extra-special thing that hasn't previously existed in the Realms of Pugmire crackles in Squeaks. Certainly a good thing to mention for players who aren't as into the spells and powers that are more fantasy-based (cough-Jedi-cough), or who are looking for a more overt in-setting reason for special powers.
And I'm sure that there are even more reasons to back besides these specific ones that folks on our social media can share – but please do use these if you think they'll be of assistance in bringing a friend along under the skin of the world and into the depths of Squeaks in the Deeps!
Now that the KS starts on this very Tuesday, that coincides perfectly with the online game of Squeaks that Eddy in going to be playing in. That's right, Eddy will be playing instead of running a Realms of Pugmire game for once, so it's a rare opportunity to see him delve into some characterfulness!
The fine gamesters at Vorpal Tales are running it Tuesdays at 8:30 EDT on our own Onyx Path Twitch channel as listed below in our Onyx Path Media section. It's a great opportunity for you and any friends you want to introduce to it to see Squeaks in the Deep being played!
One more Pugmire-related thing is a reminder that Secret of Vinsen's Tomb is now a VTT product for Astral TableTop for online gaming. What is Astral TableTop, you ask? Well, Astral is browser-based and uses the latest technology to streamline your storytelling experience. Connect with your party online and run your campaigns however you like. Astral offers tools optimized for phone, tablet, and desktop devices, no installation required.
The Astral module For Vinsen's Tomb comes with all the maps and encounters, ready to play, along with pregenerated characters and character sheets wired up for automated rolling. It also offers the GameMaster some guidance on playing the scenario on Astral for those GMs new to the platform or entirely new to virtual tabletops (VTT).
The same way that Realms of Pugmire is a great way to get players used to TTRPGs, Vinsen's Tomb is set up to make it really easy to get started with Virtual Table Tops (VTTs). Check it out and explore the world of Pugmire as you're exploring the new frontier of gaming!
Too much marketing-speak? Sorry, sometimes the old TV ad-writer brain cells fire off when I'm trying to point towards something I think could be cool for folks to check out!
Let's see if I can pull back my Stan Lee impression for a bit and go through what we talked about in the Monday Meeting today!
We Actually Did Talk About Non-Pugmire Stuff Today!
We talked about the M20 Rich Bastards' Guide to Magick Pre-Order over on DTRPG and how that has been going. So far, pretty decent for a new concept for us, but we really need to see a few more weeks of it to see just how successful it really is. Buncha pre-orders and then nothing might not be as good as steady pre-orders for an extended time.
Those of us who attended shared our thoughts about the two Developer Town Halls we held last week. Some decent and substantive questions and a bit of just chatting and hanging out, but mostly it was letting the devs know about changes to our processes or confirming unchanged processes, as well as emphasizing that our dev processes are always up for discussion and evolution.
Which is really a long way to say that we want and need to remain flexible and adaptive as creative and business situations change. If it wasn't already how I've intended Onyx Path to function, 2020 really did demonstrate the value of being able to adapt to changing situations.
Some that nobody saw coming in our little neck of the publishing woods!
All-in-all though, they were very positive and constructive conversations, and we're glad so many of our developers consistently attend.
We discussed one of the things that can often get lost in the hurley-burley of so many game-lines and all the releases that are happening is that we had a really successful launch for the Trinity Continuum: Aberrant core rulebook. We're still looking at strong sales for that book. And some great projects that will be rolling out to support it.
Including the Adventures of Teen Tomorrow -TC: Aberrant Jumpstart which will be out this Wednesday with its Advance PDF! (See blurb below).
So, yay! TC: Aberrant!
There are some sales coming up at DTRPG and IPR, so we reviewed them, and we'll have some panels and games at GenCon Online in a few months, so we also reviewed that. Not doing the live con thing there this year, though, as we still don't like the situation.
It's the whole Covid effect again, which I know might be boring to read about every week, more or less, but it is an ongoing and constant part of our reality. We make decisions that need to include its effect pretty much every day. From creators that still need to deal with the debilitating effects on their ability to do the work, to our vendors like printers and shippers and such.
When we warned everybody about the Premium PoD price increases, those prices were put into play because of economic pressures on the PoD printer brought on my how things happened in 2020. In wasn't direct pressures on us or DTRPG that made the price go up, but it effected us nonetheless.
We hear paper prices are going up. We know shipping pricing is still rising. So physical "stuff", is going to rise in price. When and where that'll effect us, we don't know yet. But we already know that those folks making board games and card games are seeing huge waits and price increases on their projects. Just seems likely we'll see something similar.
Fortunately, that flexibility I mentioned above does actually come into play here with yer friends at Onyx Path. We can push harder into electronic versions of our games like with the Astral TableTop projects like Vinsen's Tomb mentioned above (any VTT projects, actually), and look for different ways to make sure all of you can get our projects.
We can, and do, continue to assist our creators and give them flexibility as well, so that they can get back to working the way they need to on our projects. Which means that our weekly releases keep coming with the quality you ask for and deserve, and our crew can be proud of their work even through an unprecedented time.
Which, and you knew this was coming, means that we can all rally round and let loose our cheer of:
Many Worlds, One Path!
---
BLURBS!
---
Kickstarter!
Our next Kickstarter coming up will be Squeaks In the Deep, for Realms of Pugmire! Check it out Tuesday, July 13th, at 2:00 pm EDT!
For reals, this time!
Rats and mice join the world as player characters! Come explore the hidden depths under the skin of the world and below the City of Pugmire!
---
Onyx Path Media!
This week: The Trio look again at the goings-on that riotously occurred at our last Onyx Path Virtual Con! Part the 2nd!
As always, this Friday's Onyx Pathcast will be on Podbean or your favorite podcast venue! https://onyxpathcast.podbean.com/
For anyone new to our media section, you can find us running and playing games over on twitch.tv/theonyxpath pretty much every day of the week! Plus, if you'd like your games hosted there, just get in touch with Matthew Dawkins using the contact link on matthewdawkins.com.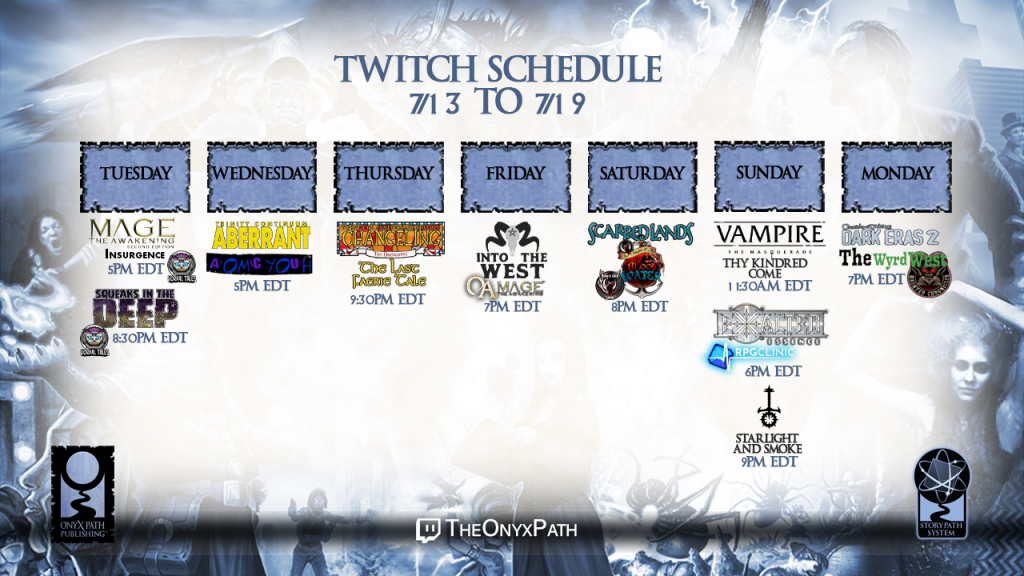 Please check out our attached media schedule for the impressive number of videos on our Twitch channel this week!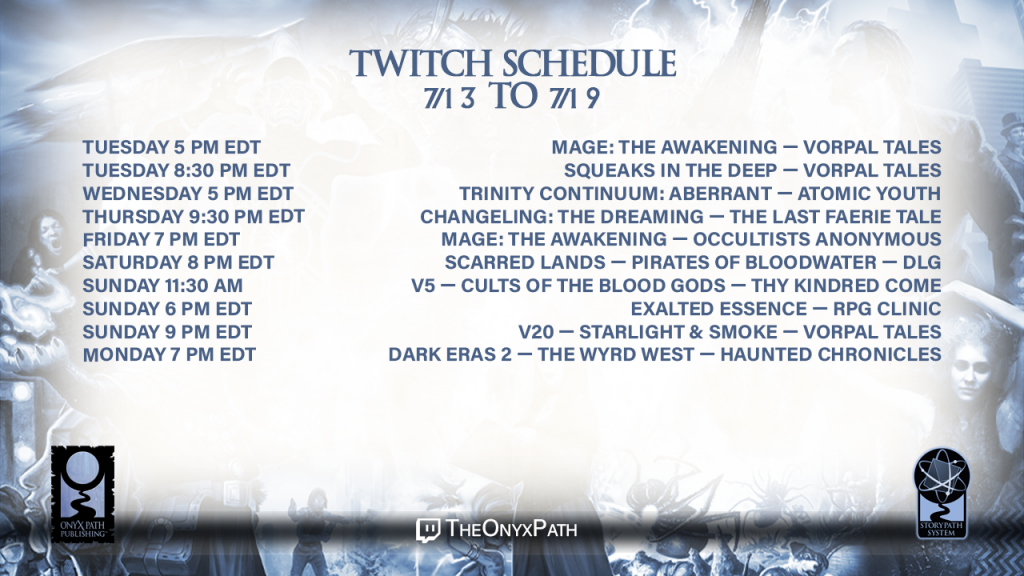 Come take a look at our YouTube channel, youtube.com/user/theonyxpath, where you can find a whole load of videos of actual plays, dissections of our games, and more. This week, we focused on our OnyxPathCon videos!:
OnyxPathCon Mage: The Ascension Panel – https://youtu.be/1wKJtUuqWQM
OnyxPathCon Mere and Lysa Cooking with W20 – https://youtu.be/FdHC_RoOCo4
OnyxPathCon What's up with Onyx Path? – https://youtu.be/ITfsYWInQ2A
OnyxPathCon Writing Horror Games – https://youtu.be/lBCo4zfu5dM
OnyxPathCon Closing Ceremonies – https://youtu.be/ycdatnIqFGs
Subscribe to our channel and click the bell icon if you want to be notified whenever new news videos and uploads come online!
Simulacra TV have started up a brand new Aberrant actual play, named Atomic Youth! Please check them out and give them some support. This one looks like a fantastic story, starting with "New Gods – Part One": https://youtu.be/7fHeRiyp_6U
Some ExalTwitch news:
They're about to start a second season of ExalTwitch: Academy on Sunday, 18:00 Eastern Daylight Time. This is a great place to start watching for new viewers—the start of a new chapter in the campaign, and people won't really need to know what happened before. They did create a two minute recap of our first season in case people are interested: https://www.youtube.com/watch?v=p5O1-WpO7Fw
They also had a second Session Zero for our transitioning ExalTwitch: Academy to Essence: https://www.youtube.com/watch?v=W_FdoHtMels
Actual Story Podcasting kicked off an excellent They Came from Beneath the Sea! actual play involving some of the cast and crew from the movie VHS 2! You can find their play right here: https://actualstorypodcasting.com/podcast/rpg-anthology
The Exaltcast continues its fantastic show kicking the tires of Exalted: Essence's system! https://www.exaltcast.com/2021/06/27/essence-of-exalted-essence-part-3-ventures-social-systems-and-advancement/
Vorpal Tales have a lot of Onyx Path content for you to check out!
On Fridays at 5pm EDT experience Contagion Chronicle: No Time for Reality Season Two. Chicago is still flooded with the reality warping Contagion from strange spaces beyond the Supernal realms. The original team is still lost in Arcadia, but Macintosh alerted a new team to be ready to step in should he and his team disappear. It's up to this new group now to leverage their vectors and contain this threat.
On Tuesdays at 5pm EDT experience their new overarching Chronicle of Darkness, Insurgence. Vorpal Tales weave an ambitious tale connecting 7 Chronicles of Darkness game lines in one overarching story of rebellion and the cost of self-awareness. Book 1: Defiance begins the tale with Mage: The Awakening 2e.
Join Vorpal Tales every Monday at 9pm EDT for They Came from Beyond the Grave! Enjoy their tale of derring do against the minions of evil in a six part summer tale!
Also, join Vorpal Tales for a story of a pack's Rite of Passage as they tell a terrifying tale of Werewolf: The Apocalypse every Saturday at 9pm EDT
A Bunch of Gamers continue their excellent Werewolf: The Apocalypse chronicle right here, with Episode 74.5: https://youtu.be/XZwUGJJKKRg
We rewind the clock to just after the Silent Strider moot. Zeb Speaks-in-Sweet whispers remains behind to learn the rite Descent into the Underworld. Struggling to learn the Rite with his spiritual companion continuously remembering the death of death Zeb travels with his teacher Winds-Fickle-Step.
Wards & Witchcraft reach Session 28 of their fantastic Mage: The Awakening chronicle right here: https://youtu.be/89y-FKyNO1Y
The final session in Season 1. At the end that is truly just beginning, the venturing Fools encounter the Hydra that will shake their perceptions of reality.
Please check these out and let us know if you find or produce any actual plays of our games! We'd love to feature you!
---
Electronic Gaming!
As we find ways to enable our community to more easily play our games, the Onyx Dice Rolling App is live! The dev team has been doing updates since we launched based on the excellent use-case comments by our community, and this thing is awesome! (Seriously, you need to roll 100 dice for Exalted? This app has you covered.)
---
Virtual TableTop!
Two Virtual Tabletop adventures: the Gauntlet of Spiragos and the Dagger of Spiragos for Scarred Lands on Astral TableTop and DriveThruRPG!
Scars of the Divine War, which ended less than 200 years ago, have still not healed. One such scar is the Chasm of Flies, a rent in the earth created when the titan Spiragos the Ambusher was smote down by one of the young gods, Vangal the Ravager. Now, the Chasm is inhabited by spider-eye goblins and their spider allies, but it is also thought to be the resting place of powerful artifacts from that elder age.
Astral TableTop is the easiest way to play any tabletop RPG online, free. Astral already supports popular systems like D&D and Pathfinder, and Astral can support virtually any tabletop roleplaying game. Get started quickly with built-in support for most popular game systems. Whether you're brand new to TTRPGs or a veteran tabletop gamer, Astral's ease-of-use and built in automation is designed to streamline gameplay.
Build your own adventure, or choose from pre-generated game kits like Gauntlet of Spiragos and Dagger of Spiragos. Create character sheets, craft maps, or just jump right in to connect with your friends and start your adventures!
---
On Amazon and Barnes & Noble!
You can now read our fiction from the comfort and convenience of your Kindle (from Amazon) and Nook (from Barnes & Noble).
If you enjoy these or any other of our books, please help us by writing reviews on the site of the sales venue from which you bought it. Reviews really, really help us get folks interested in our amazing fiction!
Our selection includes these latest fiction books:
---
Our Sales Partners!
We're working with Studio2 to provide our traditionally printed books out into your local game stores. Game stores can order via their usual distributors, and can also contact Studio2 directly. And individuals can check out our projects via the links below!
You can pick up the traditionally printed Pugmire and Monarchies of Mau main books, screens, and the official dice through our friends there! https://studio2publishing.com/search?q=pugmire
Now, we've added Chronicles of Darkness books such as Changeling: The Lost Second Edition products to Studio2's store! See them here: https://studio2publishing.com/collections/all-products/changeling-the-lost
Scion 2e books and other products are available now at Studio2: https://studio2publishing.com/blogs/new-releases/scion-second-edition-book-one-origin-now-available-at-your-local-retailer-or-online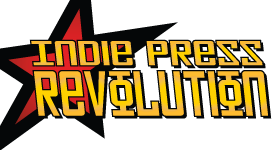 Looking for our Deluxe or Prestige Edition books? Try this link! http://www.indiepressrevolution.com/xcart/Onyx-Path-Publishing/
And you can order Pugmire, Monarchies of Mau, Cavaliers of Mars, and Changeling: The Lost 2e at the same link! And now Scion Origin and Scion Hero and Trinity Continuum Core and Trinity Continuum: Aeon are available to order!
As always, you can find Onyx Path's titles at DriveThruRPG.com!
Look out for the X-Mas in July Sale coming next week!
---
On Sale This Week!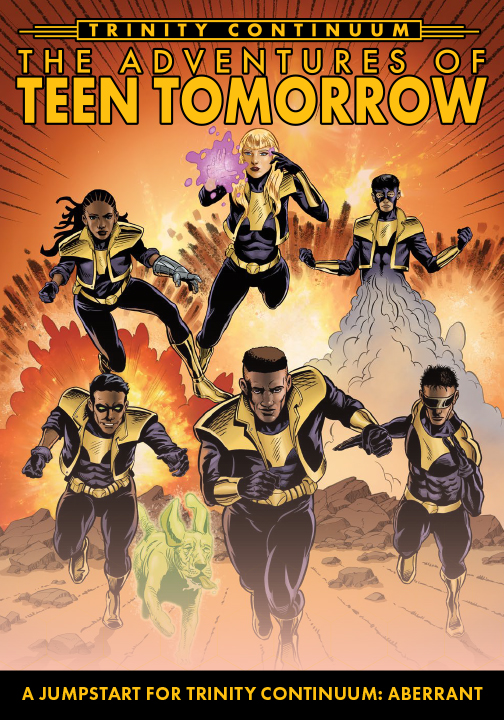 We're gonna start jumping and starting this Wednesday as the Trinity Continuum: Aberrant Jumpstart Advance PDF bounds forth to be available Wednesday on DTRPG!
The Adventures of Teen Tomorrow — A Trinity Continuum: Aberrant Jumpstart introduces you to the world of 2028, where superhumans known as novas have risen to prominence, changing the world with their Quantum powers. Team Tomorrow, a group of superheroes, are among the most popular and well-liked novas on the planet. Young novas hoping to join the ranks of Team Tomorrow attend Team Tomorrow Academy as a team colloquially known as Teen Tomorrow. This Jumpstart adventure follows Teen Tomorrow on a training mission gone awry when their instructor starts behaving recklessly.
The Adventures of Teen Tomorrow — A Trinity Continuum: Aberrant Jumpstart brings the superhero action to your table with all the rules you need to assume the roles of Teen Tomorrow and jump right into play! The included adventure is designed for 3-6 players.
The Adventures of Teen Tomorrow — A Trinity Continuum: Aberrant Jumpstart includes:
A brief overview of the setting of Trinity Continuum: Aberrant and the role Team Tomorrow plays in that world.
A complete adventure set in the world of Trinity Continuum: Aberrant for the Storyguide to run with 3-6 players.
All the rules you need to run the enclosed adventure.
Six ready-made characters, so you can jump right into the action!
---
Conventions!
Because dates for physical conventions are subject to change due to the current COVID-19 outbreak, we don't yet have a list of upcoming physical conventions. Instead, keep an eye out here for more virtual conventions we're going to be involved with!
---
And now, the new project status updates!
Development Status from Eddy Webb! (Projects in bold have changed status since last week.):
First Draft (The first phase of a project that is about the work being done by writers, not dev prep.)
Exalted Essay Collection (Exalted)
Panopticon Novella (Trinity Continuum: Aberrant)
With Great Power (Trinity Continuum: Aberrant)
Trinity Continuum: Aether core book (Trinity Continuum: Aether)
Weird Wonders and Revolutionary Magick (M20 Victorian)
Bizarre Tales and Unusual Characters (M20 Victorian)
Scion: Dragon Jumpstart (Scion 2nd Edition)
Scion: Dragon Companion (Scion 2nd Edition)
Terat novella (Trinity Continuum: Aberrant)
Redlines
Dragon-Blooded Novella #2 (Exalted 3rd Edition)
Tome of the Pentacle (Mage: the Awakening 2e)
The Hedge (Changeling: The Lost 2nd Edition)
Scion: God (Scion 2e)
Second Draft
No Gods, No Masters (Scion 2nd Edition)
Tasty Bit: The Autocracy (Scion 2nd Edition)
They Came From the Cyclops's Cave! core book (They Came From…!)
Development
Contagion Chronicle: Global Outbreaks (Chronicles of Darkness)
Kith and Kin (Changeling: The Lost 2e)
Adversaries of the Righteous (Exalted 3rd Edition)
Wild Hunt (Scion 2nd Edition)
TC: Adventure! Jumpstart (Trinity Continuum: Adventure!)
Manuscript Approval
Post-Approval Development
Many-Faced Strangers – Lunars Companion (Exalted 3rd Edition)
Exigents (Exalted 3rd Edition)
M20 Lore of the Traditions (Mage: The Ascension 20th Anniversary Edition)
Editing
Lunars Novella (Rosenberg) (Exalted 3rd Edition)
The Book of Lasting Death (Mummy: The Curse 2e)
Dead Man's Rust (Scarred Lands)
M20 Victorian Mage (Mage: the Ascension 20th Anniversary Edition)
Mission Statements (Trinity Continuum: Aeon)
The Clades Companion (Deviant: The Renegades)
CtL2e Novella Collection: Hollow Courts (Changeling: The Lost 2e)
Heroes in a World of Horror! (They Came From…!)
Dystopia Rising: Evolution Fiction Anthology (Dystopia Rising: Evolution)
Prometheus Unbound (was Psi Orders) (Trinity Continuum: Aeon)
Legacies of Earth (Legendlore)
Scion Fiction Anthology (Scion 2nd Edition)
They Came From Beyond the Grave! Jumpstart (They Came From…!)
Across the Eight Directions (Exalted 3rd Edition)
Monsters From the Crypt! (They Came From…!)
TC: Aeon Novella: Meridian (Trinity Continuum: Aeon)
Exalted Essence Edition (Exalted 3rd Edition)
Crucible of Legends (Exalted 3rd Edition)
The Devoted Companion (Deviant: The Renegades)
Proteus Nova Compendium (Trinity Continuum: Aberrant)
TC: Aeon Novella: Dawn (Trinity Continuum: Aeon)
Tasty Bit: Pets (Trinity Continuum: Aeon)
Trinity Continuum: Assassins (Trinity Continuum Core)
They Came From Camp Murder Lake! (They Came From…!)
Contagion Chronicle Ready-Made Characters (Chronicles of Darkness)
Trinity Continuum: Anima
Tales of Depravity! (They Came From…!)
They Came From [Classified]! (They Came From…!)
They Came From [Classified]! Jumpstart (They Came From…!)
Realms of Magic and Mystery (was Terra Incognita) (Scion 2nd Edition)
Trinity Continuum: Adventure! core (Trinity Continuum: Adventure!)
Vigil Watch: The Kelder Mountains (Scarred Lands)
Ghost Hunters Jumpstart w/RMCs (WoD 20th)
The Paranormal Investigator's Handbook (WoD 20th)
Once and Future (Scion 2nd Edition)
Apocalyptic Record (Werewolf: The Apocalypse 20th Anniversary Edition)
Tasty Bit: They Came From Plan 9! (They Came From…!)
Post-Editing Development
Masks of the Mythos (Scion 2nd Edition)
Scion: Demigod (Scion 2nd Edition)
Scion: Dragon (Scion 2nd Edition)
N!ternational Wrestling Entertainment (Trinity Continuum: Aberrant)
Squeaks In The Deep (Realms of Pugmire)
Novas Worldwide (Trinity Continuum: Aberrant)
They Came From Beneath the Sea! Jumpstart (They Came From…!)
Saints and Monsters (Scion 2nd Edition)
Indexing
---
Art Direction from Mike Chaney!
In Art Direction
Scion: Dragon
Masks of the Mythos
TC: Adventure! (KS) – Reviewing Danielle's art notes.
M20 Victorian (KS)
Dead Man's Rust
Exalted Essence (KS)
V5 Forbidden Religions – all artwork in.
TC Mission Statements
TC Aberrant N!WE – Maria ADing.
M20 Technocracy Dossier/Companion
Squeaks In The Deep (KS) – On KS.
TC Prometheus Unbound – Maria ADing.
They Came From Camp Murder Lake!
Realms of Magic and Mystery
Saints and Monsters
TC: Anima (KS)
TC: Assassin
Legendlore: Legacies of the Earth
Novas Worldwide
In Layout
WoD Ghost Hunters (KS)
Legendlore – Layout rolling along.
They Came From Beneath the Sea! Jumpstart – Andrea is working on it.
They Came From Beyond the Grave! – All art is in.
M20 Technocracy Jumpstart
Hundred Devils Night Parade – Getting layout files over to Josh. Sketches coming in.
Aberrant VTT
Scion: Demigod
Proofing
Heirs to the Shogunate – Inputting errata.
Hunter: The Vigil 2e – Second proof coming this week.
Spiragos Collected Adventures
M20 Rich Bastards Guide – With Charles.
Players Guide to the Contagion Chronicle – Backer PDF out for errata.
TC: Under Alien Skies – Advance PDF errata gathering.
Dearly Bleak – Deviant: The Renegades Novella
At Press
M20 Technocracy Reloaded – PoD proofs shipping from DTRPG. Deluxe getting ready for press.
Mummy 2 – Getting ready for press.
Mummy 2e Screen – Files sent to printer.
Deviant – Getting ready for press.
Deviant Screen – Files sent to printer.
Technocracy Reloaded Screen – Files sent to printer.
TC Aberrant Jumpstart – Advance PDF out on Weds.!
---
Today's Reason to Celebrate!
Today is the 15th anniversary of two CofD books – although of course they were (New) World of Darkness books at the time! Both Skinchangers and Tales of the 13th Precinct, but my note here is to relay some brief memories of 13th Precinct, in that it was the first book I added to the schedule whole-cloth after I was made White Wolf Creative Director. We had certainly noticed that there was some serious interest in the "blue book" supplements that weren't tied to a particular game line, and so I sat down with Justin Achilli, who was leaving WW (again), but who had been running the Editing & Development Department. Justin and I wanted a friendly and helpful hand-off, so we brainstormed a bunch of project ideas and reviewed the existing projects that were in various stages of creation, and I ran my ideas for Precinct 13 by him – and his comments and ideas really helped bring it all together. I always appreciated how much we could enjoy bopping game ideas back and forth while still making a transition that could have been quite bumpy.