Release Roundup: December 2021
Deviant: The Renegades, Legendlore, Mage: The Ascension, Realms of Pugmire, Sales, Scarred Lands, Scion, They Came From Beneath The Sea!, They Came from Beyond the Grave!, Trinity Continuum, Trinity Continuum: Aberrant, Trinity Continuum: Anima, World of Darkness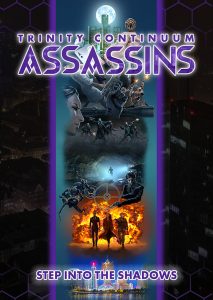 Stay tuned for the 2021 Release Retrospective later today! Here's just this month:
Plus: Scion is now available on Foundry VTT!
Sales
Onyx Path has added the Scarred Lands Players Guide for Pathfinder to the Mega Bundle for Kentucky Tornado Relief.
Indie Press Revolution has just hours left in the end-of-year sale, offering 40% off select Onyx Path releases!
Crowdfunding Update
Trinity Continuum: Anima, our 2084 cyberpunk/litRPG setting for the Trinity Continuum, wrapped up this month on Kickstarter! We funded to 100% in seven hours, and we're currently at $55,329, or 221% of our $25,000 goal, thanks to our 1010 backers. We unlocked the following stretch goals:
Terra Surge Reference Screen
RedBubble Backer T-Shirt
Cascade VTT Token Pack
Synestia VTT Token Pack
Anima Jumpstart
Digital Wallpaper
Mobile Wallpaper
Anima Streaming Overlay
Anima Companion v.1.0
Did you miss one of our previous Kickstarters? The following Kickstarted products are still open for preorders via BackerKit:
Community Spotlight
The following community-created content for Scarred Lands has been added to the Slarecian Vault in the last month:

The following community-created content for Realms of Pugmire has been added to Canis Minor in the last month:
The following community-created content for Storypath has been added to the Storypath Nexus in the last month: