Release Roundup: June 2020
Changeling: The Lost, Dystopia Rising, Legendlore, Mage: The Awakening, Realms of Pugmire, Sales, Scarred Lands, Scion, Trinity Continuum, Trinity Continuum: Aberrant, Trinity Continuum: Æon
Almost forgot!
This June, with the assistance of the crew at Gehenna Gaming, we ran our first OnyxPathCon, a virtual convention, since all the regular shows in meat-space are cancelled or postponed. It seemed to go pretty well, with a number of panels, games, and actual plays over the three-day event. We're hoping it isn't the only OnyxPathCon. Videos are making their way to our YouTube.
This month we saw: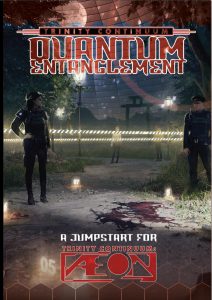 Merch
Now available from our RedBubble store!
Kickstarter Update
In June we (re)launched our Legendlore Kickstarter and wrapped it up just yesterday! Although technically that's July, it seems silly to pretend and list the current status as of June 30. We ended with at $25,092, or 167% of our $15,000 goal, thanks to our 543 backers! We funded during the beginning of Onyx Path Virtual Con, and we managed to hit a couple of stretch goals right at the end there.
Legendlore GM Reference Screen
Legendlore Player's Companion: Brought from Earth
Legendlore Desktop Wallpaper
Did you miss one of our previous Kickstarters? The following Kickstarted products are still open for preorders via BackerKit:
Community Spotlight
The following community-created content for Scarred Lands has been added to the Slarecian Vault in the last month:

The following community-created content for Realms of Pugmire has been added to Canis Minor in the last month:
The following community-created content for Storypath has been added to the Storypath Nexus in the last month: