Retro-Gen-Con Time Machine [Monday Meeting Notes]
Today was a good four hours of pretty much mostly Gen Con prep. It's like this now, with two weeks until a bunch of us get on a plane to Indianapolis and Gen Con 2015. Not a lot of it is interesting nor fun for you our loyal Monday Meeting Notes blog reader. So, here are some very brief sketches of various…moments…from Gen Cons past that I promise are more amusing than the last four hours of meetingness.
That photo above is from Gen-Con 1991. The year Vampire: the Masquerade's first edition came out. (Next year will be 25 years…hmmm…makes ya think). You can see me to the right holding onto what I assume was a mailing tube protecting one of our pieces of art. Travis William's back is to you, and you can just see Wes Harris. We, and a bunch of the other early WW gang, set up that tent-like canopy made of PVC piping, duct tape, and shroud-like cloth over our booth. It was supported by four columns and slowly torqued about during the con, causing us to brace the whole thing with stacks of product to prevent it from collapsing on us and our burgeoning fan-base. It did actually collapse that Sunday, and we tossed the pieces on our way out.
To me, this was the year right before the perfect storm that propelled WW through the ranks of RPG publishers. Our booth was all about attitude and trying something because we could (and couldn't afford anything else). Just a year or two earlier we had to pretty much force folks to take copies of White Wolf Magazine, and this was the year people just kept coming for Vampire. We and our booth might not have emanated professionalism, but the books were game-changing. Just look at how happy a young and enthusiastic Ken Cliffe was in this shot from that year:
Next, we have some pics from the booth at Gen-Con 1993. This was the year that the line for the big purple book of Mage: the Ascension first edition started at our booth and snaked around the hall. We also released the Minds Eye Theatre boxed set that you can see all stacked up with the loquacious Ben Monk ready and willing to help customers next to Satyr Phil Brucato (but before he was Satyr). In the next photo, Mr Sam Chupp and one of his many pairs of wonderful and colorful shorts:
By this point, we had adopted the mantra that we "worked hard and played hard". By which we meant that we started having our own Gen Con party, and crashed all the rest. All. The rest.
Here is Stew Wieck after a fun evening of being staked during our Pentex Board Meeting event chatting away with Charles Ryan (internationally known Tintin fan) as if he was never in torpor. IIRC we all arrived at that party fresh from the event, blood splatters and all. The old guard just loved us for things like that.
And for things like this: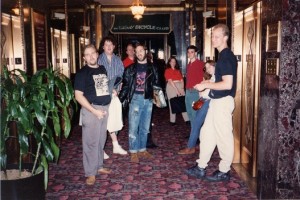 No, I'm not exposing myself to our crew. I had shoved another game company's flyer down the front of my pants and the character on the front was peeking out through my fly. He wanted to be in the picture too. "Games for Mature Minds" was our motto, but not BY mature minds.
These sorts of shenanigans are why exhibiting at Gen Con every year is still something that is important to us, though. They are the shared building blocks – story after story after story – that are part of the DNA of our projects and Onyx Path itself. It's why I might go on a tad this time of the year about our preparations and events.
I'm sharing these early moments, along with sharing our current plans, and we'll be sharing as much of Gen Con in our social media and here on the website as we can. Back then, Gen Con was really the only direct contact we had with our fans. It was where we actually could talk with folks face to face. There were bulletin boards online, but the instantaneous and direct communication we enjoy today was still at least a decade in the future. Now, even if you can't go, we'll be trying to bring some of the fun to you here.
One more story. No photos of this though, which is probably for the best.
To enjoy Gen Con, we first had to get there. When we were only a handful of employees, we flew. But by the time of these photos, we had too many folks working at WW to do that, so we drove to Milwaukee from Atlanta in rented vans and trucks. It was an adventure, and to this day the only reason I can think of why we survived those trips was that we were meant to attend the con. A higher (maybe lower?) power had to be pulling some strings.
The trip in question, Justin Achilli (you knew I had to get a Justin story in here) had made a vow to eat a Pecan Cheese Log at every rest stop we made. I recall that he was intending to wash them back with grain alcohol, but don't hold me to that part.
In any event, we left that first stop, and Justin, who was in a different one of the three vans than I, had purchased his first Log and was talking mightily about how he was going to chomp into it and no one could stop him.
We all headed out again, and drove off into the night. Now bear in mind, there was no rhyme nor reason to our progress. Sometimes one van was in front, sometimes one would drop back and be unseen for hours. It all depended on who was driving and what other nonsense was going on in that vehicle.
But we were tooling along just fine down the dark highway when all of a sudden Justin's van, which had been meandering along behind us, shot past us like a rocket.
Just as we were all wondering what was going on, a light and small object flew towards our windshield through our headlights, and with an explosive concussion splattered all over the passenger side. We had been Pecan Cheese Rolled by Justin, who had discovered that such Logs were awful to eat, but quite aerodynamic.
This was the first shot in a mobile food fight that lasted all the way to our stop near Chicago. Doritos and fritos, cheese logs and hot dogs, and all variety of sodas were flung at high speeds on America's highways by idiots.
Again, I do not know how we didn't die, so don't you try this at home.
To bring us back to 2015, here's a shot of two of the banners we'll have at our booth this year:
___________________________________________________________________________________________________________________________________
And now, the BLURBS!
The Demon Translation Guide Advance PDF is on sale now! We take fiendish delight in presenting this devilish guide to transferring your Demon: the Fallen and Demon: the Descent characters from one setting to the other: http://www.drivethrurpg.com/product/151502/Demon-Translation-Guide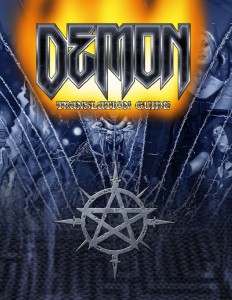 The fifth Pugmire poster, Pan Dachshund, will be on sale on Wednesday.
The fourth Pugmire poster, Jack Rat-Terrier, is on-sale now as a free PDF or $.99 physical poster, suitable for framing: http://www.drivethrurpg.com/product/150944/Jack-RatTerrier-Pugmire-Poster-4
The third Pugmire poster, Sgt. Leo Bulldog, is available NOW as a free PDF or $.99 physical poster, suitable for framing: http://www.drivethrurpg.com/product/150843/Sgt-Leo-Bulldog-Pugmire-Poster-3
The second poster, Princess Yosha Pug, is available now: http://www.drivethrurpg.com/product/149750/Princess-Yosha-Pug-Pugmire-Poster-2
And the first poster, Sister Picassa Collie, is here: http://www.drivethrurpg.com/product/148516/Sister-Picassa-Collie-Pugmire-Poster-1
Start spreading the Code of Man!
Dread Names, Red List for V20 is now on sale! This collection of the most dangerous Kindred ever called Anathema is available in both PDF and hardcover PoD versions: http://www.drivethrurpg.com/product/150381/V20-Dread-Names-Red-List
W20 fans can howl for the first new Werewolf the Apocalypse novel in decades! The Poison Tree novel by Mike Lee (long-time White Wolf writer and developer, and internationally famous Warhammer author) now available in PDF, ePub, and PoD versions! http://www.drivethrurpg.com/product/150855/W20-The-Poison-Tree
Arising from the dead is a newly re-laid out version of the classic Vampire: the Masquerade fiction anthology, The Beast Within. This was the anthology that started them all, and now freshly redesigned for our standard 6″ x 9″ fiction PoD size! http://www.drivethrurpg.com/product/152000/Beast-Within-Revised
The Avarice Chronicle: the Collected Edition (combining the adventures from the three Mummy: the Curse supplements) is now available in PDF and PoD versions at DriveThruRPG.com: http://www.drivethrurpg.com/product/151566/The-Avarice-Chronicle–Collected-Edition
Convention News: Our friends at Gamerati are running a Game Day on July 25th, the Saturday before Gen Con, in Eau Claire, WI. I'm told there is one nWoD session scheduled already, but they would love it if anybody in our community wants to run other WW or Onyx Path games. So check it out if you want to doing some playing and give them a yell if you want to do some Storytelling: http://gamerati.com/gamedays/
————————————————————————————————————————————————————————————
And now, new project status updates!:
DEVELOPMENT STATUS FROM ROLLICKING ROSE (Projects in bold have changed listings)
First Draft (The first phase of a project that is about the work being done by writers, not dev prep)
M20 Book of Secrets (Mage: the Ascension 20th Anniversary Edition)
Exalted 3rd Novel by Matt Forbeck (Exalted 3rd Edition)
M20 Anthology (Mage: the Ascension 20th Anniversary Edition)
Pugmire Gen Con Materials (Be a Good Dog.)
CtL anthology (Changeling: the Lost 2nd Edition)
The Realm (Exalted 3rd Edition)
Dragon-Blooded (Exalted 3rd Edition)
Dark Eras Expansions (nWod Dark Eras)
Pugmire Early Access
Dark Eras Companion (nWod Dark Eras)
WtF The Pack (Werewolf: the Forasken 2nd Edition)
VtM Lore of the Bloodlines (Vampire: the Masquerade 20th Anniversary Edition)
WtA Kinfolk (Werewolf: the Apocalypse 20th Anniversary Edition)
Changeling: the Dreaming 20th Anniversary Edition
V20 Ready Made Characters (Vampire: the Masquerade 20th Anniversary Edition)
Redlines
Mummy Fiction Anthology (Mummy: the Curse)
Wraith: the Oblivion 20th Anniversary Edition
Cursed Necropolis: Rio (Mummy: the Curse)
Beckett's Jyhad Diary (Vampire: the Masquerade 20th Anniversary Edition)
Changeling: the Lost 2nd Edition, featuring the Huntsmen Chronicle (Changeling: the Lost 2nd Edition)- In Open Development
Second Draft
Arms of the Chosen (Exalted 3rd Edition)
Secrets of the Covenants (Vampire: The Requiem 2nd Edition)
Scarred Lands Player's Guide: Ghelspad (Scarred Lands 2nd Edition)
W20 Changing Ways (Werewolf: the Apocalypse 20th Anniversary Edition)
nWoD Hurt Locker (World of Darkness 2nd Edition)- In Open Development
VtM Lore of the Clans Expansions (Vampire: the Masquerade 20th Anniversary Edition)
Development
Promethean: the Created 2nd Edition, featuring the Firestorm Chronicle (Promethean: the Created)
"Sardonyx" System Rules (Base rules set for Scion and the Trinity Continuum) In Open Development
nWoD 2e core (New World of Darkness)
Mage: the Awakening  2nd Edition, featuring the Fallen World Chronicle (Mage: the Awakening) – In Open Development
Demon Storytellers' Guide (Demon: the Descent)
W20 Pentex Employee Indoctrination Handbook (Werewolf: the Apocalypse 20th Anniversary Edition)
Editing
V20 Ghouls (Vampire: the Masquerade 20th Anniversary Edition)
V20 Black Hand: Guide to the Tal'Mahe'Ra (Vampire: the Masquerade 20th Anniversary Edition)
W20 Shattered Dreams (Werewolf: the Apocalypse 20th Anniversary Edition) 
Development (post-editing)
ART DIRECTION FROM MIRTHFUL MIKE
In Art Direction
Dreams of Avarice – AD'd.
NWoD 2 – Trying to get the last four halfs in.
V20 Ghouls – AD'd.
Tal Me Rah – Fulls contracted, working out some shenanigans and figuring out the rest of the buy.
W20 Shattered Dreams – Talking to Ron Spencer about doing the fulls and working out the art buy.
In Layout
Beast – Working on the layout graphic elements.
M20 How Do You Do That – In progress.
In Proofing
M20 – Inputting errata later in the week…
M20 Screen – Still proofing with Phil.
Ex 3 Anthology – Awaiting updated text file.
At Press (on Drivethru… or whatever)
OPP Gen Con Staff Shirt – Proof came in and looks good. Now the race to have them at the show.
Demon Translation Guide – Outputting PoD PDF

on Monday

and uploading.
VDA20 – PoD proof ordered.
Special
Dark Eras – Holding pattern.
Wraith 20 – Yep… waiting on artnotes.
V20 Lore of the Clans – Holding pattern for appendices.
Exalted 3rd Edition – RT here: 5th Layout Proof PDFs Devs comments sent back to Maria, we should have some spreads to share with backers this week as we move into the fine-tuning part of layout. I'll be noting things like the text being to tight to the side of a sidebar, or whether a chart is in the right place on the page.
REASON TO DRINK: Pecan Cheese Logs: Nature's Gorilla.