Steppin' To The Edge of August… [Monday Meeting Notes]
By habit and common usage, we stand here at the end of Summer. Here at Onyx Path, we're using this cusp-y time to take stock, take off, and take a big breath before diving into (free?) Fall. Mirthful Mike is out this week and Rollickin' Rose ain't far behind. Me, I'm holding down the place until they get back.
Because when they back, all kinds of things will be happening. Some of them, you can extrapolate from our updates below. Lots of big books are being moved towards release and we'd love to at least get their PDF versions out this year as a reasonable goal, and their PoD versions out as an unreasonable one. Other changes are less visible, and are still only at the point that things might happen. So we'll keep those as secret things that might lift us up when we take that step like The Fool.
That's my old friend, the incredibly talented Joshua Gabriel Timbrook's version of The Fool for the Mage: the Ascension Tarot Deck from years back in the header graphic.
So, here's some stuff we caught up on today in our meetings. Eddy and I talked a lot about the response to the first of his Vampire: the Masquerade 4th Edition blogs; this one dealing with everyone's thoughts on Gehenna. We were both very pleased with the range of folks' ideas, and that we were pretty accurate when we guessed just how far our community would stretch from the "change everything!" folks to the "tightly tie everything together and roll with a continuation of the story" posters. And everyone in between. Excellent contributions, everybody!
If you want to add your voice to the discussion, please jump in. Eddy won't have another V4 blog up for a little while at least. http://theonyxpath.com/gehenna-vampire-open-development/
In addition, we reviewed a cool promotion we'll be doing throughout the month of October, and started setting that into place. You'll be hearing more about that in the weeks to come.
We also discussed a problem on our Onyx Path forums where some posters are reacting to the moderators' "red text" as if any instance of said red color is an aggressive take down, whereas our mods see the use of red text as an indicator of the mod entering the thread officially. Very often, they are red texting just to warn someone or to comment on an official level, not wield the ban-hammer. But some members of our forum community seem to be reacting strongly to that.
I really want our forums to be a place where we can freely discuss our Onyx Path games and other things of interest to our community, regardless of one's race or creed, social status or gender, sex or political affiliation. In order to have this, we must insist on the posted rules of behavior, and moderate that behavior. But I don't want folks feeling oppressed by the red text, even though we do need some sort of way to indicate Official posts from regular ones. So Rose has suggested a couple of possible  changes to our dedicated (and volunteer) mod crew, and we'll soon (in a week or so) see some tweaks to our mod messaging.
While I've got you here, I know some folks are really anxious to get their copies of Mage 20, and we've been delayed from being to offer them by a file glitch. I've gotten a few messages asking for a clearer explanation, so in the "a picture is worth a thousand words" category of explanation:
The book at top is the Premium PoD edition of M20, the lower one is the Standard PoD and the one that is giving us problems. We had over 50 pages where that blue color shift happened to the gold color because of a compression algorithm in the files. Mirthful Mike and our friends at DTRPG created a new set of printer files, and I was able to order a PoD proof last week, so hopefully they beat the problem. Hard to say until I get the PoD proof though, because it doesn't show up in PDFs.
Finally, I wanted to note that while Gen Con was last month (only last month!?), next weekend a bunch of Onyx Path folks will be walking through Dragon Con in Atlanta, and I'll be attending Save Against Fear 2015, a con in the Harrisburg, PA area that is run by the Bodhana Group. These are a great bunch of folks who believe in and practice the therapeutic value of tabletop RPGs. Or as they say:
For all gamers in the Harrisburg, PA area, Save Against Fear 2015 is shaping up for its fabulous fifth year Anniversary!  Save Against Fear is a charity fund raiser that is run by The Bodhana Group, a non-profit organization with two missions.  One is reducing the impact of sexual abuse, through community speaking, training and treatment and advocating the use of role playing and board games as therapeutic tools.  All proceeds support projects of The Bodhana Group, including speaking engagements, development of a therapeutic board game, and the writing of a book on how to use Role Playing Games therapeutically without losing the fun.  This year's Save Against Fear has been upgraded.  It will be conducted at The Best Western Premier Central Hotel and Conference Center, located at 800 East Park Drive, Harrisburg, PA 17111 over the weekend of

September 4th through the 6th

.

Save Against Fear weekend passes are $60 dollars for all the gaming you can handle, and access to many of the special events at no extra charge.  Your attendance fee also includes swag like our logo-ed dice bags, our signature rubber ducks, a WWYCD bracelet, and tickets for our prize raffles and our random treasure table.  Not to mention the chance to meet a wonderful group of people and aid in a noble cause fit for any Paladin. We will also be joined by multiple games of Pathfinder provided by the Pathfinder Society.  Our friends the hosts of the podcast Cap and Ton Show will there, setting up their delicious adventures as well as recording event attendee feedback, and hosting one of the returning additions to Save Against Fear – our panel discussions and workshops.  This year we have also added board games!  Our previous sister event, Meeples and Peoples Against Abuse has been joined with Save Against Fear to provide you more options for fun.  We will also have tournaments the whole weekend long.

Also, this year we have again dedicated time and space to families and children, with special kid friendly games like Camp Myth and Meddling Kids being run on a family-focused Sunday.  We also have many board games that are family friendly and teach valuable lessons and skills.  All weekend children under 12 get in for free!
Onyx Path is a sponsor again this year, as I both support their missions and have heard enough stories from players over the years to know that for some people, roleplaying games have provided a life-line through horrible and awful life events. I don't know yet which days I'll be there or in what capacity, but if you are in the Harrisburg area I heartily recommend stopping in and meeting a great group of people for some gaming, and maybe we can hang out and chat a bit. http://www.saveagainstfear.com/
_________________________________________________________________________________________________________________________________
And now, the BLURBS!
Vampire 20th Anniversary Edition: The Dark Ages is NOW available in PDF and PoD versions at DriveThruRPG.com! This massive full color tome is part of the V20 line but does not require V20 to play and enjoy.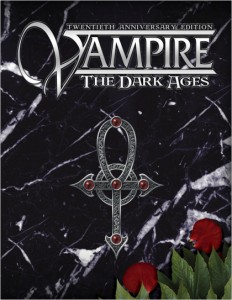 The Demon Translation Guide PDF and PoD versions are on sale now! We take fiendish delight in presenting this devilish guide to transferring your Demon: the Fallen and Demon: the Descent characters from one setting to the other: http://www.drivethrurpg.com/product/151502/Demon-Translation-Guide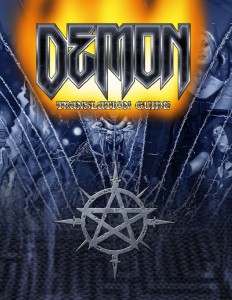 The Pugmire Pamphlet we had available at Gen Con is now ready for PDF download. Read about the world of Pugmire from the enthusiastic and optimistic pen of Princess Yosha Pug, as well as notes from the gruff and worldly hunter Pan Daschund: http://www.drivethrurpg.com/product/153518/Pugmire-Gen-Con-Brochure
The sixth and final Pugmire poster for now, Spike Mutt, is on the loose now as a free PDF or $.99 physical poster, suitable for framing: http://www.drivethrurpg.com/product/150845/Spike-Mutt-Pugmire-Poster-6
The fifth Pugmire poster, Pan Dachshund, is ready now as a free PDF or $.99 physical poster, suitable for framing: http://www.drivethrurpg.com/product/150844/Pan-Dachshund-Pugmire-Poster-5
The fourth Pugmire poster, Jack Rat-Terrier, is on-sale now as a free PDF or $.99 physical poster, suitable for framing: http://www.drivethrurpg.com/product/150944/Jack-RatTerrier-Pugmire-Poster-4
The third Pugmire poster, Sgt. Leo Bulldog, is available NOW as a free PDF or $.99 physical poster, suitable for framing: http://www.drivethrurpg.com/product/150843/Sgt-Leo-Bulldog-Pugmire-Poster-3
The second poster, Princess Yosha Pug, is available now: http://www.drivethrurpg.com/product/149750/Princess-Yosha-Pug-Pugmire-Poster-2
And the first poster, Sister Picassa Collie, is here: http://www.drivethrurpg.com/product/148516/Sister-Picassa-Collie-Pugmire-Poster-1
Start spreading the Code of Man!
Dread Names, Red List for V20 is now on sale! This collection of the most dangerous Kindred ever called Anathema is available in both PDF and hardcover PoD versions: http://www.drivethrurpg.com/product/150381/V20-Dread-Names-Red-List
————————————————————————————————————————————————————————————
And now, new project status updates!:
DEVELOPMENT STATUS FROM ROLLICKING ROSE (projects in bold have changed status since last week):
First Draft (The first phase of a project that is about the work being done by writers, not dev prep)
M20 Book of Secrets (Mage: the Ascension 20th Anniversary Edition)
Exalted 3rd Novel by Matt Forbeck (Exalted 3rd Edition)
CtL anthology (Changeling: the Lost 2nd Edition)
Pugmire Early Access
Dark Eras Companion (nWod Dark Eras)
Changeling: the Dreaming 20th Anniversary Edition
V20 Ready Made Characters (Vampire: the Masquerade 20th Anniversary Edition)
Beast Ready Made Characters (Beast: the Primordial)
Beast Fiction Anthology (Beast: the Primordial)
Cavaliers of Mars
Redlines
Mummy Fiction Anthology (Mummy: the Curse)
Wraith: the Oblivion 20th Anniversary Edition
Cursed Necropolis: Rio (Mummy: the Curse)
Beckett's Jyhad Diary (Vampire: the Masquerade 20th Anniversary Edition)
Changeling: the Lost 2nd Edition, featuring the Huntsmen Chronicle (Changeling: the Lost 2nd Edition)- In Open Development
WtF The Pack (Werewolf: the Forsaken 2nd Edition)
VtM Lore of the Bloodlines (Vampire: the Masquerade 20th Anniversary Edition)
WtA Kinfolk (Werewolf: the Apocalypse 20th Anniversary Edition)
Second Draft
Arms of the Chosen (Exalted 3rd Edition)
Secrets of the Covenants (Vampire: The Requiem 2nd Edition)
The Realm (Exalted 3rd Edition)
Dragon-Blooded (Exalted 3rd Edition)
Development
StoryPath System Rules (Base rules set for Scion and the Trinity Continuum)
W20 Pentex Employee Indoctrination Handbook (Werewolf: the Apocalypse 20th Anniversary Edition)
Scarred Lands Player's Guide: Ghelspad (Scarred Lands 2nd Edition)
W20 Changing Ways (Werewolf: the Apocalypse 20th Anniversary Edition)
nWoD Hurt Locker (World of Darkness 2nd Edition)
M20 Anthology (Mage: the Ascension 20th Anniversary Edition)
Dark Eras Expansions (nWod Dark Eras)
Editing
V20 Ghouls (Vampire: the Masquerade 20th Anniversary Edition)
V20 Black Hand: Guide to the Tal'Mahe'Ra (Vampire: the Masquerade 20th Anniversary Edition)
W20 Shattered Dreams (Werewolf: the Apocalypse 20th Anniversary Edition)
Demon Storytellers' Guide (Demon: the Descent)
Promethean: the Created 2nd Edition, featuring the Firestorm Chronicle (Promethean: the Created)
Mage: the Awakening  2nd Edition, featuring the Fallen World Chronicle (Mage: the Awakening)
Post-Editing Development:
ART DIRECTION FROM MIRTHFUL MIKE:
In Art Direction
V20 Ghouls – I believe all the artwork is in… I just need to gather it up and send it to CCP.
NWoD 2 – Leblanc working on the four fill in pcs.
Tal Me Rah – AD'd… won't see sketches until middle of September.

W20 Shattered Dreams – Finals rolling in. They've all been gorgeous thus far.

V20 Lore of the Clans – KMJ's headshots are done… two require some tweaks.
Pentex Employee Indoctrination Manual – Holding off until new text is in.

Demon STG –  AD'd.
Mage: the Awakening Second – Art Directing. Got emails out to artists, awaiting replies.
Promethean: the Created Second – Looking over it…


In Layout
Lore of the Clans – roughing in the new stuff while art is in progress.
Dreams of Avarice – Sketches are good… Sam's chugging along.

Proofing
M20 How Do You Do That ?!? – It's with Phil.
Ex 3 Anthology – Awaiting updated text file.

Ex 3 core book – RichT here: Maria had some computer and travel issues and so hasn't gotten back to me since late last week, but she expected to deliver a full new set of proofs this week that we can send to CCP for approval. I believe they will be taking the time to really review this proof thoroughly, but don't know how long that will take.
Beast: The Primordial – Interior first proof with McF.
At Press
V20DA– At press. Had to make some tweaks to the cover… Screen also at press.
M20 – Hopefully issues worked out and the new proof (which is on its way) looks good.
M20 Screen– At the Printer.
Special
Dark Eras – Holding pattern.
Wraith 20 – Yep… waiting on artnotes. 
---
TODAY'S REASON TO DRINK: G'bye summer vacay.