T-shirt Roundup
As of this post, Onyx Path now has an incredible 162 shirt designs available! With all the options for colours and styles, this bumps options into the thousands. Far far more than has ever been available from White Wolf in the past.
Let's have a look at what's available:
Onyx Path Publishing
Scion
We've got the three classic covers — Hero, Demigod, and God — as illustrated by Michael Kormarck.
Scion's also got a number of different Pantheon symbols available:
Vampire: The Masquerade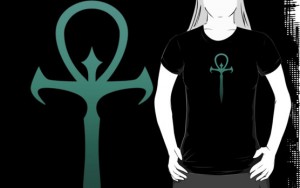 First are the obvious sect and clan symbols:
We also have a number of retro-designed shirts, calling to mind the Camarilla clan designs White Wolf had back around 1991-1992, featuring the illustrations of Tim Bradstreet.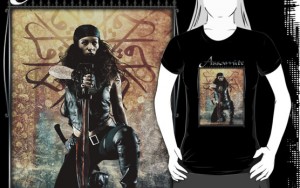 Contrasting with the retro designs are the clan illustrations Tim Bradstreet did 20 years later for V20.
And last, but not least, this biker-inspired design which came out of the Anarchs Unbound Kickstarter:
Werewolf: The Apocalypse
Starting off with the collection of various symbols:
We also have a full collection of tribe
art from W20 by the inimitable Ron Spencer:
We've also got a nice collection of Wyrmy symbols, starting with a design from the Book of the Wyrm Kickstarter:
Still Wyrmy, but with a different flavour, we have a selection of excellent Pentex shirts.
Mage: The Ascension
Fronted by a Mage20 shirt design achieved thanks to our Mage20 Kickstarter backers, we've got the collection of Tradition symbols.
And for our semi-antagonists in the Technocracy (and outright antagonists in the Nephandi):
Exalted
The new Exalted 3e signature characters get a place in the spotlight, as well as the main characters featured in the Ex3 comic, Tale of the Visiting Flare.
World of Darkness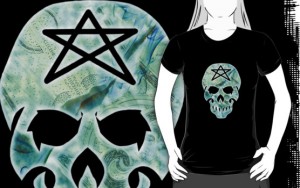 A lot of our new WoD shirts only have one or two per game line, so I'll consolidate a bunch of them here for space considerations.
Vampire: The Requiem
Skull symbols and art!
Hunter: The Vigil
Alternate skulls taken from Mortal Remains covering the various monster types there.
Demon: The Descent
The basics: the shields representing the four Agendas and Incarnations.
Whew! That's a lot of shirts.
We're just getting started! What sorts of designs would you like to see added?