The Quick & the Dead [Monday Meeting Notes]

We're quickly finishing up a bunch of Gen Con last minute details in order to take quick planes to the con this week. And we are all still alive and planning on getting lively at the con (for all you wanting to explain what "quick" means in the blog title).
Meanwhile, we are releasing the Advance PDF of Promethean: the Created Second Edition this Wednesday! Dead parts that are now alive and all that.
So first, more Gen Con info!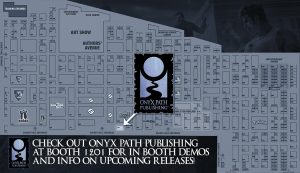 That's our spot, right in the front. Check out our video this year; we've added a few new sequences as well as a special message for our Trinity Continuum: Aeon fans. We'll have devs and writers coming by and many of them would love to run you a short game-play or character creation demo.
And remember that Dave Martin, the living legend, and the Wrecking Crew are running longer games over in the Marriott in Ballroom 10. A whole friggin' room for our game lines: WoD, CofD, Exalted, Pugmire, Cavaliers of Mars, Trinity Continuum, Scarred Lands, and especially Scion. They will also be demoing the finalized Prince's Gambit card game created by Justin Achilli!
Mirthful Mike Chaney wants all you interested illustrators and layout graphic designers to know that he will be in the booth and waiting feverishly to look through your portfolios – so bring them by! I've heard he is more likely to be in the booth in the mornings and gets the wanderlust in the afternoon. So if you want to apply your prodigious talents to our internationally recognized visual freelance team, now is your chance and Gen Con is the place!
Also about art, sort of, and more personal: as I have every year, I'll be signing Magic the Gathering cards (the ones I did the art for, at least) when I'm in the booth. $1 a signature, and we'll talk if you are looking for a sketch or whatever beyond the signature. Be sure and bring your own pens in the colors you want!
If you're a podcaster that is interested in talking with me or any of the Onyx Path crew about what we're up to, please feel free to stop by the booth and talk with Boppin' Bill Bodden or the ever-loverly Mike Hollywood, our booth maestros, and we'll get you set up.
If you are going, hope to see ya there! If not, keep an eye and ear out for our many social media tweets and posts! And if you have a question for any of the gang at our panels you'd like us to ask in absentia, post them in the comments here.
Promethean: the Created 2nd Edition's Advance PDF will come out on Weds at DTRPG, while we're at Gen Con, but we'll have a thread ready on our forums to take any errata you might find. It'll take us some weeks to let folks post errata and then gather, review, and implement them, and then we'll need to get the index created and the updated PDF and PoDs approved. So this is just the first taste of a splendid Promethean 2 release meal of several courses. Thanks!
And, of course, PtC2 developer Matt McFarland will be at Gen Con, too, so you can pepper him with questions about the new edition if you are there!
I hope you agree that this edition takes all the fantastic ideas that really made Promethean something special to play, and adds to them, while toning down some of the aspects that made the game seem difficult to play in groups or at all.
Finally, next week we'll all be returning from Gen Con and we'll be very, very tired. So no Monday Meeting and therefore no Monday Meeting Notes. But we'll have stuff going on, so I'm sure you'll have enough to read!
BLURBS!
KICKSTARTER!
With the Deluxe V20 Beckett's Jyhad Diary Kickstarter over, we're looking at our next KS campaign being for Scion 2nd Edition in late August. Neall and I are sitting down at Gen Con to discuss the last details, in fact. More news when we have it!
ON SALE!
DTRPG is having a massive sale on Vampire: the Masquerade 20th Anniversary Edition and the entire line! Check it out here: https://www.drivethrurpg.com/featured.php?promotion_id=V20-summer-bundle-2016
Looking for our Deluxe or Prestige Edition books? Here's the link to the press release we put out about how Onyx Path is now selling through Indie Press Revolution: http://theonyxpath.com/press-release-onyx-path-limited-editions-now-available-through-indie-press-revolution/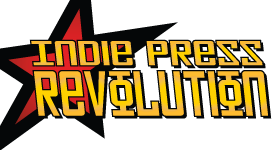 What was once unliving now arises! The Promethean: the Created 2nd Edition Advance PDF will be available at DTRPG.com on Wednesday!
The Curse of the Blue Nile fiction anthology for Mummy: the Curse is now on sale at DriveThruRPG in PDF/electronic and PoD versions! http://www.drivethrurpg.com/product/182835/Curse-of-the-Blue-Nile
Welcome to the first anthology of original fiction set in the world of Mummy. With Curse of the Blue Nile, the veil draws back to reveal a host of dark glimpses into the power of a single relic… and of the lengths to which the Deathless of lost Irem will go to secure it.
Each tale is a novella, spooling out the unique nature of the Blue Nile within its encapsulated view of the world's setting, and each story touches on a different one of the five Arisen guilds: The Alchemists, Laborers, Masons, Priests, and Scribes. Five dark turns at the wheel, helmed by the talented hands of veteran talespinners Lisa Morton, Stefan Petrucha, Malcolm Sheppard, Greg Stolze, and Mercedes M. Yardley.
Come, join us on a tour of the mysteries of the ancient, blood-soaked world.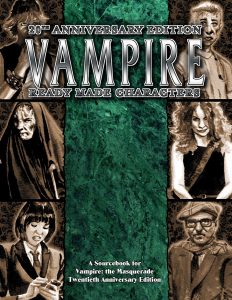 Now Available! on DTRPG in PDF and PoD versions: V20 Ready Made Characters. http://www.drivethrurpg.com/product/185028/V20-Ready-Made-Characters
Running a one-night game of Vampire: The Masquerade 20th Anniversary Edition? Wanting to start up a new chronicle, but your players aren't sure what to play? Looking for some examples of how to use the material in Lore of the Clans? Thanks to our generous Kickstarter backers, these thirteen ready-made characters cover each of the vampire Clans. Each character is provided with background, roleplay suggestions, art, and some potential coteries and plot hooks — everything you need to start your endless nights as one of the Kindred.
This book includes:
Thirteen pre-generated player character, with both starting and experienced character sheets.
A brief break-down of the character's history and roleplaying suggestions.
Six possible coteries for these characters, complete with coterie charts.
Seven plot seeds to help the Storyteller jumpstart her chronicle.
Servants of the Damned: the PDF and PoD versions for V20 Ghouls & Revenants are now available at DTRPG! http://www.drivethrurpg.com/product/184039/V20-Ghouls–Revenants
Ghouls & Revenants includes:
Expanded and revised character creation for ghoul and revenant player-characters
Clan and Sect write-ups for ghouls who serve them
New revenant families including the Rossellini, Kairouan Brotherhood, and more.
New rules for ghouls and revenants including new Merits & Flaws, Backgrounds, Discipline Packages, etc.
A Storyteller chapter for advice on running ghoul-or-revenant focused chronicles.
…and more!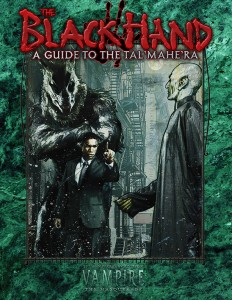 V20 Black Hand: Guide to the Tal' Mahe' Ra is now on the attack at DTRPG in PDF and physical hardcover PoD forms! http://www.drivethrurpg.com/product/179023/V20-The-Black-Hand-A-Guide-to-the-TalMaheRa
The Tal'Mahe'Ra, the Black Hand, plays the long game. They're fighting a war of millennia, and the stakes could never be higher than they are tonight. They know truths about the Ancients, terrifying truths, dangerous truths, and they know the fight will be long and tireless.
The Black Hand — A Guide to the Tal'Mahe'Ra includes:
An updated look at the Tal'Mahe'Ra, which brings the ancient conspiracy into the twenty-first century.
Tricks of the Black Hand's trade, including new Disciplines, Backgrounds, Merits, and eldritch sorceries.
Insight into some of the Hand's sects, including those who hunt the infernal, and the worshipers of Lilith.
There has always been…Darkness. Coming at you through time itself, the Chronicles of Darkness: Dark Eras PDF and physical book PoD versions are now available at DTRPG! http://www.drivethrurpg.com/product/178583/Chronicles-of-Darkness-Dark-Eras
Chronicles of Darkness: Dark Eras reveals the world throughout its long and storied past. Through sixteen eras, you'll learn the secret history of the world, from the flame-lit tales of the Neolithic to the drug-fueled rebellion of the 1970s. Delve into the past, and learn that the Chronicles of Darkness began long before the modern nights.
Dark Eras includes historical settings for Chronicles of Darkness game lines:
Vampire: the Requiem
Werewolf: the Forsaken
Mage: the Awakening
Promethean: the Created
Changeling: the Lost
Hunter: the Vigil
Geist: the Sin-Eaters
Mummy: the Curse
Demon: the Descent
Mage: the Awakening 2nd Edition Advance PDF NOW available at DTRPG.com! http://www.drivethrurpg.com/product/181754/Mage-the-Awakening-2nd-Edition
You are a mage, one of the Wise. You see, know, and explore what others can't imagine, from the depths of the human soul to the hidden corners of reality. Armed with your spells, driven by an addiction to Mysteries, you delve into the secrets of the world. Knowledge has a price, and the dangers are many.
This book contains:
The complete guide to playing a mage in the Chronicles of Darkness.
Reimagined Paths, Orders, and powers to create your Awakened characters and their allies, including an updated version of the most comprehensive free-form magic system in gaming.
Five example settings across the world, from Los Angeles to Salamanca, each with a central Mystery.
A brand-new look at all the strange places of the Fallen World, from the Lower Depths to the Emanation Realms, and what mages might find within.
NOTE: This is the Advance PDF version. A final PDF version and PoD versions will be available at a later date. If you have purchased this Advance PDF, you will be automatically updated to the final PDF and receive a link to enable you to purchase the PoD at a discount designed so that your total price matches our usual PDF and Print combo offer.
You must have your DTRPG account set to accept messages from Onyx Path Publishing before the link messages are sent out, though, so please adjust your settings if you want that discount.
CONVENTIONS!
Gen Con 2016 Onyx Path events registration has now been posted on the Gen Con site! A LOT of our events have sold out already, so please jump in ASAP if you'd like to attend: https://www.gencon.com/event_finder/Host/Onyx%20Path%20Publishing
These don't include the demos and playtests we'll be having at the booth.
I'll be at our panels, and also at this panel about Kickstarters and how to make them work: https://www.backerkit.com/blog/106 Please come by and say hi!
We'll be at the 2016 Grand Masquerade in New Orleans over the Labor Day Weekend both talking about the early years of White Wolf and representing the tabletop part of the World of Darkness! Come play in games hosted by legendary Dave Martin and the Wrecking Crew and demos at the Onyx Path booth in the dealer area!
---
And now, the new project status updates!
DEVELOPMENT STATUS FROM ROLLICKING ROSE (projects in bold have changed status since last week):
First Draft (The first phase of a project that is about the work being done by writers, not dev prep)
Exalted 3rd Novel by Matt Forbeck (Exalted 3rd Edition)
CtL fiction anthology (Changeling: the Lost 2nd Edition)
BtP Building a Legend (Beast: the Primordial)
Trinity Continuum Core Rulebook (The Trinity Continuum)
Trinity Continuum: Aeon Rulebook (The Trinity Continuum)
M20 Gods and Monsters (Mage: the Ascension 20th Anniversary Edition)
Scion: Origins (Scion 2nd Edition)
Scion: Hero (Scion 2nd Edition)
BtP Player's Guide
V20 Dark Ages Jumpstart (Vampire: the Masquerade 20th Anniversary Edition)
M20 Cookbook (Mage: the Ascension 20th Anniversary Edition)
M20 Book of the Fallen (Mage: the Ascension 20th Anniversary Edition)
Redlines
EX3 Jumpstart (Exalted 3rd Edition)
VtR A Thousand Years of Night (Vampire: the Requiem 2nd Edition)
Pugmire Core Book
Second Draft
Arms of the Chosen (Exalted 3rd Edition)
The Realm (Exalted 3rd Edition)
Dragon-Blooded (Exalted 3rd Edition)
Cavaliers of Mars
Wraith: the Oblivion 20th Anniversary Edition
VtM Endless Ages fiction anthology (Vampire: the Masquerade 20th Anniversary Edition)
Development
W20 Changing Ways (Werewolf: the Apocalypse 20th Anniversary Edition)
Changeling: the Lost 2nd Edition, featuring the Huntsmen Chronicle (Changeling: the Lost 2nd Edition)
Signs of Sorcery (Mage: the Awakening Second Edition)
SL Ring of Spiragos (Pathfinder – Scarred Lands 2nd Edition)
SL The Wise and the Wicked (5e – Scarred Lands 2nd Edition)
SL The Wise and the Wicked (Pathfinder – Scarred Lands 2nd Edition)
SL Dagger of Spiragos (Pathfinder – Scarred Lands 2nd Edition)
BtP Mortal Remains (Beast: the Primordial)
Scarred Lands Player's Guide 5E: Ghelspad (Scarred Lands 2nd Edition)
Ring of Spiragos (5e – Scarred Lands 2nd Edition)
Dagger of Spiragos (5e– Scarred Lands 2nd Edition)
V20 Dark Ages Anthology (Vampire: the Masquerade 20th Anniversary Edition)
Editing:
V20 Dark Ages Companion (Vampire 20th Dark Ages)
Changeling: the Dreaming 20th Anniversary Edition
M20 Book of Secrets (Mage: the Ascension 20th Anniversary Edition)
Post-Editing Development:
Night Horrors: Conquering Heroes (Beast: the Primordial)
W20 Pentex Employee Indoctrination Handbook (Werewolf: the Apocalypse 20th Anniversary Edition)
Indexing:
ART DIRECTION FROM MIRTHFUL MIKE:
In Art Direction
Dark Eras Companion
Necropolis Rio
Beckett's Jyhad Diary
CofD Hurt Locker
Mummy Novel
V20 DA Tome of Secrets
V20 Lore of the Bloodlines
Beast RMCs
SL Wise and Wicked Update
Prince's Gambit 
Beast Conquering Heroes
In Layout
Secrets of the Covenants
Kinfolk 
Mage: the Awakening 2nd – Entering errata from DaveB.
Proofing
Scarred Lands PG PF
W20 Shattered Dreams 
At Press
Beast Screen – At shipper.
Beast Prestige Edition – done printing, arranging shipping.
Dark Eras – PDF and PoD versions on sale at DTRPG. Prepping Prestige Edition files for printer.
Ex 3 Screen – At the Printer.
Ex 3 core book – From RichT: Printing the interior.
Dark Eras Fiction Anthology – Box of books ordered to be on sale at GenCon.
Dark Eras Screen – At the Printer.
Promethean: the Created Second – going live with Advance PDF Weds.

Ex 3 Backer Charm Book – Ordering PoD proof.
Special- projects on hold in the art and production area until an external factor is resolved
Wraith 20 – Art direction and layout can't go further until art notes come in, still being developed by Rich Dansky.
---
TODAY'S REASON TO DRINK: Did I mention we'll be at Gen Con this week? Alcohol as donations gratefully accepted at any of our panels…