The Trinity Continuum: Æon Kickstarter is LIVE!
News, Press Releases, Sales, Trinity Continuum, Trinity Continuum: Æon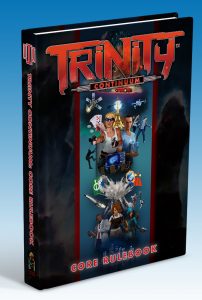 From: Onyx Path Publishing
To: Æon Trinity operatives
Encryption: RPH/x9
Transmission type: textfile
The Kickstarter for the Trinity Continuum core rulebook and the Trinity Continuum: Æon rulebook is now live!
>>> JOIN THE ADVENTURE NOW <<<
Contribute to help create, publish, and distribute the new edition of the Trinity Continuum tabletop roleplaying game.

The Trinity Continuum Core rules are the foundation for interacting with the Trinity Continuum setting. Using the Storypath System, the Trinity Continuum Core rules provide a contemporary baseline, allowing you to explore modern scenarios in various genres. Present day scenarios involving dedicated investigators, audacious con artists, underground do-gooders, and intrepid explorers can all work within the structure provided.

Trinity Continuum: Æon will be the first non-contemporary setting explored on the Trinity Continuum timeline. Set in the year 2123, Trinity Continuum: Æon depicts a future Earth, still in the process of recovery from a devastating war and starting to expand into space. Nations that avoided the brunt of the destruction have transformed into leading political forces, while other regions are either home to struggling survivors in the ruins of their former countries, or living under a fascist regime intent on restoring order at any cost. Bio-engineering technology mixes with psionic orders creating new power structures, while alien contact has been made with mixed results. The Trinity Continuum: Æon setting allows for a variety of play styles, from cyberpunk-like corporate espionage and intrigue to post-apocalyptic survival stories, to space exploration.
>>> JOIN THE ADVENTURE NOW <<<