Tuesday's Tendrils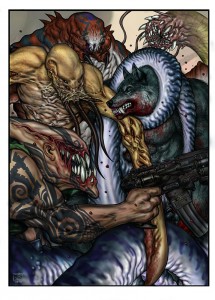 Like our Garou friend above, sometimes there are things that will not let go of us from week to week. Right now I have a few things that are hanging on, and I'm going to mention them here in hopes that the sharing will encourage the tentacles to drop loose finally.
First, last Saturday was Free RPG Day, which we at Onyx Path have participated in for the past two years as a show of support to all those friendly neighborhood game stores out there. Basically, RPG publishers provide free printed products that are distributed to the stores who participate. For us, participation means we need to justify the expense of returning to traditionally printing and shipping the free product, a process that we just don't do a lot of anymore. We have to work to find ways to include retailers in the mix with our current business model- and we do, with things like our Kickstarter Retailer Reward Tiers and an evolving Retailer Discount PoD program on DTRPG. So far, I've thought of Free RPG Day as just one more thing we could do to help out the biz, and specifically participating stores, by giving our community a reason to go to a game store again. As far as I can tell, the number of folks coming to Onyx from game stores because of our participation last year was pretty small, but as we learned then and had confirmed this year, our community of fans will turn out and go to the stores if we include a product.
So, to me, that's a win for the game stores.
But, (and you knew there was one) there are a bunch of game store owners out there that are pissed off that we dare to participate since we no longer put books into their stores via the traditional distribution channels. So pissed off that last year some of them threw away the free products from us, and this year, perhaps realizing they lost out on members of our fan community, some of them merely cut out the last page of the Mage 20 Quickstart that was an ad for the M20 line available through DTRPG. Of course, the M20 character sheet was on the back of that ad. I guess they did that so Onyx Path (or DriveThru) wouldn't benefit from the gamers coming into their stores who might never have heard of White Wolf's games, or of Onyx Path, or of DriveThru, and would decide that this newfangled PDF and PoD thing was how they were going to get their game books from then on in. I can understand that is a risk, particularly if your business is barely hanging on and the loss of even a single customer can spell the difference between a good or disastrous month. Retail can be really ugly, so I get that.
The thing is, the single thing I heard back from our community was that once they got to the stores last Saturday, the M20 QSs were already gone. Our fans had already grabbed them because they heard it was going to be there. Some were no doubt gamers who were regular or at least semi-regular customers and as crazy as it sounds, they probably buy other companies' games and stuff at that store. But it just stands to figure that a fair number of those customers coming in to snag an M20 QS don't come in all that often. It was our participation in Free RPG Day that got them there. Again, we're back to the win. To me, that sounds like an opportunity to build the store's customer base rather than lose a customer to the electronic marketplace- but I'm not a retailer, so maybe that's a dumb idea.
So, the tendril hanging on here is the idea that the One True Way to get RPG books must be via the same method of distribution we used in 1996. The fact is that getting books into bookstores is no longer the only or even the best method of getting our books to our fans. It is a method, and has to be considered for all its pros and cons just like any other sales venue we have the option to use. Adding a Retail Tier for stores in our Kickstarters makes sense as it gives a discount for retailers so they can have the most shiny of our books available without us losing money by overprinting expensive to manufacture books like the traditional set-up. Putting together a Retailer Discount for our PoDs makes sense as again we get actual books into stores without us sitting on inventory, and canny retailers can restock whenever they want as the PoDs can be ordered at any time. Maybe another method or process or even just an advantageous deal with a printer will come along that again means we can get books into stores in some way- it just has to make sense for Onyx's overall and evolving business plans. As a business, we intend to keep moving.
Welp, it looks like I rambled on about just that tendril enough to dominate the space- just room for a couple brief overall items. We're still scrambling to get our GenCon stuff together, but things are happening and samples are coming in to Mirthful Mike, so that's all moving well. And the W20 Book of the Wyrm Kickstarter has passed 1000 backers with just eight days to go, so that deserves a "Whoot!"
Next week, I'll talk about another tendril or two- one of which will certainly be a bit on how I really want Onyx Path  to be a game company where we're proud to say why something we did was awesome without feeling like we have to tear down other creators, games, or companies.
Here are the writhing projects in tentacle-ly progress:
– Book of the Deceived (MtC): In Editing.
– Sothis Ascends (MtC): First draft heading into redlines.
– Cursed Necropolis: Rio (MtC): First draft heading into redlines.
– Exalted 3rd Edition:  From Holden: "Final playtest-based revisions to Melee, Brawl, Thrown, Archery, Awareness, and Dodge were completed this week. Evocations are nearing completion. A number of small final changes to the combat engine based on months of feedback are being instituted this week."
Zub's EX3 Comic: PDF and physical copy PoD and PDF/PoD combo version on sale at DriveThruRPG: http://rpg.drivethrustuff.com/product/128873/Exalted-Tale-of-the-Visiting-Flare. Both EX3 novels are being worked on, and notes went back on Matt Forbeck's synopsis. The EX3 Music Suites are at a standstill right now until our composer gets through his full time job commitments.
– V20 Anarchs Unbound: It is live on DTRPG in PDF, ePub, PoD and PDF/PoD combos. http://rpg.drivethrustuff.com/product/127247/Anarchs-Unbound Getting printer quotes finalized for Deluxe version.
– V20 Rites of the Blood: Layout is almost done for it. Discussing this with Eddy and we think we'll get this out ASAP without further delay.
– V20 Dark Ages: Scribes are scribing 2nd Drafts and some 3rd Drafts. David Hill has delivered some art notes. Talking about the art for this continues this week, particularly the full page pieces.
– V20: Ghouls: In 2nd drafts.
– V20 Red List: In final draft stage.
– The Making of the Art of Children of the Revolution: Creating PoD files to go with PDF for sale on DTRPG.
– V20 Blood Diaries (Bloody Missive Collections) of the Clans: Writing.
– Deluxe Werewolf 20th Anniversary Edition: Mike Lee plans to deliver several new chapters this week of the W20 "Houses of the Moon" novel for Bill to review. The White Howlers Tribe Book is in layout approval, and the comic is being scripted by Bill Bridges so that John Bridges can get started on the art. W20 Wyld West: PDF and physical book PoD versions are slated to go on sale Friday the 27th.
– W20 Changing Breeds: Deluxes getting put on trucks to be sent to the fulfillment shipper. The Changing Breeds Fiction Anthology: is live on DTRPG. http://rpg.drivethrustuff.com/product/130126/Songs-of-the-Sun-and-Moon-the-Changing-Breeds-Anthology
– W20 Book of the Wyrm- 8 Days to go and still having a lot of fun with the Pentex Board Nominees posting their schemes and campaign platforms, and have already passed several Stretch Goals including the creation of a Pentex Employee Indoctrination Manual including sections on Magadon and The RED Network, a Wyrm KS t-shirt and a Pentex t-shirt discount, and added Fallen Changing Breeds, and more on the Black Spiral Dancers to the book itself- said topics of extra text being chosen by the backers themselves. Next Stretch Goals are a section in the book on Fomori First Teams, and an added section to the Manual that transcribes the Pentex Guide to Werewolves online video series.
– W20: The Umbra: In post-second draft development.
– Mage the Ascension 20th Anniversary Edition-  Satyr Phil has handed all the text off to Bill. Bill has started his "second set of eyes" developer's pass. The Character Pack book and the "How Do You DO That?" book would be next on our agenda. Satyr made live appearances at The Dreaming bookstore, and the AFK Tavern in Seattle for Free RPG Day and had a blast! Thanks to all of you for coming out and enjoying the M20 themed drinks!
– Trinity Continuum: System Doc being assembled by Joltin' Joe Carriker. He says system development is really hard and apologizes for the delay. The first new piece of art in YEARS has been commissioned. We're doing some Gen Con things with that.
– Scion: Waiting on sketches for the Scion: Origins cover. New character piece came in last week. Sweet! Who is this character, Joe? He's not tellin' yet, but you'll see it at Gen Con.
– Demon: The Descent: Demon Seed Collection is in post-writing development. DtD Seattle is in layout. Heirs to Hell backers' PDF went out to KS backers last week. Demon Translation Guide is being written. The Demon Fiction Anthology + Interfaces is in post-writing development.
– DtD Players Guide: Flowers Of Hell: PDF will be available on Weds the 25th. (Late afternoon US time, don't wear out your Refresh finger too soon).
– nWoD: Dark Eras: All but one 2nd draft is in, and Black Hat Matt expects to be able to run a focused dev pass on that to get it to editing too.
– WtF: The Idigam Chronicle: In redlines. Stew Wilson is doing a remarkably regular Friday blog that focuses on specific topics for the book- lots of good discussion happening right now: http://theonyxpath.com/category/projects/werewolftheforsaken/
– GtSE: Geist Ready Made Characters: In redlines.
Reason to Drink: To try out those funky M20 drinks.