Twas the Week Before Halloween [Monday Meeting]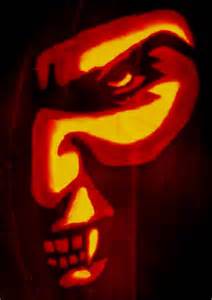 I was going to pull up a vampire pumpkin image and there was this Vampire: Redemption jack o'lantern. So, naturally, I had to use that.
Because this IS the week of Halloween! And we love it so!
First, we are participating in sales over at DriveThruRPG and DriveThruFiction as Ian's post here goes into detail: http://theonyxpath.com/drivethrurpg-halloween-sale/
Here's a link to discounts on some new classic WoD fiction we created via several Kickstarters: http://www.drivethrufiction.com/dtf_halloween.php?manufacturers_id=4261
Here's a link to some Scarred Lands discounted books including the classic Hollowfaust: http://rpg.drivethrustuff.com/rpg_halloween.php?manufacturers_id=6068
Here's a link to some scary book discounts for Geist, Orpheus, and Manual of Exalted Power: Abyssals: http://rpg.drivethrustuff.com/rpg_halloween.php?manufacturers_id=1
Next, on Wednesday, we'll be sending out a special discount code to all our Onyx Path Mailing List members for a bundle containing all the Ready Made Characters PDFs so that folks can get some quick Halloween weekend gaming in fast. It's our way of thanking all of you that signed up for the list: you'll get the bundle both discounted and before it becomes available to the general public.
Which brings me to this: are you doing any Halloween gaming this week? Are you dressing up? (Eddy is off to a LARP cruise this week, so we know he will both playing and dressing up in character!) If you do dress up, is it as one of your characters? We'd love to see just how you all celebrate, so send us some pics of the fun! You can link to your photos here even though you can't just post them, but you can post photos on our Face Book sites. So post on FB, or link to 'em here, and let us see how accurate/scary/wacky your costumes are this year. Any ones we think are particularly cool we may repost here and/or on our Social Media all through next week.
From the fun on to the business: As I noted above Eddy is off on a LARP cruise for something called a vac..a..tion? Never heard of such a thing, but it meant that he wasn't around for our Monday Meetings today. Which is OK as we were interrupted during the Onyx Path crew meeting when my internet went out. Phft! Gone. We did have time to discuss the Halloween sales I mentioned above, and also a couple of bigger issues.
For one, Magic Matt McElroy encouraged me to repost a comment I put up last week about our stance on Metaplot as a lot of you might have missed it in the comments:
Again, a lot of the issues with metaplot come from how each of us defines. For us, it is the progression of events presented in supplements that occur after the set time assumed in the core book. Only this. So, we know there are folks who enjoyed that, either because they weren't playing so much as reading, or because their style of playing was locked into metaplot advances as each book came out. There is very certainly nothing wrong with that.

Unfortunately, looking at our books as the RPGs they are, our game lines became harder and harder to get into as the setting info in the core books got overwritten by the supplements, and for potential new players, or those who quite understandably couldn't buy every single book that might contain an iota of setting change, it became very hard to incorporate the changes or even understand them out of sequence.

What we are looking at now is specifically how the fun and richness of that developing world could be brought out without leaving not just a section of our audience in the lurch, but the chance to grow our audience with new players. And books like Beckett's Jyhad Diary or even V20 Dark Ages are where we are looking at how to get the good parts together without the downside.

And the thing is, new players aren't just for us as a company to make the big bucks, they are also how a line is seen as healthy and selling enough to get new supplements. So for current players, getting new players in provides new people to play with, but also increases the chance that your favorite line gets more books for you personally to enjoy.
Hope that gives you an idea of how we are seeing things evolve with new projects.
We also discussed how we've needed to mention our intention and policy towards inclusion more and more these past few weeks, and in the course of throwing around everybody's thoughts on this, something really interesting came together for us. We've often mentioned White Wolf's historic openness to all sorts of fans as something we are proud to have been a part of and to continue at Onyx Path. (Even though both WW and Onyx aren't always perfect with how we implement everything, the intention is always there, and we are always listening).
But it never before came together in my mind, at least, that because WW was inclusive starting in the 90's that we are in the relatively unusual position in tabletop RPGs of having a fan base already made up of folks who might not have felt welcome elsewhere. Onyx Path isn't adding inclusive policies, we're continuing the same relationship with you, our community, as we've always had. To me, that feels good and it feels right.
You know what else feels right, True Believers? This week's Updates:
DEVELOPMENT STATUS FROM ROLLICKING ROSE (Projects in bold have changed listings)
First Draft (The first phase of a project that is about the work being done by writers, not dev prep)
Beast: the Primordial core book (Beast: The Primordial)
W20 Pentex Employee Indoctrination Handbook (Werewolf: the Apocalypse 20th Anniversary Edition)
Mage: the Awakening  2nd Edition, featuring the Fallen World Chronicle (Mage: the Awakening) – In Open Development
Fallen World Chronicle Fiction Anthology (Mage: the Awakening)
M20 How do you DO that? (Mage: the Ascension 20th Anniversary Edition)
M20 Book of Secrets (Mage: the Ascension 20th Anniversary Edition)
Cursed Necropolis: Rio (Mummy: the Curse)
Secrets of the Covenants (Vampire: The Requiem 2nd Edition) – In Open Development
Wraith: the Oblivion 20th Anniversary Edition
V20 Black Hand: Guide to the Tal'Mahe'Ra (Vampire: the Masquerade 20th Anniversary Edition) – In Open Development
W20 Novel by Mike Lee (Werewolf: the Apocalypse 20th Anniversary Edition)
Exalted 3rd Novel by Matt Forbeck (Exalted 3rd Edition)
W20 Changing Ways (Werewolf: the Apocalypse 20th Anniversary Edition)
Redlines
Mummy Fiction Anthology (Mummy: the Curse)
Exalted 3rd Fiction Anthology (Exalted 3rd Edition)
Arms of the Chosen (Exalted 3rd Edition)
W20 Shattered Dreams (Werewolf: the Apocalypse 20th Anniversary Edition)
Second Draft
Promethean: the Created 2nd Edition, featuring the Firestorm Chronicle (Promethean: the Created) – Playtesting
Development
Firestorm Chronicle Fiction Anthology (Promethean: the Created 2nd Edition)
V20 Red List (Vampire: the Masquerade 20th Anniversary Edition)
V20 Ghouls (Vampire: the Masquerade 20th Anniversary Edition)
World of Darkness Dark Eras- Vampire chapter (WoD Dark Eras)
Sothis Ascends (Mummy: the Curse)
V20 Lore of the Clans (Vampire: the Masquerade 20th Anniversary Edition)
Editing
Mage: the Ascension 20th Anniversary Edition core book (Mage: the Ascension 20th Anniversary Edition)
Werewolf: the Forsaken 2nd Edition, featuring the Idigam Chronicle (Werewolf: the Forsaken)
Exalted 3rd Edition core book- From Holden: "The book is finishing in editing. Art continues to come in thick and fast, being reviewed and revised. And in case you missed it last week: the final piece of writing for the book is now in editing—a new short story by Jenna Moran". (Exalted 3rd Edition)
Development (post-editing)
World of Darkness Dark Eras core book (WoD Dark Eras)
Idigam Chronicle Fiction Anthology (Werewolf: the Forsaken)
ART DIRECTION FROM MIRTHFUL MIKE
White Howlers – Hopefully going on sale this week. (RT: That's a big maybe as I found a file problem in the PoD proofs).

Book of the Deceived – Should have Ace's art in by the time this weekend at some point. I'll drop that in with Trabbold and Leblanc's pieces and get that out for proofing.
Book of the Wyrm 20 – Stew is compiling errata.
DAV20 –  

Tightening up layout continues. With Tucker and Vince getting their art in, I'm gonna fill some more holes and then figure out what else needs getting. 

Sending Niktuku splat info to Cathy so that can get done. Sto should be finishing up the heraldry for the first batch of clans this week.
Anarchs Unbound –  Hopefully proceeding as planned at the printer.
T-Shirts – Might do some if I have time. Check out Ian's T-Shirt Round Up Blog from last week for what we currently have: http://theonyxpath.com/t-shirt-roundup/
Art O' The Changin' Breeds –   Nada. Spent all my time on other stuff this week. If I have a chance, I'll get some more done on it.
Umbra – All but one full and two halfs in. No word from Stew on proof notes.
Ready Made Characters: Geist – Art should all be in

on Monday

. First four are in and approved. Probably lay it out real quick

on Monday

or

Wednesday

.
VTR II – Covers discussed.
Dark Eras and Second Editions – As the artists are wrapping up DA, Umbra, and various other projects I'd like to get them onto these before the holidays. Most artists won't take on that many pieces during the Thanksgiving and Xmas holidays and all three of those titles are big books that will require quite a bit of art.
WtF 2 – Pinging potential artists. Got three lined up, but still looking for someone to do fulls.
Scarred Lands – sending artist contracts and notes this week for the cover.
Idigam Chronicle Anthology – Done.
EX3- RichT here, once again tagging onto Mirthful Mike's report, to say that art director Maria Cabardo has assigned all the art from the first batch of 91 pieces and I am looking at sketches and sending them on to the Devs, and Maria has the second batch of art notes and is assigning those pieces. We are hot and heavy into sketches and more sketches and color comps.
REASON TO DRINK: This is Halloween, Halloween, Halloween! And I'm the bad dad that sips a magic drink called an Old Fashioned while handing out candy. If your costume is cool, you get double candy.