V5 Chicago by Night is now live!
Press Releases, Vampire: The Masquerade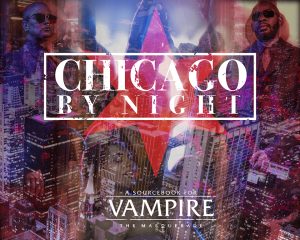 The Kickstarter for Chicago by Night for Vampire: The Masquerade 5th Edition begins now!
Chicago By Night, an updated edition of White Wolf's bestselling city book, will be Onyx Path Publishing's first supplement for Vampire: The Masquerade 5th Edition.

In this hardcover supplement, you will find descriptions of most of the Kindred inhabitants of Chicago, complete with 5th Edition writeups; the secret history of Chicago with detailed maps and geographical details; relationship details and factions; and dozens of encounters organized by theme, which provide Storytellers a means to make the setting come alive for the players.

This Chicago By Night Kickstarter is designed to enable us to create a prestige hardcover edition designed to sit proudly alongside Vampire: The Masquerade 5th Edition core book.

We want to create an 8.5" x 11" hardcover with a beautifully designed, full-color cover image featuring the Windy City. We estimate the book to be more than 240+ pages, with a full-color interior and endpapers on high-quality paper stock.
Head over to the Kickstarter now!