Waggin' Tales & Wraithy Wails [Monday Meeting Notes]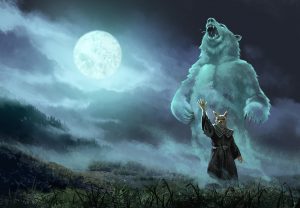 With tails wagging and tongue's lolling, we are racing towards the last days of the Fetch Quest Kickstarter campaign! If you haven't yet checked it out, please take a look at this easy to learn, cooperative, deck-building card game for all ages. The KS page has reviews and how to play links, and as a backer you can download a print'n'play version of your own and start having fun right now! https://www.kickstarter.com/projects/200664283/fetch-quest-a-deck-building-game-in-the-realms-of/description
And once you do, let us know what you think! Card games aren't our usual thing, so the more feedback we get on the game or the way the Fetch Quest Kickstarter is set up, the better we can do the next ones!
Here are a few more bite-sized treats selected from what we talked about in the Monday Meeting today:
Our sales partners at IPR's sale on prestige edition Chronicles of Darkness books (Demon: The Descent, Mummy: The Curse, Dark Eras, Beast: The Primordial) and their Screens ends June 24th. These are the remaining books from their respective Kickstarters, and are traditional printed and bound, with bookmarks and embossed and varnished covers printed over metallic paper. They're gorgeous and on sale. http://www.indiepressrevolution.com/xcart/Onyx-Path-Publishing/
Fantasy Grounds has added Shelzar: City of Sins from Scarred Lands to their online store, so that their Virtual Tabletop community can now explore the most wicked city in the Scarred Lands. We're very happy that our SL presence in VTT is starting to build with our friends at Fantasy Grounds!
Our plans for Gen Con 2018 are rolling forward – just check out the projects Mirthful Mike is working on right now – and we're going to be waving at Paizo again on our front, and across the aisle sideways at White Wolf this year. So we'll have a ring-side seat at the explosion of gamers coming for V5 this year. Meanwhile, we'll have our good friends from the Wrecking Crew demoing again this year outside the exhibit hall in their own room, and at least one demo table at our booth going at all times. Expect us to announce some pretty wild projects this year!
Lots of folks working on lots of exciting books – just peruse the First Draft part of the Progress Report below! We still have some very important core books to deliver, and then a smorgasbord of different projects of all game lines and sizes are on their way.
Last Friday's Onyx Pathcast that featured an overview and behind-the-scenes of Vampire: The Requiem 2nd has garnered a ton of fantastic comments all over the place, and rightfully so considering the Terribly Terrific Trio (or the Terrifically Terrible Trio) were really firing on all cylinders with this one. If you want to hear more of these project or game-line oriented Pathcasts, then join the crowd and let us know! This Friday, at least two thirds of the gang will be interviewing the amazing up-and-coming writer and developer, Steffie de Vaan.
And now, as a change of pace, and as sort of an illustration equivalent to the Developer/Writer viewpoints in last Friday's Onyx Pathcast, I thought I'd do a bit of a walk-through showing the steps Mirthful Mike and I go through as an art director when one of us commissions an artist to create an illustration for one of our books.
The developer should have provided the art notes for the pieces they know they need. Some devs will write out very detailed, multi-page, descriptions that specify every aspect of what the piece should contain, others will give very brief descriptions and leave the decisions as to what looks good to the artist.
As an art director, I'm looking for a bit of a middle zone where the developer includes descriptions or reference links for accuracy – character appearance, the location, etc – and very specifically what they need to see happen in the illustration. If the point is to show a power being used, we do need to know what that power does. If the point is to show our cool protagonist in a run-down bar, then a brief description of what sort of attitude is being expressed is important.
In the end, we prefer to give the artist just enough info so that they can run with a piece and show off their abilities while still holding to the subject matter we hired them to illustrate. We also like to have a good idea of which pieces are going to which illustrator so that we can fine tune the notes based on how they are most comfortable working.
Some artists like having as much info as possible in addition to the art notes, like the whole text or at least their chapter, while others find all that reading too much to deal with while trying to get to grips with their specific assignments. No wrong answer there, and we try and work with them to allow them to make their best work.
For example, here's a link to the art notes for the full page pieces for Wraith 20th that we sent to Ken Meyer, Jr. For this project, Ken was illustrating all the full-page pieces and they needed to contain the various player-character types. Since we've been hiring Ken for longer than any of us care to be reminded about, RichD was able to keep the info pretty minimal for the actual fulls, while stressing the overall specific feel of Wr20 (as opposed to any of our many other game lines Ken has done his beautiful illustrations for). Here's a link to those art notes: https://drive.google.com/open?id=0B57iDF62OjtPaV9ySDZ3QlZtbEJqdW8yb2V4ZFVRZDdjRGVZ
Here's the specific full-page description (in case you don't want to read the PDF of the full art notes):
Chapter Nine – Drama
Chanteur – Petite wraith with an electric violin and a headset mike, playing the violin like it's a
weapon. Because it is.
As per our illustration process, Ken then sent in a sketch worked up in pencil and based on a series of emails with Mirthful Mike that went over any questions that Ken might have: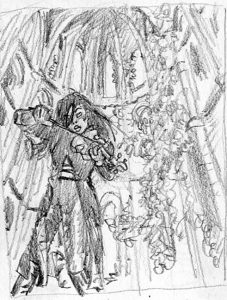 Depending on the project, Mike may loop in the developer, me, or a licensing partner like White Wolf, for commentary and to see if the subject matter is being handled as needed. Most of the time, Mike handles this stage himself – particularly when you consider that different artists sketch with different kinds of completeness. Some artists like to create very tight sketches and then use the final stages to take that tight sketch into the finished medium. Others like to have less detailed sketches and work out the details in their finish.
So an art director gets to know how to "read" the sketches of their different artists and respond appropriately.
In this particular case, the communication worked the way we like it to, because here's the fantastic final piece:
Now figure that we go through those steps, and often have redos or tweaks at each stage, for every piece of art you see in every book and project we make. An art director's job is never done, especially when they are keeping an eye on all the styles and subject matters we have in all our projects which span:
Many Worlds, One Path!
BLURBS!
KICKSTARTER:
Fetch Quest, the adventure card game set in the Realms of Pugmire is down to its last days and we'd love to have you join us!

And if you've already pledged, this is definitely a game that needs to be spread by word of mouth, so please let your friends and family know about this game of good dogs (and cats!) out to fetch what Man has left behind!
Next up, Geist: The Sin-Eaters 2nd Edition Kickstarter…starting sooner than you might expect…
ELECTRONIC GAMING: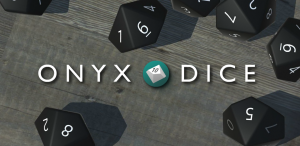 As we find ways to enable our community to more easily play our games, the Onyx Dice Rolling App is now live! Our dev team has been doing updates since we launched based on the excellent use-case comments by our community, and this thing is both rolling and rocking!
Here are the links for the Apple and Android versions:
http://theappstore.site/app/1296692067/onyx-dice
https://play.google.com/store/apps/details?id=com.onyxpathpublishing.onyxdice&hl=en
Three different screenshots, above.
ON AMAZON AND BARNES & NOBLE:
You can now read our fiction from the comfort and convenience of your Kindle (from Amazon) and Nook (from Barnes & Noble).
If you enjoy these or any other of our books, please help us by writing reviews on the site of the sales venue you bought it from. Reviews really, really help us with getting folks interested in our amazing fiction!
Our selection includes these fiction books:
OUR SALES PARTNERS:
We're working with Studio2 to get Pugmire out into stores, as well as to individuals through their online store. You can pick up the traditionally printed main book, the Screen, and the official Pugmire dice through our friends there!
https://studio2publishing.com/search?q=pugmire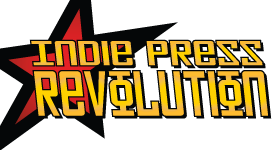 Looking for our Deluxe or Prestige Edition books? Try this link! http://www.indiepressrevolution.com/xcart/Onyx-Path-Publishing/
Here's the link to the press release we put out about how Onyx Path is now selling through Indie Press Revolution: http://theonyxpath.com/press-release-onyx-path-limited-editions-now-available-through-indie-press-revolution/
And you can now order Pugmire: the book, the screen, and the dice! http://www.indiepressrevolution.com/xcart/manufacturers.php?manufacturerid=296
IPR is holding a 40% sale on the Chronicles of Darkness prestige edition core books that we have remaining until June 24th!
DRIVETHRURPG.COM:
This Wednesday the PDF and physical book PoD versions of C20 Kithbook: Boggans go on sale on DTRPG.com!
Sometimes it's the little things that make the biggest differences in life, and nowhere is this more evident than the boggan kith. Although they have preferred to let others glory in the spotlight, this industrious kith has worked its own subtle and patient magic over the centuries, drawing power from dreams of hearth and comfort and becoming no less than the bedrock of Kithain society. Even heroes need homes to return to, after all.
For the first time ever, the secrets and gossip of the boggan kith are being shared with outsiders. So pull your chair closer to the fire, take up a fresh cup of tea, and listen carefully, because the real truth about these unsung heroes is finally coming to light.
Kithbook: Boggans features:
• A history of this unassuming yet vital kith, and how they've subtly shaped the Dreaming.
• Insight into boggan nature combined with advice for bringing boggan characters to life.
• Ready-made characters for quick play, and profiles of famous boggans past and present.
• New Treasures, Merits, and Flaws for boggan characters.
CONVENTIONS!
Prep is seriously underway for Gen Con 2018 in the first week of August, which takes place in Indianapolis. In addition to our booth presence, be sure to check out the games and panels in the Gen Con Event Schedule.
From Fast Eddy Webb, we have these:
If you are going and want to meet up, let us know!
---
And now, the new project status updates!
DEVELOPMENT STATUS FROM FAST EDDY WEBB (projects in bold have changed status since last week):

First Draft (The first phase of a project that is about the work being done by writers, not dev prep)
M20 Book of the Fallen (Mage: the Ascension 20th Anniversary Edition)

C20 Novel (Jackie Cassada) (Changeling: the Dreaming 20th Anniversary Edition)

M20 The Technocracy Reloaded (Mage: the Ascension 20th Anniversary Edition)
M20 Victorian Mage (Mage: the Ascension 20th Anniversary Edition)

CofD Dark Eras 2

(Chronicles of Darkness)
Trinity Continuum: Aberrant core (Trinity Continuum: Aberrant)
Lunars: Fangs at the Gate (Exalted 3rd Edition)
Tales of Excellent Cats (Monarchies of Mau)
Adventures for Curious Cats (Monarchies of Mau)
Scion Companion: Mysteries of the World (Scion 2nd Edition)
City of the Towered Tombs (Cavaliers of Mars)
Changeling: The Lost 2nd Companion (Changeling: The Lost 2nd)
Changeling: The Lost 2nd Jumpstart (Changeling: The Lost 2nd)
Night Horrors: Nameless and Accursed (Mage: the Awakening Second Edition)
Heirs to the Shogunate (Exalted 3rd Edition)
Witch-Queen of the Shadowed Citadel (Cavaliers of Mars)
Redlines
Deviant: The Renegades (Deviant: The Renegades)
Spilled Blood (Vampire: The Requiem 2nd Edition)
Night Horrors: Shunned by the Moon (Werewolf: The Forsaken 2nd Edition)
In Media Res (Trinity Continuum: Core)
Wr20 Book of Oblivion (Wraith: The Oblivion

20th Anniversary Edition

)
C20 Players' Guide (

Changeling: the Dreaming 20th Anniversary Edition

)
Dog and Cat Ready Made Characters (Monarchies of Mau)
Aeon Aexpansion (Trinity Continuum: Aeon)
Second Draft
WoD Ghost Hunters (World of Darkness)
Tales of Good Dogs – Pugmire Fiction Anthology (Pugmire)
Development
Signs of Sorcery (Mage: the Awakening Second Edition)

Hunter: the Vigil 2e core (Hunter: the Vigil 2nd Edition)

Fetch Quest (Pugmire)
They Came From Beneath the Sea! Rulebook (TCFBtS!)

CofD Contagion Chronicle

(Chronicles of Darkness)
Manuscript Approval:
Dystopia Rising: Evolution (Dystopia Rising: Evolution)
Editing:
Guide to the Night (Vampire: The Requiem 2nd Edition)
Post-Editing Development:
Scion: Hero (Scion 2nd Edition)
Trinity Continuum Core Rulebook (The Trinity Continuum)
Trinity Continuum: Aeon Rulebook (The Trinity Continuum)
Ex Novel 2 (Aaron Rosenberg) (Exalted 3rd Edition)

Exalted 3rd Novel by Matt Forbeck (Exalted 3rd Edition)
GtS Geist 2e core (Geist: the Sin-Eaters Second Edition)
M20 Gods and Monsters (Mage: the Ascension 20th Anniversary Edition)

Night Horrors: The Tormented

(Promethean: The Created 2nd Edition)
Indexing:
Wraith 20
Cavaliers of Mars
Monarchies of Mau (Monarchies of Mau)
ART DIRECTION FROM MIRTHFUL MIKE:
In Art Direction
Ex3 Monthly Stuff

Scion Hero – 

Stuff is progressing…

Trinity Continuum 
Geist 2e – KS artwork continues.

The Realm
M20 Gods and Monsters
Ex3 Dragon Blooded –

More sketches coming in.

Promethean Night Horrors: The Tormented
Marketing Stuff
Posters and Displays

Gen Con Cards
In Layout
Fetch Quest –

Prepping new playtest decks for Gen Con.
Proofing
Scion Origin – Onyx review.
Changeling: the Lost 2 – Corrections to Josh.
Wraith 20 Screen – At WW.
Storyteller System Brochure
GenCon Brochure
At Press
V20 Beckett's Jyhad Diary & Beckett Screen & V20 Dice – At fulfillment shipper, prepping for KS ship-out.
Scion Dice – At fulfillment shipper.
Boggans – PDF and PoDs on sale this Wednesday.
Monarchies of Mau – In Indexing.
Monarchies of Mau Screen – Getting ready to send to press.
Cavaliers of Mars Screen – Getting ready to send to press.
Wr20 Guide for Newly Departed – Creating PoD files.

Gen Con Buttons

– At press.

WoD and CofD reroll cards

– At press.

FQ and PG Gen Con cards

– At press.
---
TODAY'S REASON TO CELEBRATE: Today is the birthday of J. Michael Straczynski, 1954 – celebrated writer of comics and TV, specifically of Babylon 5. Fun fact: B5 was a real pioneer in structure for television with free-standing episodes that were part of story-arcs that worked as seasons that had specific season-long stories and finishes, and so it was a huge influence on the limited-series concept for our games. Specifically in pitching Orpheus back in the day, I referenced B5's use of structure.