Wallpaper, Mau Shirts, and Black Friday Deals!
Changeling: The Dreaming, Chronicles of Darkness, Exalted, Mage: The Ascension, Realms of Pugmire, Sales, Vampire: The Masquerade, Werewolf: The Apocalypse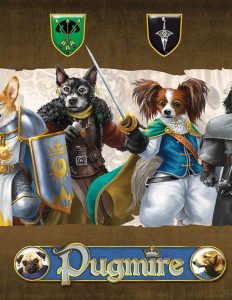 Now available from DriveThruRPG: A selection of desktop wallpapers from across our game lines to spruce up your computer backgrounds!
Merch
Now available from our RedBubble storefront: Monarchies of Mau shirts!
Sales
DriveThruRPG is running their annual huge Black Friday/Cyber Monday sale right now. You can get 33% off PDFs from across our entire catalog! That includes our game material from DriveThruRPG, our fiction material from DriveThruFiction, and even DriveThruComics! Once you're done looking at our offerings, there are thousands of others to choose from, but the sale ends after Cyber Monday, so don't wait long!
Kickstarter Update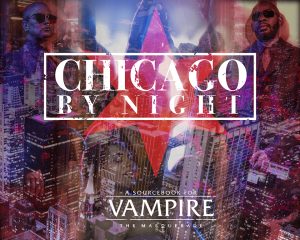 The Kickstarter for a prestige traditional print run of Chicago by Night for Vampire: The Masquerade 5th Edition has one week remaining! We funded in about 15 hours! So far we have 1373 backers pledging $87,483 — 219% of our $40,000 goal. So far we've unlocked 12 stretch goals:
Chicago Folio: Includes the Camarilla Record, the Anarch Accounts, and Independent and Mortal Perspectives
Old Traditions PDF bundle add-on: Chicago Chronicles vol 1, Chicago Chronicles vol 2, Chicago Chronicles vol 3
Let the Streets Run Red: A Chicago chronicle featuring characters absent from CbN, and rampaging across Chicago, Indianapolis, Milwaukee, and the rural Illinois, Wisconsin, and Indiana areas. A second chronicle, set in weird, rural Illinois.
Discounted Backer T-shirt
Digital Wallpaper
Beckett's Jyhad Diary PDF add-on
Beckett's Jyhad Diary Digital Wallpaper
Prince's Gambit Card Game add-on
Prince's Gambit Digital Wallpaper
Did you miss one of our previous Kickstarters? The following Kickstarted products are still open for preorders via BackerKit:
Community Spotlight
The following community-created content for Scarred Lands has been added to the Slarecian Vault in the last week:
The following community-created content for Realms of Pugmire has been added to Canis Minor in the last week:
The following community-created content for White Wolf games has been added to the Storytellers Vault in the last week: