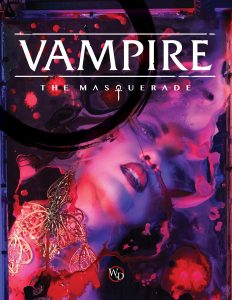 FOR IMMEDIATE RELEASE
Onyx Path Publishing To Publish Chicago By Night
Vampire: The Masquerade 5th Edition
August 2nd, 2018 — Rich Thomas, founder and Creative Director of Onyx Path Publishing, announced the company's first supplement for the newly-launched Vampire: The Masquerade 5th Edition corebook will be Chicago By Night.
"It is thrilling to me to write on and develop a book that both hails back to Vampire: The Masquerade's origins, but also ushers in the newest edition," said Matthew Dawkins, the developer for Chicago By Night and contributor to Vampire: The Masquerade 5th Edition published by White Wolf Entertainment. "If you're a Lasombra player, this is the place to get the clan info!"
Chicago By Night expands, refreshes, and offers detailed information on one of Vampire: The Masquerade's signature cities. The supplement will include everything players and Storytellers will need or want to tie this iconic location into their chronicle. Highlights of the V5 supplement geared for players and Storytellers will include:
Clan Lasombra profile with Obtenebration rules. Playable for the first time in the

V5

line!

Loresheets to help players incorporate

Vampire's

deep metaplot into character backgrounds.

Urban legends, maps, characters, coteries, story hooks, and a complete scenario for Storytellers.

Updated and new metaplot explaining the hierarchy of Kindred in Chicago and ways to incorporate characters.
"The original Chicago By Night was the book that took all the innovative and inspiring ideas from the first Vampire: The Masquerade books and crystallized them into a society of vampires. It demonstrated how these fascinating Clans actually functioned to a real city, and was the blueprint and font for everything that came after," said Rich Thomas, CEO of Onyx Path Publishing. "We're thrilled to be able to create the V5 edition of Chicago By Night, and are designing it with the same eye towards taking all the threads of ideas in V5 and weaving them into the dark tapestry that is Chicago."
"In the end of 2015, we talked with Onyx Path about not only working on the previous iterations of World of Darkness but being a key partner in our new 5th Edition line of books, so it is with great pleasure we see this announcements and we look forward to many more great products and years of cooperation with Onyx Path and their great team", says Tobias Sjögren, CEO of White Wolf Entertainment.
The manuscript for Chicago By Night is currently being written and developed using the new Vampire: The Masquerade 5th Edition rules. A Kickstarter is planned for a prestige edition of this supplement and is expected to launch sometime late 2018. Standard digital and print editions will be released following fulfillment of the Kickstarter.
About Onyx Path Publishing: Founded in 2012, Onyx Path Publishing is a Pennsylvania-based company dedicated to the development of exemplary, immersive worlds. Working with a group of amazingly talented creators, we explore print, electronic and other forms of media distribution to make our products available to our fans. With over 25 years of publishing experience from which to draw, we are industry professionals who love the art of the game and plan to continue making meaningful, innovative contributions in the years to come.
On the web: www.theonyxpath.com
Twitter: @theonyxpath
Facebook: http://www.facebook.com/TheOnyxPath
Press Contact: Monica Valentinelli
Email Address: theonyxpath@gmail.com
About White Wolf Entertainment
White Wolf Entertainment is a licensing company focused on creating the best participatory brands in the world. Since its original entry into the roleplaying game market in 1991, White Wolf's World of Darkness has grown to be one of the most recognized and successful brands in the hobby game space with collective book sales in excess of 10 million copies during this time. White Wolf's World of Darkness brands, which include Vampire: The Masquerade, Werewolf: The Apocalypse, Wraith: The Oblivion, and Orpheus, as well as other universes such as Exalted and Chronicles of Darkness, have been licensed for television series, video games, interactive media events, and a myriad of merchandise and other entertainment products.
On the web: www.white-wolf.com
Twitter: @wwpublishing
Facebook: www.facebook.com/whitewolfpublishing
Press contact: press@white-wolf.com
###