Now Available: Aeon Ready Made Characters and Trinity Community Content!
Sales, Trinity Continuum, Trinity Continuum: Æon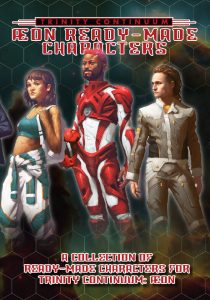 Now available: Aeon Ready-Made Characters! Now in advance PDF from DriveThruRPG.
Don't wait, humanity needs you now!
Do you want to game but your players aren't sure what to play? Looking for inspiration to get you into the world of Æon? This book is for you!
These six ready-made characters cover a range of psions eager to face whatever challenges your story brings. Each character is complete with background and roleplay suggestions. Or, if your players would prefer to explore something different, each character has alternative versions of the paths their lives may have taken. For Storyguides, every character also includes an antagonist character sheet so you can use them as foes, foils, or friends for the player's own characters.
Æon Ready-Made Characters includes:
Six pre-generated player characters, ready to explore the world of Trinity Continuum: Æon. 
Two alternative versions of each character, detailing the changes required to bring them to life.
An antagonist character sheet for the primary version of each character.
Four story hooks to help Storyguides build their worlds, either as starting points or to drop into existing campaigns.
Also available: Immortal Eyes 4: Cup of Dreams is now available for Kindle via Amazon, and for Nook via B&N.
Sales
It's time for DriveThruRPG's New Year, New Game sale! We've got an amazing Scion 2e Bundle with four Scion PDFs for only $12.99!
Scarred Lands products for Pathfinder (the Scarred Lands Players Guide and The Wise & The Wicked 2nd Edition) are upwards of 90% off from Indie Press Revolution! Both products are an incredible $5 each!
Kickstarter Update
The Kickstarter for Cults of the Blood Gods for Vampire: The Masquerade 5th Edition started last week. After hitting its $25,000 funding goal in just 47 minutes (and doubling it in under 10 hours), we currently at $122,590, or 409%. Thanks to our 2067 backers! We hit the following stretch goals:
Trail of Bone and Ashes: The Ties That Bind, a playable Hecata story; Old Wounds, exploring the enmity between the Cappadocians, Lamiae, Giovanni, Samedi, and Harbingers; Open Your Eyes: an examination of Golconda; The Wellspring: wherein the coterie take over an abandoned cult
Blood Gods Backer T-Shirt
Blood Gods Desktop Wallpaper
Forbidden Paths: Pathways to Power: cults dedicated to power through fear, influence, or devotion, including worshipers of the Nictuku, errant houses within the Tremere, and the ancestral obsession of the Ventrue. Dreams of Golconda: A number of cults who believe they alone know the path to Golconda. Eschatological Thought: About those cultists who want to bring an end to everything.
Art budget increase!
Did you miss one of our previous Kickstarters? The following Kickstarted products are still open for preorders via BackerKit:
Community Spotlight
The following community-created content for Scarred Lands has been added to the Slarecian Vault in the last week:

The following community-created content for Realms of Pugmire has been added to Canis Minor in the last week:
The Storypath Nexus is now open to Trinity Continuum and Aeon products! The following community-created content for Storypath has been added to the Storypath Nexus in the last week: