Keeping the Deviant hype train going! Now available in digital format: Deviant: The Renegades Wallpaper!
This digital download includes a selection of electronic wallpaper files featuring a collage of the art from the Deviant: The Renegades core rulebook.
These wallpapers can be used on your phone, tablet or even as background images on your favorite virtual tabletop platform.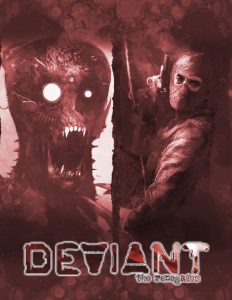 Also available: the Deviant: The Renegades Storyteller Screen!
The PDF Storytellers Screen for the Deviant: The Renegades roleplaying game, a Chronicles of Darkness RPG, provides a collection charts and other info to make the Storyteller's role a little bit easier.
Print it out for your table or add it to your tablet for quick reference when storytelling a game of Deviant!
Also: Astral Virtual Tabletop now supports:
Crowdfunding Update
Keep an eye out for our next Kickstarter, TheApocalyptic Record for Werewolf: The Apocalypse 20th Anniversary Edition!
Did you miss one of our previous Kickstarters? The following Kickstarted products are still open for preorders via BackerKit:
Community Spotlight
The following community-created content for Scarred Lands has been added to the Slarecian Vault in the last week:

The following community-created content for Realms of Pugmire has been added to Canis Minor in the last week:
The following community-created content for Storypath has been added to the Storypath Nexus in the last week: