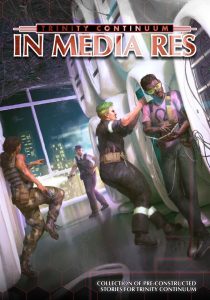 Now available: In Media Res for the Trinity Continuum! Now in PDF and print from DriveThruRPG.
"We call them Talents because they're different. They have certain qualities about them, certain knacks. It's subtle, never quite superhuman, and no two are the same. They all have one thing in common, though — they'll adapt to whatever you throw at them. I've seen Talents survive situations that'd kill you or me five times over, and come out of it looking like they'd just gone for a jog. Don't ever underestimate them. These people are capable of anything, as long as they want it hard enough."
— Dr. Stephanie Levine, Director of Dimensional Sciences, Project Echo
Trinity Continuum: In Media Res is a collection of pre-constructed stories for the Trinity Continuum, each centering on Talents — hypercompetent individuals with uncanny abilities and a hefty dose of luck whose lives always seem to take turns for the exciting. Storyguides can use these ready-to-go adventures to start off a new campaign with a bang, weave in as an interstitial story, or modify to suit their own ongoing games.
Trinity Continuum: In Media Res includes:
Codename: Aquarius, a spy story of questionable loyalties in a wilderness of mirrors.
Artifacts, Etc., a tale of repatriating ancient artifacts misused by a Hollywood studio.
Caper, Incorporated, a reality-bending super-science heist for the fate of the world.
Classified: Help Wanted, a deadly game of cat-and-mouse in a single locked-in skyscraper.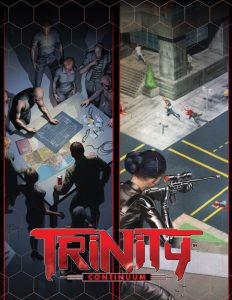 Also available: the Trinity Continuum Storyguide Screen and Storyguide Booklet! Now available from IPR in print, and on DriveThruRPG in PDF! We also had a bunch at Studio 2, but it's completely sold out already (THANK YOU!) so we're looking into options.
The Only Constant is Change.
"Potential is everywhere. You can't really see it, but you can feel it. And all you really need to do is reach out, grab that potential in your hand, and bend it to your will. Nothing goes wrong if you just use your potential. I know it sounds easy. I can't really tell you how to do it. But when you do, you'll just know."
– Janeka Spencer, Neptune Foundation first responder
The Trinity Continuum Core Screen and Storyguide Booklet contains all the charts and info a Storyguide could need.
Zoop, almost forgot: the deluxe edition of Dragon-Blooded: What Fire Has Wrought is now available at IPR!
Sales
Just over a day remaining on DriveThruCards' Stocking Stuffers Sale, where you can get discounted print copies of Fetch Quest card game for the Realms of Pugmire and the Prince's Gambit card game for Vampire: The Masquerade!
Scarred Lands products for Pathfinder (the Scarred Lands Players Guide and The Wise & The Wicked 2nd Edition) are upwards of 90% off from Indie Press Revolution! Both products are an incredible $5 each!
Kickstarter Update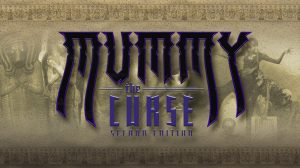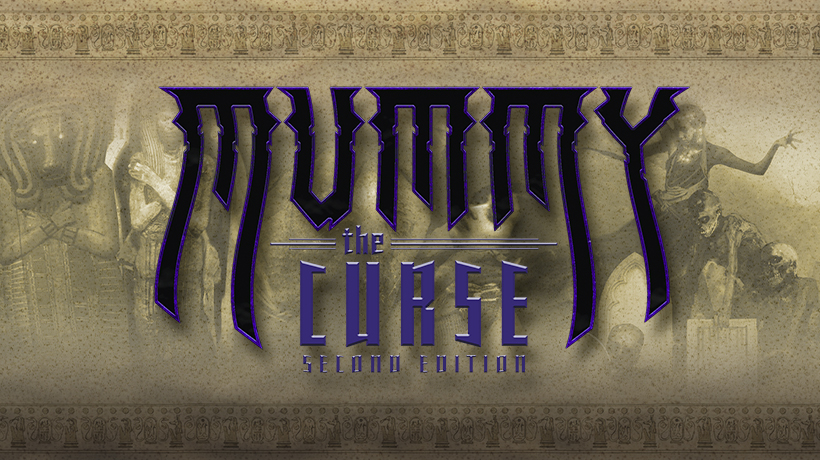 The Kickstarter for Mummy: The Curse 2nd Edition ended just last week. After hitting its $25,000 funding goal in just 10 hours, we ended at $63,249, or 253%. Thanks to our 1269 backers! We hit the following stretch goals:
Mummy Storyteller Screen
Additional Content: New Utterances
Book of Lasting Death: Playable minor guilds, Judges, Affinities, Utterances
Scroll of Fading Memory add-on upgrade: Mummy 1e ST Screen, Mummy 1e Ready-Made Characters
Mummy Backer T-Shirt
Our next Kickstarter is V5 Cults of the Blood Gods.
Did you miss one of our previous Kickstarters? The following Kickstarted products are still open for preorders via BackerKit:
Community Spotlight
The following community-created content for Scarred Lands has been added to the Slarecian Vault in the last week:

The following community-created content for Realms of Pugmire has been added to Canis Minor in the last week:
The Storypath Nexus is now open! So far Scion content has been unlocked. The following community-created content for Scion has been added to the Storypath Nexus in the last week: