A Pair of Ducks Bought White Wolf? [Monday Meeting Notes]
Not a pair of ducks; Paradox.
The huge news being that on Thursday, Paradox Interactive bought White Wolf from CCP and started a new company called White Wolf Publishing.
So.
What does that mean? I'll break it down and explain some of this.
Let's go back a few years to the point where the original White Wolf, the company I was with and helped create, merged with the Icelandic MMO company named CCP.  We at WW had hoped to work with the gang at CCP to move our games into the electronic gaming industry, thereby broadening the reach and appeal and earnings of our settings, and over several years almost all of WW transitioned into working on the World of Darkness MMO as part of CCP.
We still maintained an RPG publishing schedule, but it was what we could manage to do while working crazy hours on the MMO. Fast Eddy Webb was truly the hero of that time for bringing energy to the efforts to release any sort of tabletop RPG projects at all.
Then, things started to get less rosy. Many former WW employees were let go by CCP in a series of layoffs, and I left to create Onyx Path Publishing (this here place). CCP licensed Onyx Path the rights to create tabletop roleplaying games for both the classic and new Worlds of Darkness, and Exalted. Onyx Path bought outright Scion and all the Trinity games, and Scarred Lands with a partner, Nocturnal Media, run by WW founder Stew Wieck. CCP retained approvals of all projects we would create for their IPs, and we've been rolling along OK for several years.
Despite a valiant effort by all involved, the World of Darkness MMO ultimately was stopped before it got to a stage where it could be released. CCP renewed their focus on the EVE MMO and once the announcement over cancelling the WoD MMO was made they pretty quickly got offers from other companies for the WW IPs (Intellectual Properties, which would mean the games/settings as well as WW as a brand).
I think there will always be a lot of love for WW at CCP, but they were trying to refocus on EVE. So holding onto WW when they could get it into the loving hands of a company that would actively develop projects for cWoD or nWoD or Exalted made more sense.
Enter Paradox Interactive, a Swedish computer game company. For some time, they have been in negotiations with CCP to purchase WW and all of its remaining IPs and wrapped up the deal last week. They have announced some big plans and there are hints of WoD computer games already in the planning stages. For that alone, it looks like some great times for WW fans. Really thrilling news!
Yeah, but what does this mean to Onyx Path?
Well first off, understand that the negotiations were completely black-boxed. As licensees, we had no official word that anything was actually happening except that some things were happening. The two corporate entities had to negotiate without outside voices confusing the process.
So, I don't really know Paradox or the new White Wolf Publishing's head guy Tobias. I do know Martin, who will be their Lead Storyteller (Creative Director), and he was a great guy to get to know years ago. If you look at the collage on our website here, that's Martin as the brooding Dracula.
Tobias and I will be talking in detail later this week and I certainly expect to have a better idea of their plans after that. And as always, I'll share what I can when I can.
For now, we know these things as facts and I hope this eases a few concerns (plus, thanks to all of you who were concerned!):
Onyx Path Publishing is a wholly independent company that is not owned and has never been owned by the original or new White Wolf, CCP, or Paradox Interactive.
Therefore, Scion 2nd Edition, the Trinity Continuum, Scarred Lands, Cavaliers of Mars, and Pugmire are not affected by the Paradox buyout of WW.
Paradox has been nothing but friendly in their communications with us so far.
Right now, it is business as usual for us.
As I mentioned above, thanks again to all of you who have posted so many positive accolades for what Onyx Path has created for cWoD, nWoD, and Exalted!
It is truly heartwarming and gratifying to see our community come together like that about our work. It has not been easy to essentially raise the WW game lines from torpor or stasis or what have you, and all of our far-flung pool of massively talented creators deeply appreciate your support.
And please, if you are posting or tweeting at the guys at Paradox, let's try and make their first exposure to our community be an awesome one so they really grasp both how passionate and how supportive we can be.
It's always "interesting times" along the Onyx Path!
---
BLURBS!
KICKSTARTER!
The Deluxe W20 Shattered Dreams Kickstarter funded last week! Now we're looking at the first Stretch Goal which is for the creation of a W20 Auspice Gift Deck (we're starting with Auspices, but hope to do others as well). We have more than two weeks left to go for this supplement detailing the multiple eras of the Wars of Rage as well as how to use the War in a modern Chronicle.
For this W20 Kickstarter we've added Achievements to our usual mix of Rewards and Stretch Goals, with the idea that you can participate to unlock some rewards that aren't part of the fund raising per se. We've already hit some of the Achievements! So, come pledge and send us pics of you howling at the moon or holding your pet rat(kin)!
ON SALE!
Mage: the Ascension 20th Anniversary Edition PDF & Standard and Premium PoD physical book editions are NOW AVAILABLE on DTRPG! http://www.drivethrurpg.com/product/149562/Mage-the-Ascension-20th-Anniversary-Edition
Vampire 20th Anniversary Edition: The Dark Ages is NOW available in PDF and PoD versions at DriveThruRPG.com! This massive full color tome is part of the V20 line but does not require V20 to play and enjoy.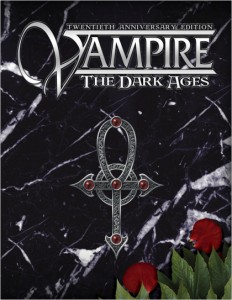 The Pugmire Pamphlet we had available at Gen Con is now ready for PDF download. Read about the world of Pugmire from the enthusiastic and optimistic pen of Princess Yosha Pug, as well as notes from the gruff and worldly hunter Pan Daschund: http://www.drivethrurpg.com/product/153518/Pugmire-Gen-Con-Brochure
There are also six Pugmire posters available as free PDFs or $.99 physical posters, suitable for framing:
Start spreading the Code of Man!
CONVENTIONS!
We're one of the Contributing Sponsors at Midwinter Con this year this January in Milwaukee! RichT, Fast Eddy Webb, and Newlywed Neall Raemonn Price will be there at our booth as well as running demo games of Scion and Pugmire. We're still working out panel concepts with the MidWinter gang, but expect at least one session where we ask for your feedback for Vampire 4th Edition. In the meantime, check out the show here: http://www.midwintergamingconvention.com/
---
And now, the new project status updates!
DEVELOPMENT STATUS FROM ROLLICKING ROSE (projects in bold have changed status since last week):
First Draft (The first phase of a project that is about the work being done by writers, not dev prep)
M20 Book of Secrets (Mage: the Ascension 20th Anniversary Edition)
Exalted 3rd Novel by Matt Forbeck (Exalted 3rd Edition)
CtL anthology (Changeling: the Lost 2nd Edition)
Changeling: the Dreaming 20th Anniversary Edition
Cavaliers of Mars
Signs of Sorcery (Mage: the Awakening Second Edition)
Night Horrors: Conquering Heroes (Beast: the Primordial)
Redlines
Mummy Fiction Anthology (Mummy: the Curse)
Wraith: the Oblivion 20th Anniversary Edition
Changeling: the Lost 2nd Edition, featuring the Huntsmen Chronicle (Changeling: the Lost 2nd Edition)
WtA Kinfolk (Werewolf: the Apocalypse 20th Anniversary Edition)
V20 Ready Made Characters (Vampire: the Masquerade 20th Anniversary Edition)
Second Draft
Arms of the Chosen (Exalted 3rd Edition)
The Realm (Exalted 3rd Edition)
Dragon-Blooded (Exalted 3rd Edition)
Beast Ready Made Characters (Beast: the Primordial)
WtF The Pack (Werewolf: the Forsaken 2nd Edition)
Beast Fiction Anthology (Beast: the Primordial)
Beckett's Jyhad Diary (Vampire: the Masquerade 20th Anniversary Edition)
Development
StoryPath System Rules (Base rules set for Scion and the Trinity Continuum)
Scarred Lands Player's Guide: Ghelspad (Scarred Lands 2nd Edition)
W20 Changing Ways (Werewolf: the Apocalypse 20th Anniversary Edition)
nWoD Hurt Locker (World of Darkness 2nd Edition)
VtM Lore of the Bloodlines (Vampire: the Masquerade 20th Anniversary Edition)
Dark Eras Companion (nWod Dark Eras)
Editing
V20 Ghouls (Vampire: the Masquerade 20th Anniversary Edition)
V20 Black Hand: Guide to the Tal'Mahe'Ra (Vampire: the Masquerade 20th Anniversary Edition)
W20 Shattered Dreams (Werewolf: the Apocalypse 20th Anniversary Edition)
Promethean: the Created 2nd Edition, featuring the Firestorm Chronicle (Promethean: the Created)
W20 Pentex Employee Indoctrination Handbook (Werewolf: the Apocalypse 20th Anniversary Edition)
Dark Eras Expansions (nWod Dark Eras)
Secrets of the Covenants (Vampire: The Requiem 2nd Edition)
M20 Anthology (Mage: the Ascension 20th Anniversary Edition)
Post-Editing Development:
Pugmire Early Access
Cursed Necropolis: Rio (Mummy: the Curse)
ART DIRECTION FROM MIRTHFUL MIKE:
In Art Direction
V20 Ghouls – Awaiting text.
W20 Shattered Dreams – KS underway.
Mage: the Awakening Second – Art in progress.
Promethean: the Created Second – Finals starting to roll in.

Scarred Lands PG – contracting.
Dark Eras – Still sorting. Contacted artists for new sections and figuring out the additional stuff for the original sections.
Pugmire Early Access – contracting.
In Layout
Dreams of Avarice – working.
Demon STG –  Working on it.
Guide to the Black Hand – Working on it.
NWoD 2 – Page XXs and cover layout tweaking.

NWoD 2 Cards – Once NWoD 2 is done.
Proofing
M20 How Do You Do That ?!? – Errata wraps up

on Wednesday

and then it's off to Phil.
Ex 3 Anthology – Awaiting updated text file.

V20 Lore of the Clans – Making all the errata changes.
Beast: The Primordial – Backer errata phase.
Ex 3 core book – From RichT: Still gathering backer PDF errata being compiled from the "Contact Me" link next to my picture on the KS page, and only from that link. This is the way we need to gather any fixes needed, it would be impossible for us to keep track of it throughout all the venues that folks are talking about it. Art corrections are in progress.
At Press
V20DA – Deluxe shipping to backers!
M20 – Awaiting cover proofs.
Special- projects on hold in the art and production area until an external factor is resolved
Dark Eras – Expanded text from the KS has to get through the dev stages above.
Wraith 20 – Can't go further until art notes come in, still being developed by Rich Dansky.
Pentex Employee Indoctrination Manual – Some added and amended text needs to come in.
---
TODAY'S REASON TO DRINK: To a bright, but you know, still dark, future for WW fans everywhere!