Auto-Gratifying Propaganda! [Monday Meeting Notes]
Sometimes the critiques thrown at us speak for themselves, and our headline is a fav!
Our header picture is also a fav, though for vastly different reasons as it is the cover mock-up for Dead Man's Rust for our Scarred Lands 5e game line. We'll be starting its Kickstarter campaign next MONDAY the 23rd at 2pm EST.
I emphasize Monday, and sorry for shouting, because starting a campaign on a Monday is something we haven't done for years, not since the wild and woolly days of early Kickstarter. But we want to have this KS wind up before the Xmas holidays really get started (and so James, our Kickstarter Concierge, can spend time with his family this season without making updates and adding Stretch Goals!
So make a note on that Monday start if you are used to us starting on Tuesdays or Thursdays!
Travis Legge, our Scarred Lands maestro, sent me this awesome description of Dead Man's Rust:
Dead Man's Rust is the most blood-spraying, face-melting, ass-kicking, heart-wrenching, undead-filled, heavy-metal pile of awesomeness ever conceived of for the fifth edition of the world's most popular role-playing game!

We have some of the best writers working in fifth edition on this book, and they have crafted a tale that will thrill and terrify your players while tugging at their heartstrings! Through supporting the Kickstarter, you will be able to dive right into the action as the manuscript is shared, and you will quickly see that the volume and depth of content provided is more than enough to rock your table for years to come!
But wait, there's more from Travis:
Inside the book you will find a comprehensive introduction that offers an overview of the story including several alternate on-ramps for characters of higher level. The introduction also includes alternate advancement guidelines, various rewards the party may receive throughout the story, and a NPC index that allows the GM to access every named NPC and not only tells you where to find them in the book, but provides an at-a-glance summary of who they are and their role in the story.
Chapter One opens the story in the city of Leoni, and expands on the information presented in Vigil Watch. The adventurers get to enjoy the Night of Chronicles, a joyful festival in the Manticora capital. While there, they meet an aging Broadreach dwarf named Dradoki Bronzeleaf who is looking for an escort back to his birthplace. The chapter also details the perilous voyage from Leoni to the Broadreach Horizon offering notes on terrain, random encounters, and a hint of the terrors to come.
Chapter Two introduces the Broadreach Horizon, detailing over two dozen clans of Broadreach Elves as well as the Broadreach dwarves. Each clan has a village write up that offers story hooks and delves into that clan's culture. In this chapter, the party also encounters a century of hollow legionnaires who are in the Broadreach Horizon seeking to build diplomatic relations with the clans there. Soon, the adventurers discover that some of the legionnaires have gone missing, and their leader, the Centurion Rivana, needs help finding her missing soldiers.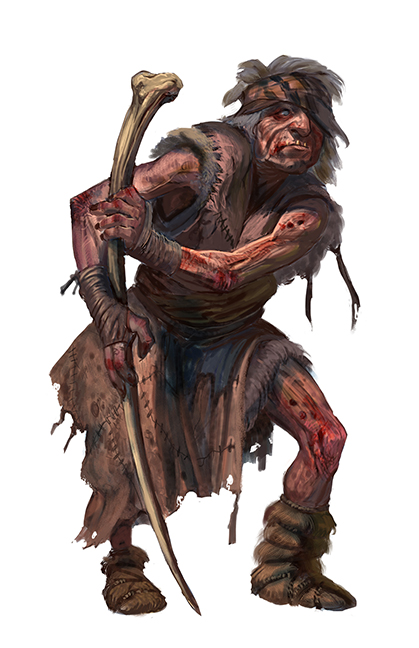 Chapter Three details the investigation into the missing legionnaires and provides a deep dive into the horrors of the Hornsaw Forest. Twisted by the blood of Mormo, this massive woodland is home to murderous cults, mutated monsters, and the infamous and deadly Hornsaw Sentinels. Each of these factions is described in great detail, providing a wealth of antagonists bent on resurrecting Mormo, furthering the desecration of the woods, or simply claiming the power of the Forest of Blood for their own nefarious ends.
In Chapter Four, the party ventures to the Gleaming Valley, home to the hollow legionnaires and their hollow knight leaders. In this pristine and idyllic region, they discover the true nature of the magical plague that harangues the hollow folk. As the adventurers race against the clock to unlock the secrets of Legionnaire's Rust, the Gleaming Valley is assailed by a force of undead from the south.
Chapter Five calls upon the heroes to journey to one of the most dangerous settlements on all of Scarn: the necropolis of Glivid-Autel. It is in this city on the Mesa-Karaday that the means to overcome Legionnaire's Rust can be found, if the adventurers can overcome or infiltrate the hordes of undead and their powerful necromancer masters who call Glivid-Autel home. In this chapter, the sheer magnitude of the atrocities committed by Glivid-Autel are laid bare, providing a thoroughly repulsive group of antagonists the likes of which have never been seen. Life in Glivid-Autel, such as it is, is also explored, providing the game master with ample opportunity for intrigue and deception, should the group seek a subtle means of achieving their objective in the dread, damned city.
Chapter Six details the possible outcomes of the adventure. Even if the party succeeds at their tasks up to this point, victory is not assured. Guidelines for a retaliatory attack from the necromancers of Glivid-Autel are provided, including a new siege mechanic that can be adapted to any fifth edition game. If the party did not rise to the challenges preceding this chapter, the consequences of their failures are laid out in excruciating detail for the game master to apply as needed.
While all of these tools are focused on the central quest of Dead Man's Rust, the sheer amount of resources within these pages provides a robust, detailed, lived in world that can be used for sandbox campaigns far beyond the scope of the main plot. And, of course, we provide a couple of dragons that need slaying.
Phew! Now that's a comprehensive run-down! Hope something in there caught your fancy and we'll see you Monday the 23rd at the Kickstarter!
More Propaganda From Our Meeting Today!

I'm guessing a bunch of you may be waiting for word on how things are going to work moving forward with our Paradox licenses. While there isn't any sort of absolute "here's how things will work" roadmap as yet, right now the relationship is unchanged, and we're still discussing together what the future will look like.
A couple of things from those discussions I do think some of you might like to hear:
First, we have confirmed that we will be offering PoD versions as well as PDFs for those V5 projects connected to Cults of the Blood Gods! That's Cults itself, as well as the Stretch Goal projects that came out of its Kickstarter.
Second, Dixie Cochran and Matthew Dawkins will be appearing in an interview with Outstar on the WoD News stream on Thursday to talk about Onyx Path in general, as well as to highlight the release of Let the Streets Run Red for V5 (see the On Sale section below) in PDF and PoD versions on Wednesday on DTRPG!
Check it out, it's bound to be fun with those two rapscallions! (Outstar could be a rapscallion too, but I'm going to give her the benefit of the doubt!)
We just closed our Community Survey 2020, and huge thanks to all of you who participated! Your responses are going to be really important and helpful to our future planning. While we are still parsing a lot of the questions, and especially your notes and comments, here are a couple of our thoughts from the results:
It is really interesting to see how many people are playing online now using Roll20, Astral VTT, Discord, etc. About 2/3 of our respondents. Of course, with Covid we've all had to adapt how we are engaging with RPGs and it will be interesting to see how things change and what these platforms will be like in the new year.
We got excellent feedback about the Onyx Path Virtual Gaming
Convention and more than 2/3s of respondents were interested in one if we do another or had participated in the first one. Certainly with that kind of response, the chances of us doing another really increases. Don't worry, we'll give you more warning than the first one if we do another!
76% of respondents also play some form of D&D, so we're hoping they
like all the Dead Man's Rust hoopla up above. Plus, tying into the VTT question mentioned above, we're also pushing more Scarred Lands and other game lines' stuff, including pre-gens and maps, for online play into venues like: https://app.astraltabletop.com/ Certainly, a lot more to come there!

And more review of the survey responses in the weeks to come.
You'll note that the Wolfenoot Sale I went into last week is coming up this week on DTRPG on Thursday the 19th, and then expect all sorts of sales on DTRPG and IPR to happen like sales happen after Thanksgiving next week.
But a really important notice I was asked to include here today is the warning that if you want to order PoDs from DTRPG as holiday gifts, you need to order ASAP. This week at the latest!
The effect of Covid on the PoD printer is combining with it's effect on the USPS as well as the general shipping bog-down during the holiday season to mean that if you order any later they really can't guarantee delivery in time to wrap it as a gift!
So order now! Lot's of orders! MWA HA HA HA HA HA!
Give the gifts that help others share our:
Many Worlds, One Path!
---
Blurbs!
---
Kickstarter!
Dead Man's Rust for Scarred Lands starts at 2pm EST on MONDAY, November 23rd!
---
Onyx Path Media!
This week: Our Trio take a deep dive into Dead Man's Rust for Scarred Lands 5e – our next Kickstarter project!
As always, this Friday's Onyx Pathcast will be on Podbean or your favorite podcast venue! https://onyxpathcast.podbean.com/
A whole load of exciting new and established shows for you this week!
For anyone new to our media section, you can find us running and playing games over on twitch.tv/theonyxpath pretty much every day of the week!
Plus, if you'd like your games hosted there, just get in touch with Matthew Dawkins using the contact link on matthewdawkins.com. 
This week on Twitch, expect to see these games and streams running:
Scarred Lands – A Family Affair
Scarred Lands – Frostlands of Fenrilik – Nerdsmith
Contagion Chronicle – No Time for Reality
Pugmire – How the Pirates Stole Yuletyme
Changeling: The Dreaming – The Last Faerie Tale
Scarred Lands – Vigil Watch
Mage: The Awakening – Occultists Anonymous

Scion – Heroes for the Holidays – Dork Tales
Scarred Lands – Purge of the Serpentholds
V5 – Cults of the Blood Gods – Thy Kindred Come
Hunter: Unbound Anomalies – Devil's Luck Gaming
Get watching for some fantastic insight into how to run these wonderful games and subscribe to us on Twitch, over at twitch.tv/theonyxpath
Come take a look at our YouTube channel, youtube.com/user/theonyxpath, where you can find a whole load of videos of actual plays, dissections of our games, and more, including:
Changeling: The Dreaming – The Last Faerie Tale – E21 – https://youtu.be/oRmhg8o4m3Q
Vampire: The Masquerade – Boston by Night – Game 5 – https://youtu.be/KMAdCyZl1Sg
They Came from Beyond the Grave! – Vorpal Tales – FINALE – https://youtu.be/9HGKSj1jtkw
Scion: Demigod – Strange Days – FINALE – https://youtu.be/vFh1YvzGSqs
SaFECon2020 What's Up with Onyx Path? – https://youtu.be/vIqW7gnCBPo
Scarred Lands – Frostlands of Fenrilik – Into the Gorge – https://youtu.be/M7ThLKuWHgI
Hunter: The Vigil – Cold Cases, Forsaken Spaces – Ep. 1 – https://youtu.be/VivOHIhkW9s
They Came from Beneath the Sea! – They Came from Devil's Reef – FINALE – https://youtu.be/tfTavsxdwJw
Subscribe to our channel and click the bell icon if you want to be notified whenever new news videos and uploads come online!
Matthew Dawkins has just started up his Gentleman's Guide to Scarred Lands with the following videos:
An Introduction to Scarred Lands: https://youtu.be/nVzPWEiTLYA
Clerics and Druids in Scarred Lands: https://youtu.be/hm_Lw_oBehQ
Subscribe for more videos coming soon!
Systematic Understanding of Everything is a fantastic Exalted Explainer Podcast by Exalted Dev Monica Speca and Exalted Writer Chazz Kellner. You should check it out, because frankly, it's brilliant.
Their most recent episodes are available over on https://www.exaltcast.com/, with their newest covering character creation for Solars and Lunars: https://www.exaltcast.com/2020/11/16/character-creation-solars-and-lunars/
Occultists Anonymous continue their wonderful Mage: The Awakening chronicle right here:
Episode 143: Let's Split Up, Gang 
With the past behind them, the cabal begins their search for the Tetrarch's vault in earnest. They split up to cover more ground and frustrate the Storyteller.
https://youtu.be/_5aftvrfJ5Y
Episode 144: Intellectual Property
Wyrd and Network try to rob an Astral bank. Atratus has a talk with the Moros Councilor about Tetrarchs. Songbird hangs out with the Founding Fathers.
https://youtu.be/dTs9I86hTag
Before we leave the Mage: The Awakening train, we've got a new series to show off to you! This one's from Wards and Witchcraft, and you really do want to check out episode one right here:
Session 2: Crossing Boundaries
The cabal meet the Léons in their den. Parallax is propositioned with an alarming offer of power over tea. Meanwhile Mona and her deathly shadow walk an eerie path through the New England woods. This is a taste of the secrets hidden by the circle of Alabaster but a taste can be deadly.  
https://youtu.be/_sCnYFYAYV0
Have you been missing Vampire: The Masquerade 20th Anniversary Edition? Well miss it no more, as The Lamias have you covered with The Ruins of Warsaw, a V20 chronicle! Please enjoy : https://youtu.be/AlO7ahlPIRk
A Bunch of Gamers continues their V20 Dark Ages chronicle over on their YouTube channel!
Here's Episode Five: Tracking down various leads in Florence the Coterie try to get to the bottom of several mysteries. Who is "the German", who is Galetto the Snake, why do they want the scroll, and what can they do to stop the demon that hounds them? All this while trying to observe the formalities of the Kindred in the Dark Medieval World of Darkness. https://youtu.be/gjB-JWrRdIc
If you're interested in Chronicles of Darkness, please check out McStabber Studios on Twitch, as they run a host of games including the Haunted Chronicles. Give them a follow – it costs you nothing! https://www.twitch.tv/mcstabberstudios
Please check these out and let us know if you find or produce any actual plays of our games! We'd love to feature you!
---
Electronic Gaming!
As we find ways to enable our community to more easily play our games, the Onyx Dice Rolling App is live! Our dev team has been doing updates since we launched based on the excellent use-case comments by our community, and this thing is awesome! (Seriously, you need to roll 100 dice for Exalted? This app has you covered.)
We're told that the App Dev is currently creating an updated version for the latest devices, so keep an eye open for those! The App was also pulled down from the Apple store in order to make some required updates – it'll be back there soon!
---
Virtual TableTop!
Introducing a Virtual Tabletop adventure: the Gauntlet of Spiragos for Scarred Lands on Astral TableTop!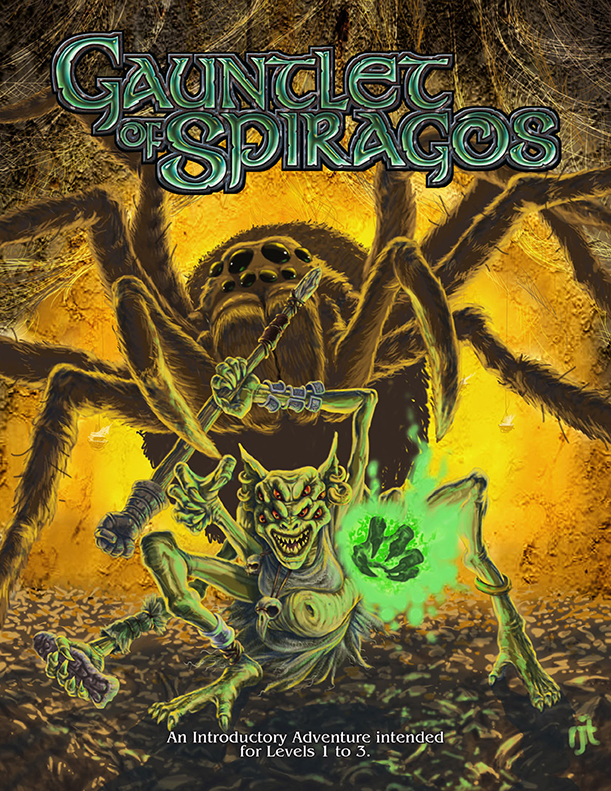 Scars of the Divine War, which ended less than 200 years ago, have still not healed. One such scar is the Chasm of Flies, a rent in the earth created when the titan Spiragos the Ambusher was smote down by one of the young gods, Vangal the Ravager. Now, the Chasm is inhabited by spider-eye goblins and their spider allies, but it is also thought to be the resting place of powerful artifacts from that elder age.
Gauntlet of Spiragos is a Scarred Lands adventure designed for 1st level characters, although it can be easily modified for characters of up to 5th level.
Astral TableTop is the easiest way to play any tabletop RPG online, free. Astral already supports popular systems like D&D and Pathfinder, and Astral can support virtually any tabletop roleplaying game. Get started quickly with built-in support for most popular game systems. Whether you're brand new to TTRPGs or a veteran tabletop gamer, Astral's ease-of-use and built in automation is designed to streamline gameplay.
Astral is browser-based and uses the latest technology to streamline your storytelling experience. Connect with your party online and run your campaigns however you like. Astral offers tools optimized for phone, tablet, and desktop devices, no installation required.
Build epic battlemaps using Astral's enormous collection of scenery, props, and tokens or upload your own. Pro users gain access to over 12,000+ assets and fresh new packs every month. Add weather, visual effects, triggers, and so much more with easy-to-use tools
Build your own adventure, or choose from pre-generated game kits like Gauntlet of Spiragos. Create character sheets, craft maps, or just jump right in to connect with your friends and start your adventures!
---
On Amazon and Barnes & Noble!
You can now read our fiction from the comfort and convenience of your Kindle (from Amazon) and Nook (from Barnes & Noble).
If you enjoy these or any other of our books, please help us by writing reviews on the site of the sales venue from which you bought it. Reviews really, really help us get folks interested in our amazing fiction!
Our selection includes these latest fiction books:
---
Our Sales Partners!
We're working with Studio2 to provide our traditionally printed books out into your local game stores. Game stores can order via their usual distributors, and can also contact Studio2 directly. And individuals can check out our projects via the links below!
You can pick up the traditionally printed Pugmire and Monarchies of Mau main books, screens, and the official dice through our friends there! https://studio2publishing.com/search?q=pugmire
Now, we've added Chronicles of Darkness books such as Changeling: The Lost Second Edition products to Studio2's store! See them here: https://studio2publishing.com/collections/all-products/changeling-the-lost
Scion 2e books and other products are available now at Studio2: https://studio2publishing.com/blogs/new-releases/scion-second-edition-book-one-origin-now-available-at-your-local-retailer-or-online
Our Vampire: The Masquerade 5th Edition books are also available from Studio2 in the US: https://studio2publishing.com/products/vampire-the-masquerade-chicago-by-night-sourcebook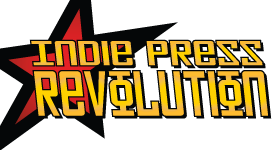 Looking for our Deluxe or Prestige Edition books? Try this link! http://www.indiepressrevolution.com/xcart/Onyx-Path-Publishing/
And you can order Pugmire, Monarchies of Mau, Cavaliers of Mars, and Changeling: The Lost 2e at the same link! And now Scion Origin and Scion Hero and Trinity Continuum Core and Trinity Continuum: Aeon are available to order
Later this month, IPR is having Black Friday and Cyber Monday Sales with a special focus on Storypath System games!
As always, you can find Onyx Path's titles at DriveThruRPG.com!
Wolfenoot Sale is coming up THIS WEEK on DriveThruRPG. We'll have all of the Realms of Pugmire and Werewolf corebook PDFs 50% Off and everything else in those lines 20% off for 11/19 – 11/26!
And as always, later this month, the Black Friday and Cyber Monday Sales are coming our way with a special focus on Storypath System games!
---
On Sale This Week!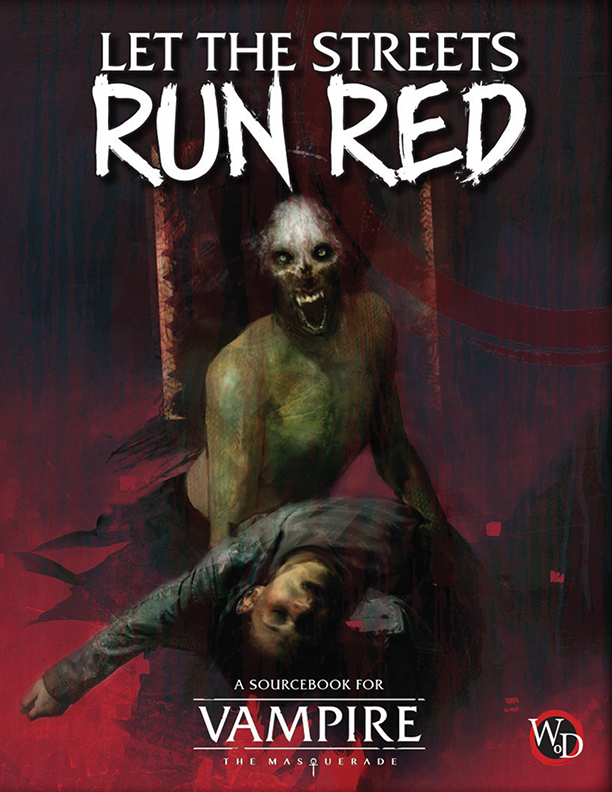 This Wednesday Let the Streets Run Red for Vampire: The Masquerade 5th Edition with PDF and PoD versions available on DTRPG!
Politics. Philosophy. War. Brinkmanship. They make a vampire think, feel, and fight for something, whether it be tangible or ethereal. These things give a Kindred meaning.
Whether letting the Beast rage in the gun-happy South Side of Chicago, chasing prey around the Loop, plotting out in Gary, or fleeing the Inquisition into the murky swamps of rural Illinois, Chicago always gives a Kindred an activity or two to fill up their nights.
The one certainty is that blood will flow. It will flow, and the streets will turn red by the dawn.
Let the Streets Run Red includes:
Four full stories for play over multiple game sessions, each handling a different core theme from Vampire: The Masquerade. These chronicles can be played independently of each other or in sequence.
Deep coverage of the vampire domains of Chicago, Milwaukee, Indianapolis, and Gary and some of those cities' undead inhabitants.
A cast of Kindred with biographies, ambitions, intrigues, links to other characters, and ways to include them in any chronicle, whether as antagonists, a supporting cast, or inspiration for playable characters.
New Loresheets for inclusion in your game, allowing player characters to start with a foot, claw, or fang already planted in the roots of the chronicles within this book, and beyond.
Nine ready-made characters so you can start playing any of the chronicles in this book immediately.
Also this Wednesday, the Virtual Tabletop Tools for the Dagger of Spiragos adventure for Scarred Lands 5e goes live on Astral Tabletop!
---
Conventions!
Though dates for physical conventions are subject to change due to the current COVID-19 outbreak, here's what's left of our current list of upcoming conventions (and really, we're just waiting for this last one to be cancelled even though it's Nov/Dec). Instead, keep an eye out here for more virtual conventions we're going to be involved with!
---
And now, the new project status updates!
Development Status from Eddy Webb! (Projects in bold have changed status since last week.):
First Draft (The first phase of a project that is about the work being done by writers, not dev prep.)
Exalted Essay Collection (Exalted)
No Gods, No Masters (Scion 2nd Edition)
TC: Aeon Novella: Dawn (Trinity Continuum: Aeon)
Once and Future (Scion 2nd Edition)
They Came From Beneath the Sea! Jumpstart (They Came From…!)
Tome of the Pentacle (Mage: the Awakening 2e)
They Came From Camp Murder Lake! (They Came From…!)
They Came From [Classified]! (They Came From…!)
They Came From [Classified]! Jumpstart (They Came From…!)
Realms of Magic and Mystery (was Terra Incognita) (Scion 2nd Edition)
The Hedge (Changeling: The Lost 2nd Edition)
Proteus Nova Compendium (Trinity Continuum: Aberrant)
Redlines
Dragon-Blooded Novella #2 (Exalted 3rd Edition)
Tales of Depravity! (They Came From…!)
Monsters From the Crypt! (They Came From…!)
They Came From Beyond the Grave! Jumpstart (They Came From…!)
TC: Aeon Novella: Meridian (Trinity Continuum: Aeon)
Second Draft
Many-Faced Strangers – Lunars Companion (Exalted 3rd Edition)
Wild Hunt (Scion 2nd Edition)
Trinity Continuum: Anima
Development
TC: Aberrant Reference Screen (Trinity Continuum: Aberrant)
Across the Eight Directions (Exalted 3rd Edition)
Contagion Chronicle: Global Outbreaks (Chronicles of Darkness)
Exigents (Exalted 3rd Edition)
Assassins (Trinity Continuum Core)
Kith and Kin (Changeling: The Lost 2e)
M20 Rich Bastard's Guide To Magick (Mage: The Ascension 20th Anniversary)
Adversaries of the Righteous (Exalted 3rd Edition)
Novas Worldwide (Trinity Continuum: Aberrant)
The Devoted Companion (Deviant: The Renegades)
Exalted Essence Edition (Exalted 3rd Edition)
Saints and Monsters (Scion 2nd Edition)
Squeaks In The Deep (Realms of Pugmire)
Scion Fiction Anthology (Scion 2nd Edition)
Manuscript Approval
Crucible of Legends (Exalted 3rd Edition)
Prometheus Unbound (was Psi Orders) (Trinity Continuum: Aeon)
Legacies of Earth (Legendlore)
Trinity Continuum: Adventure! core (Trinity Continuum: Adventure!)
Post-Approval Development
Contagion Chronicle Ready-Made Characters (Chronicles of Darkness)
Hundred Devil's Night Parade (Exalted 3rd Edition)
Editing
Lunars Novella (Rosenberg) (Exalted 3rd Edition)
Mummy: The Curse 2nd Edition core rulebook (Mummy: The Curse 2nd Edition)
Player's Guide to the Contagion Chronicle (Chronicles of Darkness)
TC: Aberrant Jumpstart (Trinity Continuum: Aberrant)
LARP Rules (Scion 2nd Edition)
The Book of Lasting Death (Mummy: The Curse 2e)
Scion: Dragon (Scion 2nd Edition)
Dearly Bleak – Novella (Deviant: The Renegades)
N!ternational Wrestling Entertainment (Trinity Continuum: Aberrant)
Under Alien Skies (Trinity Continuum: Aeon)
Dead Man's Rust (Scarred Lands)
V5 Trails of Ash and Bone (Vampire: The Masquerade 5th Edition)
M20 Victorian Mage (Mage: the Ascension 20th Anniversary Edition)
Mission Statements (Trinity Continuum: Aeon)
The Clades Companion (Deviant: The Renegades)
V5 Children of the Blood (was The Faithful Undead) (Vampire: The Masquerade 5th Edition)
Peoples of the Crossroads Continent
M20 Technocracy Operative's Dossier (Mage: The Ascension 20th Anniversary)
Yugman's Appendix: People of Ghelspad (Scarred Lands)
V5 Forbidden Religions (Vampire: The Masquerade 5th Edition)
CtL2e Novella Collection: Hollow Courts (Changeling: The Lost 2e)
Heroes in a World of Horror! (They Came From…!)
Dystopia Rising: Evolution Fiction Anthology (Dystopia Rising: Evolution)
Post-Editing Development
W20 Shattered Dreams Gift Cards (Werewolf: The Apocalypse 20th)
Cults of the Blood Gods (Vampire: The Masquerade 5th Edition)
Hunter: The Vigil 2e core (Hunter: The Vigil 2nd Edition)
Deviant: The Renegades (Deviant: The Renegades)
Legendlore core book (Legendlore)
Masks of the Mythos (Scion 2nd Edition)
They Came From Beyond the Grave! (They Came From!)
Scion: Demigod (Scion 2nd Edition)
Indexing
---
Art Direction from Mike Chaney!
In Art Direction
WoD Ghost Hunters (KS)
Hunter: The Vigil 2e
Mummy 2 – AD'd.
Legendlore
Scion: Dragon (KS) – Art for KS in progress.
Masks of the Mythos (KS) – Ready for the KS.
Scion: Demigod (KS)
They Came From Beyond the Grave! – ADing rest of the fulls.
TC: Adventure! (KS)
Contagion Chronicle Jumpstart (Chronicles of Darkness) – Awaiting artnotes.
Monsters of the Deep – Art still in progress, pinging Meredith.
M20 Victorian (KS) – ADing rolling. Some splats and scenes contracted already. Looking at logo design.
TC: Under Alien Skies – Art in progress.
Heirs to the Shogunate – ADed.
Dead Man's Rust (SL KS) – KS ready.
Children of the Blood – Almost done ADing.
M20 Technocracy Jumpstart – Working on this.
In Layout
Yugman's Guide to Ghelspad
Vigil Watch
M20 Technocracy Reloaded – Josh doing this one after I changed who was doing what.
Deviant – Changed my mind, I'm doing it.
Proofing
Cavaliers of Mars: City of the Towered Tombs – Prepping PoD files.
Yugman's Guide Support Decks (Scarred Lands)
Aberrant – Backer PDF in dev errata compilation.
Geist: One Foot In the Grave – Checking first proof and then to dev.
Tales of Aquatic Terror – First proof corrections in.
At Press
TCFBTS Screen and Booklet – KS shipping.
They Came from Beneath the Sea! – KS shipping.
Pirates of Pugmire – KS shipping getting started.
Pirates of Pugmire Screen – KS shipping getting started.
Dark Eras 2 – KS shipping.
Dark Eras 2 Screen and booklet – KS shipping.
Contagion Chronicle – Printing.
Lunars Wall Scroll Map – At KS fulfiller.
Lunars Screen and Booklet – At KS fulfiller.
Lunars: Fangs at the Gate – Deluxe printing. PDF and PoD on sale at DTRPG.
V5 Cults of the Blood Gods – Backer PDF going out to backers for errata.
V5 Let the Streets Run Red – PDF and PoD versions on sale on Weds on DTRPG.
---
Today's Reason to Celebrate!
Birth of the 2nd Roman Emperor, Tiberius. in 42BC. By all accounts, he was a terrible person but certainly not the worst emperor ever. So let's not celebrate him. How about the original TV Penguin, Burgess Meredith, born in 1907. Loved his Penguin, his early TV roles on the Twilight Zone and others, and in Rocky. Okay, still too obscure? How about this? VTM Bloodlines turns 16 today (and Hunter: The Reckoning for GameCube turns 18 on Wednesday)!