Day 12: Shards of the Exalted Dream
Onyx Path's Month of Nightmares features games, stories, and more to celebrate the spirit of Halloween. Count down the days with us by reading our excerpts, participating in the discussion, or by taking advantage of our special offers leading up to a haunted Halloween.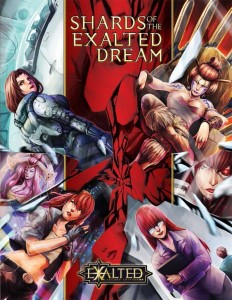 Shards of the Exalted Dream was a fun project, sending off the gonzo go-anywhere, do-anything, break-the-boundaries second edition of Exalted in grand style by pulling apart the very question of "what is Exalted?" It's got a high-powered cosmic war. It's got a low-key space opera. It has a modernized Creation, complete with Drive and Firearms magic. It's got all kinds of quirky rules hacks. My favorite bit has always been the self-contained martial arts card battle game that radically re-interprets every last bit of the game's lore and style, boiling it down to pure kung-fu goodness — not because it has the widest appeal, but just because it's so far afield. Shards has got something for everyone, even if only to make you think "Well, what could Exalted be? What would be interesting? How can we change it up?" Here's an excerpt, taken from Heaven's Reach, the space opera chapter:
Lacros' Folly

Lacros' Folly is a low-population world on the very tip of the frontier, known as the "gateway to the dark." The world's tiny economy subsists on trade based in strange artifacts pulled in from the empty quarters that Lacros' Folly borders — gossamer artifacts bargained for from the Shrieking Hordes, hell-technology smuggled out of the Yozi exile, ancient weapons from the age of Solar hegemony ransacked from deserted behemoths, and even eschatechnology purchased from the Death Avatars of the Tomb-Worlds. Because of this market in black-technology, smugglers, pirates, outcastes looking for a way to buy their way into a trading clan, Solar mercenaries, and even Lunar generals still fighting the Long War all find their way here, if just for a little while. Currently, the world hosts a pirate fleet led by Moray Darktide, an amoral Solar mercenary who has no compunctions about slaving for the Shrieking Hordes, privateering on behalf of the Tomb-Stars, or even breaking skulls for imperial trading clans.
Shards of the Exalted Dream's PDF is on sale for 50% off TODAY ONLY!