In Like a Victorian Lion…[Monday Meeting Notes]
You know the saying: March comes in like a lion, and goes out like a lamb. Well, here we are on March first, so I guess this is lion country.
Although I recall that the late, great, meteorologist John Belushi reported that in Norway, March comes in like a polar bear, and goes out like walrus. And in Honduras, March comes in like a lamb, but goes out like a saltmarsh harvest mouse. Not to mention South Africa, where March comes in like a lion and goes out like a different lion. But that's not the weird part…
Sorry. I digressed a bit there. Had my second COVID vaccine shot and am feeling a bit woozy. Just feeling like a medium case of the flu, but still, I'm keeping this MMN quick this week, folks.
Of course, the point of the headline this week is that it's a Victorian lion! And we have an Indiegogo crowd-funding campaign going for M20: Victorian Era! What d'ya know?
We funded in less than a day last week, and are rushing forward in steam-powered glory through Stretch Goals even as I type this!
Thanks to all of our backers so far! I know that our experiment in using Indiegogo has been challenging, so we completely appreciate that you gave this campaign your trust!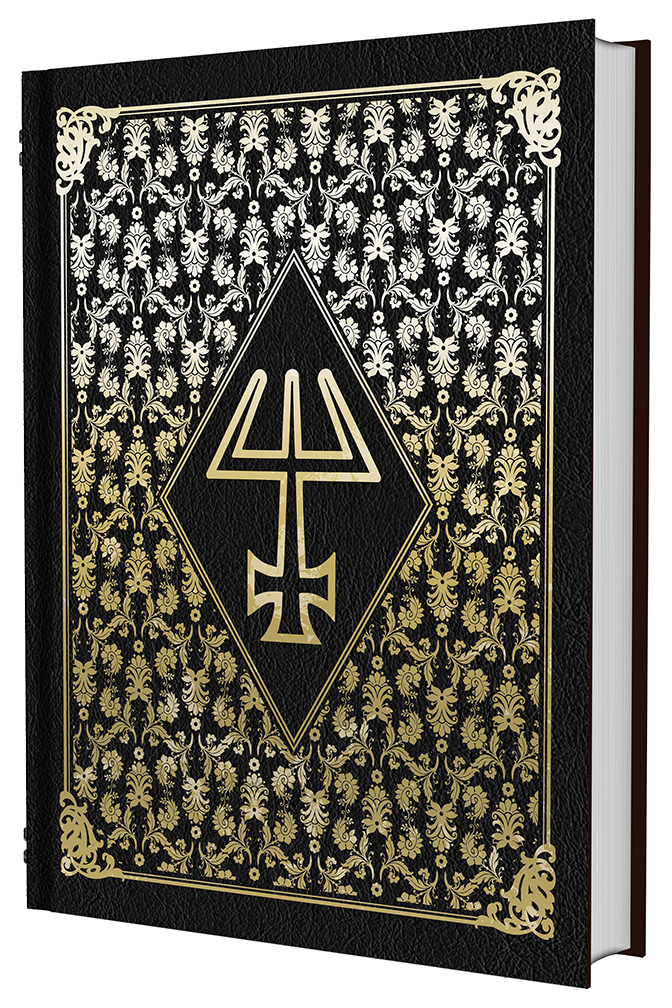 I went over a bunch of the changes we were aware of going into this in last week's MMN blog, and please do check that out, but here are a couple more concerns that folks have when looking at the M20: Victorian Era campaign.
Shipping prices are so high. Yes, they are. Shipping costs and reliability issues have gotten worse for all of us since COVID. Brexit doesn't help with that confusion, either. Our main shipper gets us the best shipping costs they can, and we add that in to our shipping costs to backers. It is really that direct. This is one of the reasons that we offer the project in PDF, discounted PoD, and a Deluxe version you can get via this campaign or wait to try and get better shipping costs from Indie Press Revolution if we have extras after backers get their books.
James, our concierge for all our crowd-funding efforts, has long suggested that it is more economical to ship several books at a time, so teaming-up with friends or with a group at a local retailer, could make shipping costs more reasonable.
Changing your pledge is not the same as with KS. Indeed, it is not. Basically, you have a couple of options if you want to upgrade or change your pledge. First, you can cancel your pledge and then re-pledge for the other "perk" at any point until the campaign is over. Or, you can keep your pledge as it is until we go into the post-Indiegogo phase on BackerKit and change your pledge there as you always have been able to with our projects on BK.
Payments happen when you pledge, not after the campaign ends. Again, that is correct. It's how Indiegogo is set up, so the best we can do there is let folks know and remind everybody really loudly before the campaign ends to remind everyone. Once more, BackerKit will be there after the campaign is over if you want to back then.
My understanding is that there are a fair number of folks waiting until then to "pledge" although there's a fear that this will hurt the project as the campaign won't end as highly funded as it could. Well, since we did fund, and over 700 people in this first week have backed it, and the whole point of the campaign is be able to make the Deluxe book, I really don't think M20: Victorian Era is going to be hurt.
But there's another factor involved, which is that some posters are concerned that the lower pledge dollar amount will mean that there will be a lot fewer Stretch Goal rewards. Well, sure, we'd all like to have more projects issue from a single campaign – the free stuff backers get is also more projects for us to put up for sale, after all.
So, I've talked with James, and we will continue to count the pledge totals after M20: Victorian Era goes over to BackerKit in terms of achieving Stretch Goals!
Now there are some caveats with this.
First, we're doing this as part of continuing the experimental nature of this campaign. This is NOT our new way of doing things with crowdfunding. We need a solid cut-off for our campaigns, and we don't intend this as a new standard methodology, but as an experimental exception.
Second, we have a set amount of Stretch Goals prepared and if we achieve those before we go to BackerKit, we aren't going to make up new ones for BK. If we get to where we're counting Stretch Goal amounts on BK, we're going to stop once we hit the last of the ones we've planned for.
And third, this is an experimental extension so that we can all have more fun. If it stops being fun for us, we're reserving the right to stop the Stretch Goals on BK. I mean, we're not going to continue an experimental that is blowing up and melting our faces. We're not "mad scientists", Victorian or otherwise.
Not much.
Or maybe it comes in like a Werewolf!
If you look down at the project progress report, you'll see a new project leap up snarling and howling in the First Drafts phase: The Apocalyptic Record for W20!
Here's a very brief and not-in-any-way-set-in-stone description that we are starting with, but could change as the writing and development goes through the creation process:
The Apocalyptic Record is one sourcebook containing five over-arcing stories, divided into chapters within each. These five stories tell different tales of the Apocalypse, each defined by a different phase of the moon/werewolf Auspices. Each contains a series of records, transcripts, journals, and relics written or voiced by werewolves, changing breeds, and even Wyrm-servants from Werewolf: The Apocalypse.
This was one of those licensed WW IP projects that 2020 delayed discussions on, and which we're able to do now thanks to the folks at Paradox! As soon as they were able to give us the go-ahead after they had worked out their plans despite 2020, they gave the OK. And we're sooo ready to finally get our team writing!
As more things shake loose from the miasma of 2020, you'll hear of even more fantastic projects coming soon!
And Then…The Monday Meeting!
Basically, it was schedule talk, a follow-up chat about a major meeting from last week, some industry concerns, and figuring out that March has five Wednesdays that we'll be selling things on this month.
And speaking of selling things – even woozy, he can still segue – DriveThru RPG's GM Day Sale starts on Wednesday and features big and bigger savings on our PDFs throughout the site! More details below, but this is traditionally a huge sale on DTRPG.
Okay gang, I am heading out. My eyelids are just so heavy. But I'm doin' my duty and gettin' this blog out for all of my fellow travelers throughout our:
Many Worlds, One Path!
---
BLURBS!
---
Kickstarter!
The campaign for the Deluxe Mage: The Ascension 20th Anniversary Edition Victorian Age funded in less than a day on IndieGoGo!
We've already politely pushed past several Stretch Goals and are now headed with full steam power towards 200% funding! Whoo-woooo!
Check it out here: https://www.indiegogo.com/projects/victorian-mage-ttrpg
---
Onyx Path Media!
This week: The Terrific Trio and yours truly sit down during Gehenna Gaming's Virtual Horror Con and chit chat about all sorts of things – some are answers to questions submitted by con participants (mostly about our favorite drinks, hmmm?)! and announce repeatedly that we're doing our own online con in June. June? June!
As always, this Friday's Onyx Pathcast will be on Podbean or your favorite podcast venue! https://onyxpathcast.podbean.com/
Also on Podbean this week, on Wednesday, is the penultimate 5th episode of Tales of the Aeon Society! A recently recovered radio program from the 1930s that we here at Onyx Path have lovingly restored at great cost featuring the thrilling adventures of Max Mercer and the Aeon Society! Listen as they investigate A Deadly Trap!!!
The fantastic team at Vorpal Tales started their M20 Victorian Age chronicle this week! Do check them out on Twitch and give them a follow (and maybe even a subscribe): https://www.twitch.tv/vorpaltales and here's episode one of their actual play! https://youtu.be/9MHsKwwuXY4
We're incorporating errata for Mummy: The Curse 2nd Edition right now, but while you wait for your finished PDF, please give 307 RPG's podcast a listen, as they talk about the guilds as they appear in this new edition of Mummy. Give them a subscribe! https://307rpg.com/?p=633
The Story Told Podcast focus in on the Scion Companion over on their show, and if you're not already following their excellent content, you should be: http://thestorytold.foolsmoon.ca/episode-71-scion-companion
For anyone new to our media section, you can find us running and playing games over on twitch.tv/theonyxpath pretty much every day of the week! Plus, if you'd like your games hosted there, just get in touch with Matthew Dawkins using the contact link on matthewdawkins.com.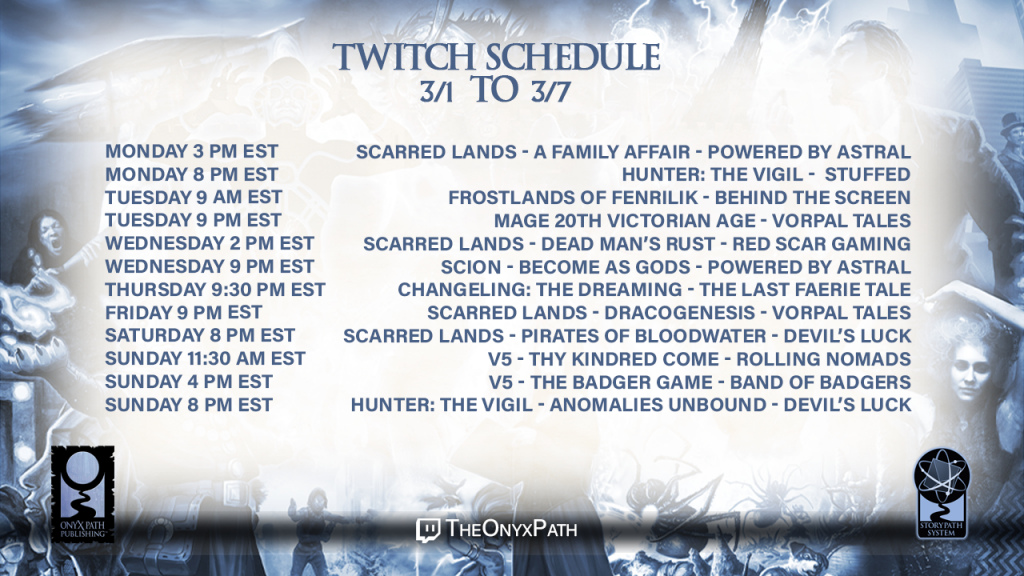 This week on Twitch, there's a bumper harvest of videos scheduled for you:
Scarred Lands – A Family Affair – Powered by Astral
PICK OF THE WEEK – Hunter: The Vigil – Stuffed
Frostlands of Fenrilik – Behind the Screen
Mage 20th Victorian Age – Vorpal Tales
Scarred Lands – Dead Man's Rust – Red Scar Gaming
Scion – Become as Gods – Powered by Astral
Changeling: The Dreaming – The Last Faerie Tale
Scarred Lands – Dracogenesis – Vorpal Tales
Scarred Lands – Pirates of Bloodwater – Devil's Luck
V5 – Thy Kindred Come – Rolling Nomads
V5 – The Badger Game – Band of Badgers
Hunter: The Vigil – Anomalies Unbound – Devil's Luck
You might see we made a pick of the week in the form of Stuffed! I (Matthew Dawkins) haven't seen a Hunter actual play of this quality before, and strongly recommend you tune in to watch live!
Get watching for some fantastic insight into how to run these wonderful games and subscribe to us on Twitch, over at twitch.tv/theonyxpath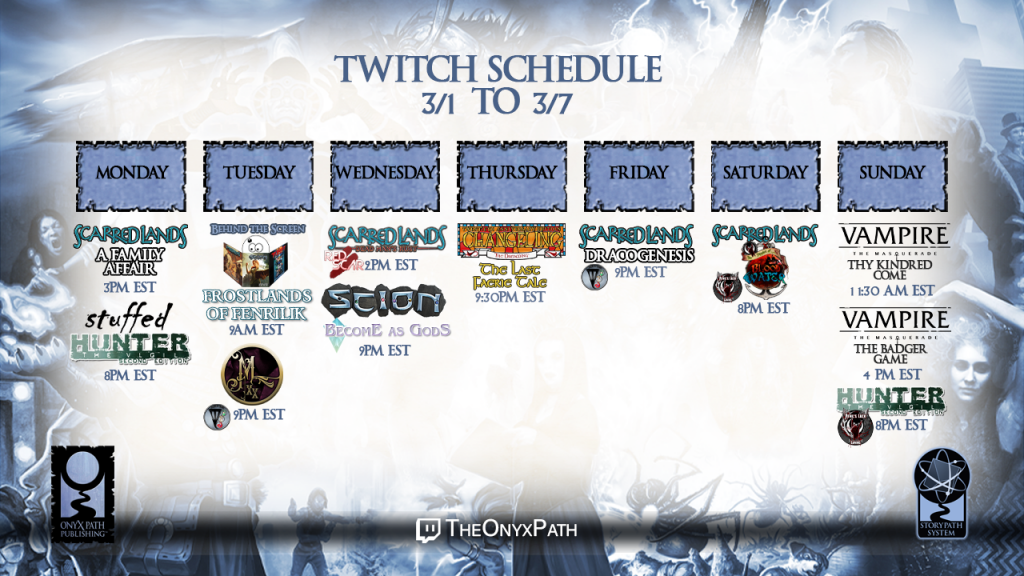 Come take a look at our YouTube channel, youtube.com/user/theonyxpath, where you can find a whole load of videos of actual plays, dissections of our games, and more, including:
Scion – Become as Gods – Episode 1 – https://youtu.be/c5qEvyliueQ
Hunter: The Vigil 2E – Stuffed – Episode 4 – https://youtu.be/Glz_GEcE4WY
Scion: Hero – Heroes for the Holidays – FINALE – https://youtu.be/SlBg9Rt7ObI
Scion: Dragon – Vorpal Tales – Episode 2 – https://youtu.be/Yw7Xt_9VcEg
Scion: Become as Gods – Episode 2 – https://youtu.be/azvG9NhCSOI
M20 Victorian Mage Preview Video – https://youtu.be/zOW0bUMLCY0
Subscribe to our channel and click the bell icon if you want to be notified whenever new news videos and uploads come online!
The fantastic Scarred Lands Purge of the Serpentholds crew now run their games over on Roll the Role! Do give them a follow and a subscribe, because their gaming is among the most entertaining I've seen: https://www.twitch.tv/rolltherole
Wards & Witchcraft continue their wonderful Mage: The Awakening chronicle which you can watch right here:
The balance shifts at Witch Hollow Farm. In search of the missing Hierarch, the coven are about to find more than what they were looking for. https://youtu.be/C51GfRejxG0
The Ruins of Warsaw is an amazing Vampire: The Masquerade RPG set in Warsaw in 1947. Several episodes have been released, so please check out their videos and subscribe! Here's their playlist: https://youtube.com/playlist?list=PLKkMR3i11sDdhD_ufgqXbzPBefI6f8cRc
Systematic Understanding of Everything is a fantastic Exalted Explainer Podcast by Exalted Dev Monica Speca and Exalted Writer Chazz Kellner. You should check it out, because it remains among the best Exalted shows out there.
Their most recent episodes are available over on https://www.exaltcast.com/, with their newest the following:
Some games' combat are an HP-fueled stabfest as blows are traded until someone crumbles like a maimed ham. Exalted combat combines the elegance of a lightsaber duel with the fun of a tax return! Chazz and Monica explain and then Terry and Monica give it a try.  
https://www.exaltcast.com/2021/02/08/ascendant-battle-visage-exalted-combat/
A Bunch of Gamers continue their gripping and bloody Werewolf: The Apocalypse actual play!
After the calls of the Black Spiral Dancers ring over the corpse of the Sept of the Winter Fang the packs Fomori's Bane and the Infernal Alphas take the sole survivor of the massacre back to the Sept of the Sacred Stone. Tensions run high as Elders explode over a lack of tactical information, the loss of an ally, and the ever growing pressures the Wyrm presents them. Will the packs buckle under the pressure? Or stand tall?
https://youtu.be/OWRibhBfxcc

Please check these out and let us know if you find or produce any actual plays of our games! We'd love to feature you!
---
Electronic Gaming!
As we find ways to enable our community to more easily play our games, the Onyx Dice Rolling App is live! Our dev team has been doing updates since we launched based on the excellent use-case comments by our community, and this thing is awesome! (Seriously, you need to roll 100 dice for Exalted? This app has you covered.)
We're told that the App Dev is currently creating an updated version for the latest devices, so keep an eye open for those! The App was also pulled down from the Apple store in order to make some required updates – it'll be back there soon!
---
Virtual TableTop!
Two Virtual Tabletop adventures: the Gauntlet of Spiragos and the Dagger of Spiragos for Scarred Lands on Astral TableTop and DriveThruRPG!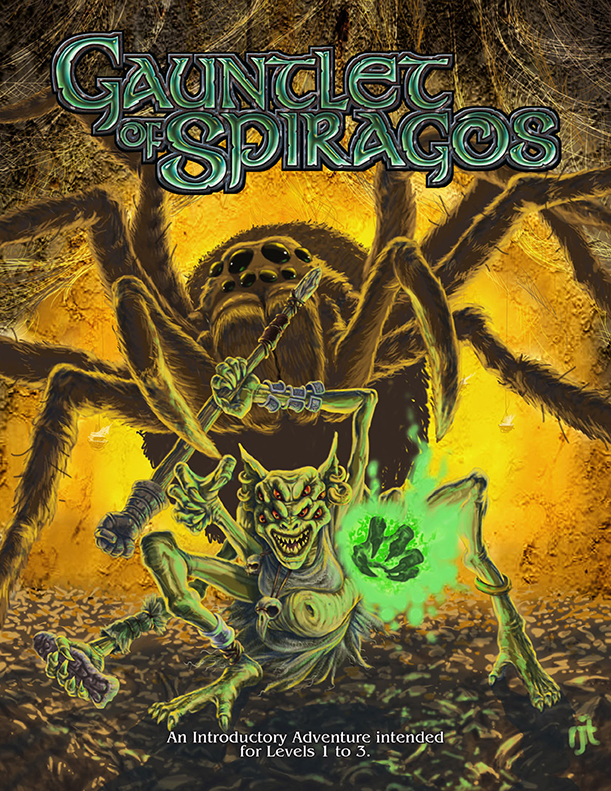 Scars of the Divine War, which ended less than 200 years ago, have still not healed. One such scar is the Chasm of Flies, a rent in the earth created when the titan Spiragos the Ambusher was smote down by one of the young gods, Vangal the Ravager. Now, the Chasm is inhabited by spider-eye goblins and their spider allies, but it is also thought to be the resting place of powerful artifacts from that elder age.
Astral TableTop is the easiest way to play any tabletop RPG online, free. Astral already supports popular systems like D&D and Pathfinder, and Astral can support virtually any tabletop roleplaying game. Get started quickly with built-in support for most popular game systems. Whether you're brand new to TTRPGs or a veteran tabletop gamer, Astral's ease-of-use and built in automation is designed to streamline gameplay.
Astral is browser-based and uses the latest technology to streamline your storytelling experience. Connect with your party online and run your campaigns however you like. Astral offers tools optimized for phone, tablet, and desktop devices, no installation required.
Build epic battlemaps using Astral's enormous collection of scenery, props, and tokens or upload your own. Pro users gain access to over 12,000+ assets and fresh new packs every month. Add weather, visual effects, triggers, and so much more with easy-to-use tools
Build your own adventure, or choose from pre-generated game kits like Gauntlet of Spiragos and Dagger of Spiragos. Create character sheets, craft maps, or just jump right in to connect with your friends and start your adventures!
---
On Amazon and Barnes & Noble!
You can now read our fiction from the comfort and convenience of your Kindle (from Amazon) and Nook (from Barnes & Noble).
If you enjoy these or any other of our books, please help us by writing reviews on the site of the sales venue from which you bought it. Reviews really, really help us get folks interested in our amazing fiction!
Our selection includes these latest fiction books:
---
Our Sales Partners!
We're working with Studio2 to provide our traditionally printed books out into your local game stores. Game stores can order via their usual distributors, and can also contact Studio2 directly. And individuals can check out our projects via the links below!
You can pick up the traditionally printed Pugmire and Monarchies of Mau main books, screens, and the official dice through our friends there! https://studio2publishing.com/search?q=pugmire
Now, we've added Chronicles of Darkness books such as Changeling: The Lost Second Edition products to Studio2's store! See them here: https://studio2publishing.com/collections/all-products/changeling-the-lost
Scion 2e books and other products are available now at Studio2: https://studio2publishing.com/blogs/new-releases/scion-second-edition-book-one-origin-now-available-at-your-local-retailer-or-online
Our Vampire: The Masquerade 5th Edition books are also available from Studio2 in the US: https://studio2publishing.com/products/vampire-the-masquerade-chicago-by-night-sourcebook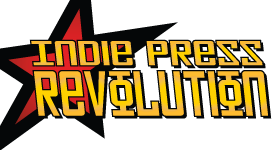 Looking for our Deluxe or Prestige Edition books? Try this link! http://www.indiepressrevolution.com/xcart/Onyx-Path-Publishing/
And you can order Pugmire, Monarchies of Mau, Cavaliers of Mars, and Changeling: The Lost 2e at the same link! And now Scion Origin and Scion Hero and Trinity Continuum Core and Trinity Continuum: Aeon are available to order!
This coming weekend IPR will have Cavalier of Mars books and the screen on sale – use the different gravity to bounce over and check it out!
As always, you can find Onyx Path's titles at DriveThruRPG.com!
The gigantic GMs Day Sale starts on Wednesday the 3rd and runs until the 15th!
Most of our PDF catalog will be on sale:

* From 61 days to 2 years old: 10% off
* Over 2 years old: 40% off
---
On Sale This Week!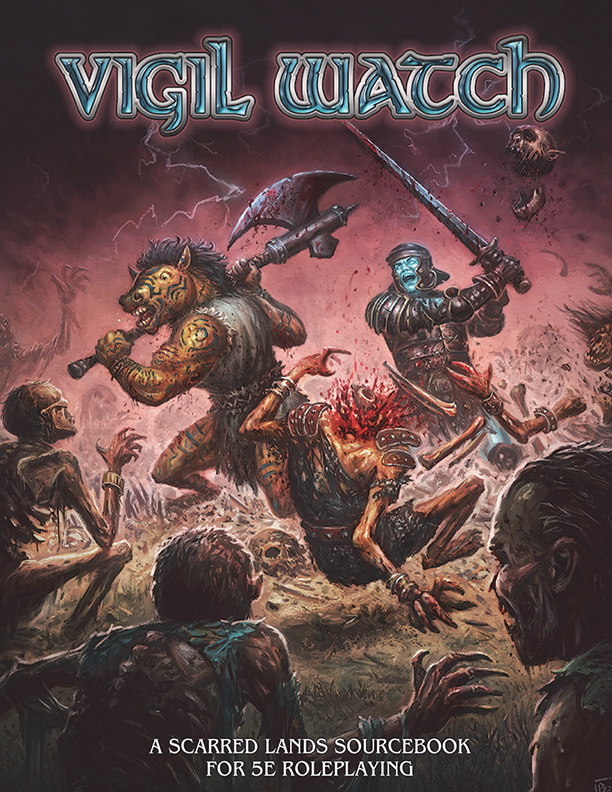 This Wednesday look out for the compiled Vigil Watch Advance PDF for Scarred Lands! Only on DriveThruRPG.com!
Ghelspad is a massive and diverse land. Once a paradise, this continent is now scarred by the ravages of the Titanswar. In the wake of divine bloodshed, and beset on all sides by titanspawn, the people of Ghelspad survive and thrive on this befouled continent. Vigil Watch explores six different locations across Ghelspad.
From the bloody shores of the Toe Islands in the east to the Sweltering Plains of the west, Vigil Watch provides an in-depth look at a variety of locales and cultures.
Vigil Watch contains:
Expanded information on the culture and nomadic home of the ironbred
A detailed view of Leoni, the center of the Manticora Confederacy
The terrifying deadlands of the Festering Fields
An exploration of the Library of Lokil, and much more!
Calling all people around the world, and all the ships at sea! News flash! Wednesday also features the second episode of a thrilling brand-new radio adventure: Tales of the Aeon Society – Episode Five: A Deadly Trap! Available wherever podcasts are heard, and definitely with our friends at Podbean!
---
Conventions!
Because dates for physical conventions are subject to change due to the current COVID-19 outbreak, we don't yet have a list of upcoming physical conventions. Instead, keep an eye out here for more virtual conventions we're going to be involved with!
As announced during Virtual Horror Con over the weekend, the 2nd Onyx Path Virtual Gaming Convention will be coming to you live this June!
---
And now, the new project status updates!
Development Status from Eddy Webb! (Projects in bold have changed status since last week.):
First Draft (The first phase of a project that is about the work being done by writers, not dev prep.)
Exalted Essay Collection (Exalted)
The Hedge (Changeling: The Lost 2nd Edition)
Tasty Bit: Heroes of the Waste (Dystopia Rising: Evolution)
Tasty Bit: Zeus in a Bar (Scion 2nd Edition)
Ghost Hunters Jumpstart w/RMCs (WoD 20th)
The Paranormal Investigator's Handbook (WoD 20th)
Tasty Bit: Car Lifting Competition (Scion 2nd Edition)
Tasty Bit: Les Fantomes (Trinity Continuum)
Apocalyptic Record (Werewolf: The Apocalypse 20th Anniversary Edition)
Vigil Watch: The Kelder Mountains (Scarred Lands)
Redlines
Dragon-Blooded Novella #2 (Exalted 3rd Edition)
They Came From [Classified]! Jumpstart (They Came From…!)
Tome of the Pentacle (Mage: the Awakening 2e)
Tasty Bit: New Paths (Trinity Continuum)
No Gods, No Masters (Scion 2nd Edition)
Tasty Bit: Pets (Trinity Continuum: Aeon)
Second Draft
Wild Hunt (Scion 2nd Edition)
Once and Future (Scion 2nd Edition)
Realms of Magic and Mystery (was Terra Incognita) (Scion 2nd Edition)
They Came From [Classified]! (They Came From…!)
Development
TC: Aberrant Reference Screen (Trinity Continuum: Aberrant)
Contagion Chronicle: Global Outbreaks (Chronicles of Darkness)
Exigents (Exalted 3rd Edition)
Kith and Kin (Changeling: The Lost 2e)
Adversaries of the Righteous (Exalted 3rd Edition)
Trinity Continuum: Anima
Many-Faced Strangers – Lunars Companion (Exalted 3rd Edition)
They Came From Camp Murder Lake! (They Came From…!)
Tales of Depravity! (They Came From…!)
Manuscript Approval
Onyx Path Brochure 2021-2022
Saints and Monsters (Scion 2nd Edition)
TC: Aeon Novella: Dawn (Trinity Continuum: Aeon)
Post-Approval Development
Contagion Chronicle Ready-Made Characters (Chronicles of Darkness)
Trinity Continuum: Adventure! core (Trinity Continuum: Adventure!)
Trinity Continuum: Assassins (Trinity Continuum Core)
Editing
Lunars Novella (Rosenberg) (Exalted 3rd Edition)
Mummy: The Curse 2nd Edition core rulebook (Mummy: The Curse 2nd Edition)
The Book of Lasting Death (Mummy: The Curse 2e)
Dead Man's Rust (Scarred Lands)
M20 Victorian Mage (Mage: the Ascension 20th Anniversary Edition)
Mission Statements (Trinity Continuum: Aeon)
The Clades Companion (Deviant: The Renegades)
M20 Technocracy Operative's Dossier (Mage: The Ascension 20th Anniversary)
Yugman's Appendix: People of Ghelspad (Scarred Lands)
CtL2e Novella Collection: Hollow Courts (Changeling: The Lost 2e)
Heroes in a World of Horror! (They Came From…!)
Dystopia Rising: Evolution Fiction Anthology (Dystopia Rising: Evolution)
Squeaks In The Deep (Realms of Pugmire)
Prometheus Unbound (was Psi Orders) (Trinity Continuum: Aeon)
Legacies of Earth (Legendlore)
Novas Worldwide (Trinity Continuum: Aberrant)
Scion Fiction Anthology (Scion 2nd Edition)
M20 Rich Bastard's Guide To Magick (Mage: The Ascension 20th Anniversary)
They Came From Beyond the Grave! Jumpstart (They Came From…!)
Across the Eight Directions (Exalted 3rd Edition)
Monsters From the Crypt! (They Came From…!)
TC: Aeon Novella: Meridian (Trinity Continuum: Aeon)
Exalted Essence Edition (Exalted 3rd Edition)
Crucible of Legends (Exalted 3rd Edition)
Tasty Bit: Outer Space Archetypes and Tropes (They Came From…!)
The Devoted Companion (Deviant: The Renegades)
Proteus Nova Compendium (Trinity Continuum: Aberrant)
They Came From Beneath the Sea! Jumpstart (They Came From…!)
Post-Editing Development
Hunter: The Vigil 2e core (Hunter: The Vigil 2nd Edition)
Legendlore core book (Legendlore)
Masks of the Mythos (Scion 2nd Edition)
They Came From Beyond the Grave! (They Came From!)
Scion: Demigod (Scion 2nd Edition)
Scion: Dragon (Scion 2nd Edition)
Player's Guide to the Contagion Chronicle (Chronicles of Darkness)
V5 Children of the Blood (was The Faithful Undead) (Vampire: The Masquerade 5th Edition)
N!ternational Wrestling Entertainment (Trinity Continuum: Aberrant)
Dearly Bleak – Novella (Deviant: The Renegades)
V5 Trails of Ash and Bone (Vampire: The Masquerade 5th Edition)
Hundred Devil's Night Parade (Exalted 3rd Edition)
Under Alien Skies (Trinity Continuum: Aeon)
V5 Forbidden Religions (Vampire: The Masquerade 5th Edition)
Indexing
---
Art Direction from Mike Chaney!
In Art Direction
WoD Ghost Hunters (KS)
Hunter: The Vigil 2e – Meredith is on it.
Legendlore
Scion: Dragon (KS) – KS.
Masks of the Mythos (KS) – KS.
Scion: Demigod – Getting art notes out to artists.
They Came From Beyond the Grave! – Figuring out art buy.
TC: Adventure! (KS) – KS artwork incoming.
M20 Victorian (KS) – Ready for KS.
Dead Man's Rust
M20 Technocracy Jumpstart – Art in progress.
Exalted Essence (KS) – Artists working, sketches coming in.
V5 Trail of Ash and Bone – AD'd. Finals already in from Ken Meyer, Jr.
V5 Forbidden Religions
TC Mission Statements – New artnotes in, giving to Meredith.
TC Aberrant N!WE
M20 Technocracy Dossier/Companion
M20 Rich Bastards Guide – Art buy figured out.
Hundred Devils Night Parade – Figuring out art buy. Fulls lined up.
Squeaks In The Deep (KS) – Just need the KS map & we're ready to KS.
Players Guide to the Contagion Chronicle – Rolling.
TC Prometheus Unbound – Got new art notes.
In Layout
M20 Technocracy Reloaded
TC Aberrant Jumpstart
LARP Rules (Scion 2nd Edition) – With Travis.
Children of the Blood – Maria doing layout.
TC: Under Alien Skies
Heirs to the Shogunate – It has begun.
Proofing
Geist: One Foot In the Grave – Reviewing errata.
Deviant – Backer PDF errata gathering/reviewing.
Monsters of the Deep – Reviewing errata.
Mummy 2 – Errata gathering.
Contagion Chronicle Jumpstart (Chronicles of Darkness)
At Press
V5 Cults of the Blood Gods – Press files proofs reviewed and returned. PoD proof ordered from DTRPG.
Aberrant – PoD proof ordered. Trad print proofs reviewed and returned.
TC: Aberrant Screen – Press files sent.
Peoples of the Crossroads Continent – PoD proof ordered.
Yugmans – PoD proof ordered.
Yugman's spell cards – PoD proofing.
Vigil Watch Compiled – Advance PDF on sale Weds on DTRPG!
Tales of the Aeon Society Episode Five: A Deadly Trap! – Goes live on Weds.
---
Today's Reason to Celebrate!
Today starts March, which comes in like a – well you know the rest. It's also National Women's History Month, which we'll come back to later with more detail as the Trinity Continuum: Adventure! KS kicks off. Celebrate (and learn of) women's achievements through the ages all this month!