Mirthful Mike Makes Monday Meetings More Metal…
Hi Everybody!
Mirthful Mike here.
Since Rich is away this week, I'll be taking over the Monday Meeting.
Since I've committed to making things "More Metal", here is me in my King Diamond costume waaay back in 2001. As you can see, I went with classic 80s King Diamond rather than the later versions. Justin was dressed up as Morrissey and I think Chad went as Fred Durst…
On a sidenote, I'll be taking my wife to see King Diamond and Exodus for our anniversary this year. I missed Exodus last year as some stupid horse circus backed up traffic and made me an hour late for the show.
Okay, enough shenanigans… time to get to it.
Over the last couple of months, we've had a number of commenters asking about the various things that Art Direction entails as it pertains to my weekly bulleted list. So, I figure why not give everyone brief overview of what exactly goes into the Art Direction phase (or why stuff stays in that phase so long).
Keep in mind is that Art Direction covers several points in the process rather than just one. These points break down into the following:
Art Notes – As you can probably tell, this is the various art requests from a developer. Art notes can take various forms as sometimes I get a bulleted list of specific scenes while other times I get the unedited text with underlined passages. I will read through the notes, and then decide if the bulleted scene or underlined text works as far making for an exciting scene. If it doesn't, I'll modify as needed… usually only means tweaking the scene a little or selecting a more interesting neighboring passage. I very rarely have had to rewrite artnotes completely from scratch or send them back to the developer.
Art Budget and Breakdown – Once I have the word counts for each chapter in a book, I will run our equation and figure out how many half page pcs of artwork a chapter requires. Many times I will even take the unedited text and do a roughed in layout to make sure that I buy enough artwork and that it's properly spread apart so there isn't a glut at one end and nothing at the other.
Contracting – This is when I contact various artists, divide up art notes, put together contracts and tax forms, and email that out. This step tends to overlap the previous one as I'll fire off emails to three or four artists that usually work on a line while I'm still figuring out how much I'll need.
Production Time – The actual time the artist is working on the piece. As a rule, I try to give an artist a minimum of four weeks for an assignment. I will grant additional time if an artist is working on large number of fulls or is illustrating a large number of splats.
Sketch Approval – About ten days before artwork is due, sketches are due. This is the latest drop dead date that artists can get the sketches in and still have time finish the artwork by final deadline. Most artists turn in sketches no later than two weeks into the project and those are usually approved with only minor tweaks. Once they have approval from me, they are clear to commence work on the finals.
Assamite Ghoul by Kieran Yanner
Finals and Approval – Once the final deadline rolls around, the artist will send me their finished artwork… generally as a .tif or .psd file. I will then review the piece and either reqest changes or approve the artwork.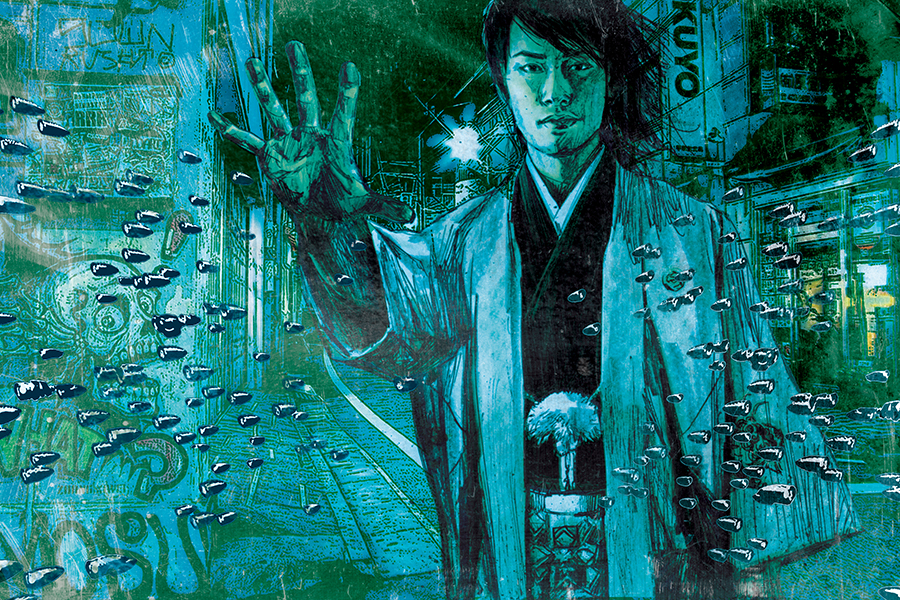 M20 How Did You Do That? – Missile Deflection by Michael Gaydos
CCP Approval – For licensed game lines such as Vampire or Exalted, the artwork must go onto an additional approval process by CCP. They will decide whether or not the artwork passes muster and if not will request changes be made. Most of the time artwork goes through without a hitch, however there will always be exceptions and changes must be made.
By the time all of this has been done… about a month and a half or more has passed. At this point the project proceeds onto the layout and design phase which we will cover in another blog post in the future.
And now the project Round Up
DEVELOPMENT STATUS FROM ROLLICKING ROSE:
First Draft
Cavaliers of Mars
BtP Anthology
BtP RMCs
VtM RMCs
WtA Kinfolk
C20
VtM Lore of the Bloodlines
Dark Eras Companion
Pugmire Early Access
MtC Anthology
CtL anthology
Ex Novel (Forbeck)
MtAs Book of Secrets
Redlines
WtF The Pack
CtL 2e
Beckett's Jyhad Diary
MtC Rio
WtO Wr20 core
Second Draft
Dark Eras expansions
Ex Realm
Ex Dragon-Blooded
Ex Arms of the Chosen
VtR Secrets of the Covenants
Development
MtAs M20 Anthology
WoD Hurt Locker
WtA Changing Ways
Scarred Lands Player's Guide: Ghelspad
WtA Employee Indoctrination Handbook
Sardonyx/Storypath
Editing
MtAw 2e core
PtC 2e core
DtD Storyteller's Guide
WtA Shattered Dreams
VtM Tal'Mahe'Ra/Black Hand
VtM Ghouls
Post-Editing Development
ART DIRECTION FROM ME:
In Art Direction
V20 Ghouls – I think I have most of the art in… having to contact some guys and getting updates.
Dreams of Avarice – Sam's chugging along.

NWoD 2 – Leblanc working on the four fill in pcs.
Tal Me Rah – AD'd… won't see sketches until middle of September.

W20 Shattered Dreams – Some finals rolling in.

V20 Lore of the Clans Expanded Materials– AD'd.
Pentex Employee Indoctrination Manual

Demon STG –  AD'd.
Awakening Second – Looking over notes and contacting artists.
Promethean Second – Looking over it at as well… once I'm done with Awakening.
In Layout
Lore of the Clans – roughing in the new stuff while art is in progress.
Beast – hitting it with a hammer again this week… working on the final chapter and the appendices.
Proofing
M20 How Do You Do That – It's with Phil.
Ex 3 Anthology – Awaiting updated text file.
EX 3 UPDATE FROM RICH: Notes from Devs given to Maria late last week, already OK'd a chapter's worth of changes.
At Press (on Drivethru… or whatever)
VDA20 – At press. Couple of fixes on the interior, but otherwise pretty clean.
M20 – Trying to straighten out issues with Standard version.
M20 Screen – At the Printer. 
Special
Dark Eras – Holding pattern.
Wraith 20 – Yep… waiting on artnotes.