Now Available: Æon: Pets!
Sales, Scarred Lands, Scion, Trinity Continuum, Trinity Continuum: Æon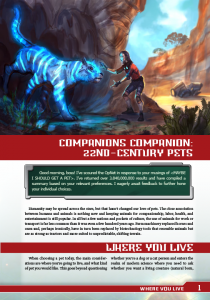 Now available in PDF: Storypath Tasty Bits: Pets for Trinity Continuum: Æon!
Humanity may be spread across the stars, but that hasn't changed our love of pets. The close association between humans and animals is nothing new and keeping animals for companionship, labor, health, and entertainment is still popular. In Companions Companion, we give you everything you need to add pets to your game of Trinity Continuum: Æon, including:
This PDF is part of the "Storypath Tasty Bits" program, where every month in 2021 Onyx Path offers a small product that ties into one of its Storypath games.
Check in every month to see what's coming next!
Plus: A Quantum Leap, the Trinity Continuum Jumpstart, is now available on Astral Virtual Tabletop! The Astral module comes free with your purchase. After checkout, look for the link to unlock your adventure on Astral.
Sales
For the next six days, DriveThruRPG is running the Cthulhu Mythos Sale! The Chronicles of Darkness core rulebook, God-Machine Chronicle Anthology, and Time is Come Round jumpstart are all discounted!
It's the Dog Days of Summer sale on Indie Press Revolution! Until August 29th, a selection of Onyx Path products are 40% off! This includes Cavaliers of Mars, Changeling: The Dreaming 20th Anniversary Edition, Changeling: The Lost 2nd Edition, Scion, and more!
Indie Press Revolution carries our Kickstarted releases, whether they're deluxe editions, prestige editions, or simply traditionally-printed regular editions. These are not the same products you get when ordering print-on-demand from DriveThruRPG.
Crowdfunding Update
Keep an eye out for our next Kickstarter, TheApocalyptic Record for Werewolf: The Apocalypse 20th Anniversary Edition!
Did you miss one of our previous Kickstarters? The following Kickstarted products are still open for preorders via BackerKit:
Community Spotlight
The following community-created content for Scarred Lands has been added to the Slarecian Vault in the last week:

The following community-created content for Realms of Pugmire has been added to Canis Minor in the last week:
The following community-created content for Storypath has been added to the Storypath Nexus in the last week: