Now Available: Exaltedstravaganza, and Huntsmen Anthology in print!
Changeling: The Lost, Exalted, Sales, Vampire: The Masquerade
Now available in print and ebook formats from DriveThruFiction: The Huntsmen Chronicle Anthology for Changeling: The Lost 2nd Edition!
Is a life of running and hiding a life worth living? We say yes. There's always something between the running and the hiding, and those moments of grace make it all worthwhile.

The Huntsmen Chronicle Anthology is a perfect companion piece to Changeling: The Lost, Second Edition. These stories spin tales of the Lost, of those abducted and enslaved by fairies. Those who escaped, but whose captors will stop at nothing to find them. These fairies summon forth the Huntsmen, primordial hunters who understand nothing but pursuit and capture. The Huntsmen are unstoppable monsters, and the Lost can only look to each other for respite, rare comfort, and rarer trust.

If you're looking for a chilling read, or ideas for your Changeling: The Lost chronicles, this book features many different takes on the Lost, and the creatures that hunt them.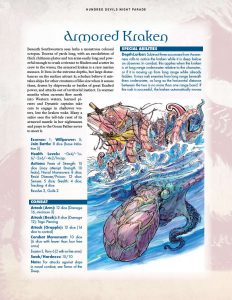 Also available in PDF from DriveThruRPG: Hundred Devils Night Parade part 9: Armored Kraken and Ghostfisher for Exalted 3rd Edition!
From the frozen North to the burning South, and all directions in between, there are creatures that stalk Creation. Demons, spirits, monsters and even creatures who live alongside mankind are in every region.

In this collection you will find new foes, encounter old enemies, and learn the secrets of these denizens of Exalted 3rd Edition's wondrous world.

Hundred Devils Night Parade: Armored Kraken and Ghostfisher

The sea dwelling Armored Kraken and the terrifying Ghostfisher are fantastic additions to your Exalted game.
… and Adversaries of the Righteous part 4: Ku Nenaveya!
From the bustling streets of Nexus to the savage western seas, Creation is ripe with threats to mortals and Chosen alike. Crooked traders, vile occultists, and even zealous protectors of the Realm can be found in every city, satrapy, and region waiting for unsuspecting targets or standing their ground as they prepare for the inevitable.

In this collection you will meet new foes, encounter old enemies, and learn the inner workings of several different factions and societies dedicated to criminal activity, nefarious plotting, and more.

Adversaries of the Righteous: Ku Nenaveya

Captain of the Blue Wolves, Wielder of the Frozen Heart

Exiled from the Bishop's lands for her crime, Nenaveya wanders the North in search of purpose at the head of her mercenary band, the Blue Wolves. As she embraces the Bishop's blessing, the swath she leaves in her wake grows ever bloodier.
Merch
Freshly-added to our RedBubble store:
Storytellers Spotlight
The following community-created products have been added to the Storytellers Vault in the last week: