Now Available: Fetch Quest!
Now available in PDF and print from DriveThruCards: Our second card game, Fetch Quest!
Fetch Quest is a family-friendly cooperative deck-building game.
Each player represents a pioneer, one of six adventurous dogs on a dangerous quest. The pioneers work together to overcome dangerous challenges and resolve missions. Once the missions are resolved, the quest is finished and the players win the game.
Fetch Quest is a cooperative deck-building game for 3-6 players of ages 12 and up.
Playing time is approximately 60-90 minutes. 
Also available: Fetch Quest: Heroes of Pugmire booster!
Heroes of Pugmire gives you ten new pioneers to use in your Fetch Quest games. Voltaire Vizsla and Oliver Quentin Beagle IV are both ready to take on the quest. Or, use one of the seven provided cat characters to give you games a feline twist!

Fetch Quest is also available via the Roll20 Marketplace!
Sales
Noble Knight Games is running a sale on a number of Onyx Path products, many of which are otherwise hard to find.
Scarred Lands products for Pathfinder (the Scarred Lands Players Guide and The Wise & The Wicked 2nd Edition) are upwards of 90% off from IPR and Studio 2! Both products are an incredible $5 each!
DriveThruRPG is running a huge May D&D Sale all this month, which includes a ton of Realms of Pugmire and Scarred Lands content!
Kickstarter Update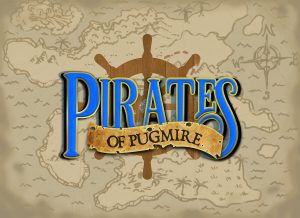 Pirates of Pugmire, a supplement for both Pugmire and Monarchies of Mau, launched yesterday! With 299 backers, we're already at $16,373, or 41% of our $40,000 goal!
Did you miss one of our previous Kickstarters? The following Kickstarted products are still open for preorders via BackerKit:
Community Spotlight
The following community-created content for Scarred Lands has been added to the Slarecian Vault in the last week:
The following community-created content for Realms of Pugmire has been added to Canis Minor in the last week: