Now Available: Novas Worldwide! Plus: Pugmire VTT!
Realms of Pugmire, Sales, Trinity Continuum: Aberrant
Now available in PDF and print from DriveThruRPG: Novas Worldwide for Trinity Continuum: Aberrant!
"I'd do my job better if there wasn't someone always waiting to write fifteen news articles critiquing my right to exist. I know, I have to rise above it. Sure. But it's hard when your name is trending, and you can't even have basic interactions with friends without them bringing up the lies Nova Daily is spreading about you."
— Thunderhead, Elite nova
Novas Worldwide contains three adventures to use in your games. These scenarios can be played in sequence as a campaign, used individually as single chronicles, or added to an existing chronicle.
Fifteen Minutes introduces new novas to a life of celebrity and fame where they must balance their new roles as superheroes with their reputations.
Sink or Swim sends the characters on a seemingly simple mission to stop a criminal gang, which turns into a rescue operation alongside unlikely allies.
All Tomorrow's Parties provides the novas with a chance to try their hand at public relations while grappling with the sinister aspects of human desire to be super-powered.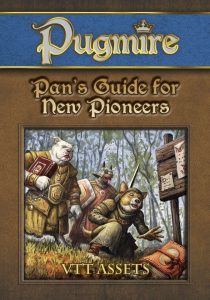 Also available: Pan's Guide VTT Assets for Pugmire!
When a devastating flood hits Pugmire, all manner of bad dogs, opportunistic rats, and manipulative cats take advantage of the kingdom. Good dogs try to turn the tide, but searching the dangerous wilderness for a way to heal the land is no easy task. If only there existed brave dogs to lay down the way for other intrepid pioneers…

It is time for a new group of heroes to set out on a chaotic and risky adventure! Armed with a guide prepared by the daring dog Pan Dachshund, fabulous treasure and great recognition await them. All these pioneers need do is explore the wilds, discover the key to Pugmire's salvation, and return in one piece!
This package contains nearly 100 tokens to use as player characters, enemies, or monsters. It also has the map of Pugmire and the nearby area, to act as a prop in your virtual tabletop sessions. Use these in conjunction with Pan's Guide for New Pioneers, or for any Pugmire game!
Other Recent Releases
Did you miss one of these recent releases?
Sales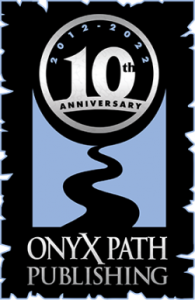 It's Onyx Path's 10th Anniversary! Every month in 2022, we'll be celebrating another one of our published game lines.
September is Realms of Pugmire month! In the second half of the month, you can get Pugmire titles for 90% off!
Indie Press Revolution also has 50% off select Realms of Pugmire products!
Stay tuned for more OPP10 sales the rest of this year!
Noble Knight Games are also offering a sale on a ton of Onyx Path material! Check them out here!
Crowdfunding Update
Did you miss one of our previous campaigns? The following crowdfunded products are still open for preorders via BackerKit:
Community Spotlight
The following community-created content for Scarred Lands has been added to the Slarecian Vault in the last week:

The following community-created content for Realms of Pugmire has been added to Canis Minor in the last week:
The following community-created content for Storypath has been added to the Storypath Nexus in the last week: