Now Available: Terror from the Deep! Terror from the Skies!
Sales, Scarred Lands, Scion, They Came From Beneath The Sea!, Trinity Continuum: Adventure!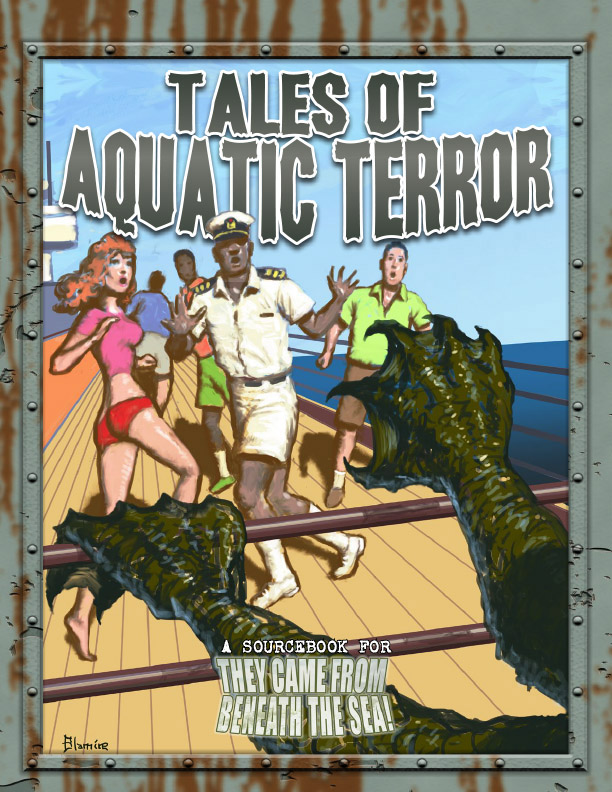 Now available in PDF and print from DriveThruRPG: Tales of Aquatic Terror for They Came from Beneath the Sea!
Terence and Judith hadn't been away from shore longer than three days, but already the luxury cruise was alleviating their accumulated stresses. No working grind for a month, the kids safely ensconced in the best boarding school money could afford, and none of the neighbor's irritatingly mundane tales of clogged garbage disposals and weeds in need of pulling. This was the life.
As the couple reclined on their deck chairs, the sun beating down on their toasting skin, Judith reached her right hand over to where she suspected Terence's left should be. She wanted to give it a squeeze to say "Thank goodness we made this decision." But instead of his hand, her fingers found something else to squeeze: slimy, long, and writhing.
Judith leapt from her lounger with a shriek, sunglasses falling from her face. The horrible sight that was her husband revealed himself before her! Something had replaced him, but not only him! Before her very eyes, the crew changed into cephalopods on legs!
Judith screamed for a long, long time, but nobody heard her cries, or those of the other passengers on the Swan. The liner drifted for another month before it was discovered, and by that time, not a living soul remained…
Tales of Aquatic Terror! is a book of playable stories for They Came from Beneath the Sea!, containing four adventures of varying length and complexity ready for play straight from the pages.
As with the stories in They Came from Beneath the Sea!, these tales of terror can be played in the mode of farce, horror, or anything in between. This book contains options for terror far at sea, frights at the beach, and deep conspiracies in 1950s American society, which isn't as pure as it would have us believe. Each of these stories is fit to be played as one-shots or as parts of longer stories!
They Came from Beneath the Sea! uses the Storypath System.
Tales of Aquatic Terror! includes:
A story of frightening disappearances in the coastal resort of Warm Rock, California! Only the protagonists can solve the mystery and stop people from vanishing.
A tale of horror at sea as a pleasure yacht finds itself caught between iguanoids, a U-Boat, and the US Navy, with the yacht's passengers forced to take action to survive their vacation!
A mystery in Portland, Maine, where the Prefecture of the Pod engineer a conspiracy to take control of an important government official, and only the player characters can stop them!
A journey of aquatic menace as the passengers of the Rose Marie luxury cruise liner encounter a plethora of threats on what is supposed to be the transatlantic journey of a lifetime!
Playable characters provided throughout the book, immediately available to use or adapt for your stories.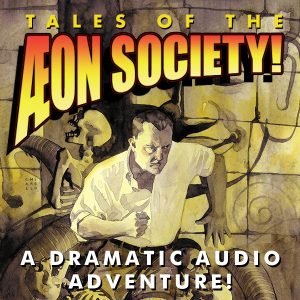 Also available: Terror from the Skies!, the second episode of Tales of the Æon Society! is now live! You can catch it on PodBean, or download it from DriveThruRPG!
A new episode will be posted every week, and will all be linked from our audio archive page (linked in the right-hand sidebar).
Follow along as Max Mercer, a cunning daredevil with extraordinary luck, leads an amazing group of daring humans known only as the Æon Society. These heroes travel all over the world to investigate strange phenomena, right wrongs, and protect the innocent.
This week's episode:
Terror from the Skies! Did Danger Ace survive the crash? Why has the city been dark for days? And what about the strange energy readings?

Look for Trinity Continuum: Adventure! on Kickstarter soon!
Written by Eddy Webb Directed by Drew Profit and Austin Beach Sound Design and Production by Austin Beach Musical Score by Dayn Leonardson
Cast (in order of appearance):
Narrator, played by Austin Beach
Max Mercer, played by Drew Profit
Danger Ace, played by Dayn Leonardson
Helen Perkins, played by Jessica Rainville
Dr. Primoris, played by Mike Janson
"Lucky" Lucy Hebron, played by Marquita Richardson
Kickstarter Update
Our Kickstarter for Scion: Dragon and Masks of the Mythos for Scion 2nd Edition has two weeks to go! We funded within 66 minutes, and we're already at 392% with $137,256 of our original $35,000 goal, thanks to our 1727 backers!
We've currently hit a healthy 19 stretch goals, with more to come over the next month:
Dragon Companion: Creating your own Flight, The Bearers (giant turtles), Greater Wyrms. the Returning
Mythos Companion: Additional Mythos creatures, Great Old Ones, Legacy characters, new fiction, Y'ha-nthlei, Elderian home planet
Dragon Reference Screen
Dragon Ready-Made Characters, x2
Mythos Reference Screen
Dragon backer shirt
Mythos backer shirt
Dragon desktop wallpaper
Dragon jumpstart
Mythos desktop wallpaper
Did you miss one of our previous Kickstarters? The following Kickstarted products are still open for preorders via BackerKit:
Community Spotlight
The following community-created content for Scarred Lands has been added to the Slarecian Vault in the last week:

The following community-created content for Realms of Pugmire has been added to Canis Minor in the last week:
The following community-created content for Storypath has been added to the Storypath Nexus in the last week: