Now Available: Trinity Continuum: New Lives
Mage: The Ascension, Realms of Pugmire, Sales, Trinity Continuum, Trinity Continuum: Adventure!
Now available in advance PDF from DriveThruRPG: Trinity Continuum: New Lives, a Storypath Tasty Bit!
The Paths included in the Trinity Continuum Core Rulebook provide a solid foundation from which to create a character.
However, the list is by no means exhaustive. Here, we provide new Origin and Role Paths to expand the options available for character creation, as well as a variety of new Skill Tricks.
These Paths and Skill Tricks are designed for use with the Trinity Continuum Core Rulebook but are suitable for characters in any era.
This PDF is part of the "Storypath Tasty Bits" program, where every month in 2021 Onyx Path offers a small product that ties into one of its Storypath games.
Check in every month to see what's coming next!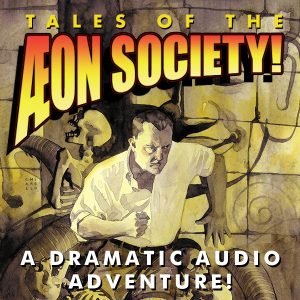 Also available: A Missing Teammate!, the fourth episode of Tales of the Æon Society! is now live! You can catch it on PodBean, or download it from DriveThruRPG!
A new episode will be posted every week, and will all be linked from our audio archive page (linked in the right-hand sidebar).
Follow along as Max Mercer, a cunning daredevil with extraordinary luck, leads an amazing group of daring humans known only as the Æon Society. These heroes travel all over the world to investigate strange phenomena, right wrongs, and protect the innocent.
This week's episode:
A Missing Teammate! What plans does the villainous Dr. Zorbo have for his death ray? Will the Æon Society be able to find him? And who is the owner of that mysterious voice?

Look for Trinity Continuum: Adventure! on Kickstarter soon!
Written by Eddy Webb Directed by Drew Profit and Austin Beach Sound Design and Production by Austin Beach Musical Score by Dayn Leonardson
Cast (in order of appearance):
Crowdfunding Update
Our Indiegogo for Mage: The Ascension 20th Anniversary Edition: Victorian Age launched yesterday, and we have almost a full month to go! We funded in just under 21 hours, and we're already at 108% with $37,875 of our original $35,000 goal, thanks to our 447 backers!
We have some great stretch goals planned, but since we just reached 100% a couple of hours ago, we haven't hit any of them yet. Keep checking back!
Did you miss one of our previous Kickstarters? The following Kickstarted products are still open for preorders via BackerKit:
Community Spotlight
The following community-created content for Scarred Lands has been added to the Slarecian Vault in the last week:

The following community-created content for Realms of Pugmire has been added to Canis Minor in the last week:
The following community-created content for Storypath has been added to the Storypath Nexus in the last week: