Onyx Path Friday At Gen Con 2015: featuring Beast: the Primordial
Beast: The Primordial, News, Press Releases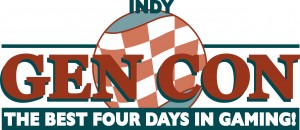 Friday at Gen Con 2015 in radiant Indianapolis!
If you come by our booth at 1103 in the convention center, we are giving away a Beast: the Primordial collectible pin, and a card that you can use as a Willpower bonus during your game! We're only giving these out today, and will have different pins and cards for the rest of the con.
As the newest of our game lines, Beast: the Primordial has just come off of a successful Kickstarter that I'll link to here, because that page still has some of the most concise info about the game, and a link to the full text: https://www.kickstarter.com/projects/200664283/beast-the-primordial-prestige-edition
As shown on that page, the Beast KS enabled several other projects that really give the game some excellent support including a Beast Fiction Anthology, a Beast Ready Made Characters set which includes a Changeling party member, and a companion "quick start your Chronicle" book, Building the Legend.
At our 3pm panel today, What's Up With the New World of Darkness?, we'll also be talking about the Beast Players Guide and the Night Horrors: Conquering Heroes books that are described in our 2015-2016 brochure available at the booth.
Also at our booth today will be Black Hat Matt McFarland and Eddy Webb who will be signing at 5pm. Not only will this be a chance for folks to ask both developers more about their projects, but we're hoping to have special Beast bookplates available for Matt to sign for you and you can put into your copy of Beast: the Primordial when it arrives. (Eddy will sign them too if you want!)
Our Friday schedule of events is:
10-11am: What's Up With the Classic World of Darkness? (SEM1572616) at the Crowne Plaza Hotel- Union Station
12-1pm: Art Portfolio Reviews for aspiring illustrators
2-3pm: Pugmire Demos at the booth
3-4pm: What's Up With the New World of Darkness? (SEM1572617) at the Crowne Plaza Hotel- Union Station
5-6pm: All Art Ain't the Same: RPG Art Directing 101 (1580455 ) with Rich Thomas and other Industry Insiders at Rm 210 or 211 at the Convention Center
5-6pm: Developer signing with Matt McFarland and Eddy Webb at the booth
C'mon and drop by – we aren't scary. Much.