Thank the Stars! [Monday Meeting Notes]
Yes, here in Thanksgiving week, we're going live with the Kickstarter for the most star-wise characters in all of Exalted 3e! The KS for the Deluxe Sidereals book starts tomorrow, as I write this, Tuesday the 22nd at 2pm Eastern US time!
You can be sure to be notified as it goes live by signing up here on the pre-KS page:
https://www.kickstarter.com/projects/200664283/sidereals-charting-fates-course-for-exalted-third-edition
We're looking to create another beautiful Deluxe volume to go along with the Deluxe EX3 itself, as well as the Dragon-Blooded and Lunar books already created! Backers will receive the finished manuscript in sections, and our KS Concierge James will be there to help everybody have a great experience!
Let's see what the stars have in store for us. WooHoo!
I've already seen some folks wondering why we're running this Deluxe Sidereals crowdfunding campaign on Kickstarter after having run one that finished just last week on BackerKit's new crowdfunding platform. (Scion: God.)
It's pretty simple, really: we were trying out BK's platform as part of their beta-testing. We're very happy with it, while recognizing that it is still a work in progress, and we're still reviewing what we learned during the campaign. We're also still seeing what happens from the end of the campaign through to our usual BK post-campaign page.
So, in general, James and I really wanted to end the year with one more campaign – but one that didn't stretch over the New Year – and Kickstarter approved the Sidereals campaign in time for us to run it there. Thus giving us a chance to digest the Scion: God BK campaign.
Which means our options for crowdfunding in 2023 look much clearer than in the start of 2022. Which is good, because wait until you hear about what we'll be running crowdfunding campaigns for next year!
But, let's bring things back to the here and now and leave the prognosticating to the Sidereals! There was a lot to like about the Scion: God campaign, including 2200 backers and being funded over 400% of our goal. We achieved some really substantive Stretch Goals and built up an excellent series of chapters for the Companion book, as well as a Jumpstart and Divine Inspiration – a book giving practical advice and hooks for scenarios to play.
So, for you folks, feedback time if you have a chance in the Comments: How did you like the Scion: God campaign on BackerKit?
Of course, while all this hoopla is going on, we're heading into the last week of Legendlore month! Our DTRPG 90% PDF sale has about a week to give everybody a great chance to check out this amazingly fun and delightfully inclusive 5e game, and the physical book and Screen are 50% at IPR!
There's also the annual Black Friday/Cyber Monday sale about to happen at DTRPG, where you can get wiiiild discounts on our other gamelines!
Also, in celebration of Legendlore, our Onyx Pathcast crew are looking at the entire isekai genre this Friday. That's where you travel from one world (usually mundane) to another (usually fantastic). Legendlore is part of that, there's a ton of anime that falls into that category, and we can look back at the Narnia series and Alice in Wonderland if we want to go all literary with it.
The Terrible Trio of the Pathcast certainly will, so please give them a listen on PodBean or wherever you get your podcasts, this Friday!
You know what else is this Friday? The Onyx Path Friday Game Night at StartPlaying Games! What could be better after all the hullabaloo on Thursday than sitting down to a play a great game after your Thanksgiving holiday? Details below in the Conventions section, and you can follow the link to either run or play some games!
And speaking of Thanksgiving…
It's that wonderful time of the year again: Thanksgiving Thanks!

Every year I ask the Onyx Path crew to send me their thanks for the year, it being the week of our US Thanksgiving holiday, so here we go!
Here's Mirthful Mike:
I'm thankful for how far Onyx Path has come in the last 11 years and how it continues to grow. Eleven years ago this week I was laying out the first of what became many books. I'm thankful that a small freelance gig was the beginning of the next chapter in my career.
How about Dixie?:
I'm thankful for all of our freelancers' and employees' hard work pulling us out of the 2020-2021 quagmire this year, the fans' continued support over various changes, and for having the most supportive colleagues and friends.
Matthew, lord of Dawkins, sez:
I'm thankful for having the chance to delve into the World Below as a writer as well as a developer, and to have such a fantastic creative team around me.
While LisaT opines:
I'm thankful for the entirety of OPP's staff and freelancers who have been very patient with the simultaneous changes of how payments are made and the moving of the OPP office.
Travis the Leg has this to broadcast:
I'm thankful for the opportunity to share in the joy of storytelling with so many people through not only our books, but the twitch channel, online conventions, and in our discord.

Dangerous Danielle adds:
I'm thankful for Rich hiring me on the team and giving me his trust to get Storypath Ultra and other products moving along.
Here's something from our owner, Eddy Webb:
This year, I'm thankful for finally starting to find my way to a new normal after the chaos of the past couple of years. For the first time in a while I've felt creative and productive in ways that haven't been true since 2019.

Impish Ian steps up:
I'm thankful that I get to see plans I made a decade ago start to manifest as real products.
And finally, puffing furiously as I try and catch up to this group of superstars:
I'm so grateful to be able to look back over the year and realize all the fun we've had celebrating Onyx Path's 10 year anniversary (and we still have a tad more than a month to go). We've all had our ups and downs – as alluded to in the Thanks above mine – but have kept going and growing, kept creating and debating, and kept playing and saying:
TEN YEARS, MANY WORLDS, ONE PATH!
---
BLURBS!
---
KICKSTARTER/CROWDFUNDING!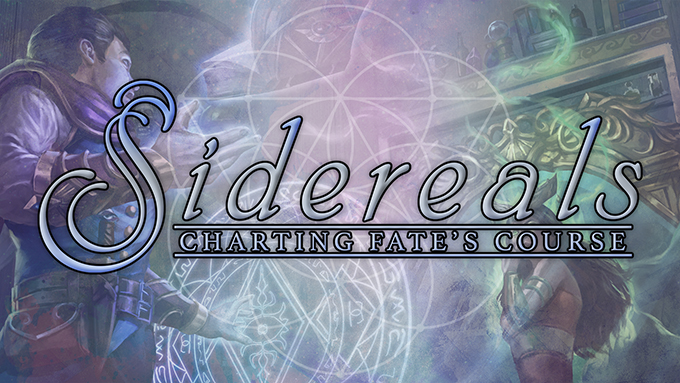 EXALTED: SIDEREALS!
STARTING TUESDAY November 22nd at 2pm Eastern US Time!
https://www.kickstarter.com/projects/200664283/sidereals-charting-fates-course-for-exalted-third-edition
---
Onyx Path Media!
This week:
The Pathcast trio get together to talk about the genre of isekai. Will they stay on topic long enough to actually discuss it? Find out this Friday!
As always, this Friday's Onyx Pathcast will be on Podbean or your favorite podcast venue! https://onyxpathcast.podbean.com/
---
Onyx Path Media now has its own blog on Tuesdays! We'll continue posting our highlight of the week here, but Tuesday will be the day to visit if you want to catch up on actual plays, interviews, deep dives, and other assorted Onyx Path media!
Please check out our attached media schedule for the videos on our Twitch channel this week! In particular, keep those eyes open for our Storypath Showcase, where we give an excellent profile of our various Storypath games and how to play them!
MEDIA HIGHLIGHT OF THE WEEK:
The Old Ways Podcast have another part to their Victorian Mage chronicle coming up soon! You can find episode one right here, and the remainder on their website: https://directory.libsyn.com/episode/index/show/5wspodcast/id/24632166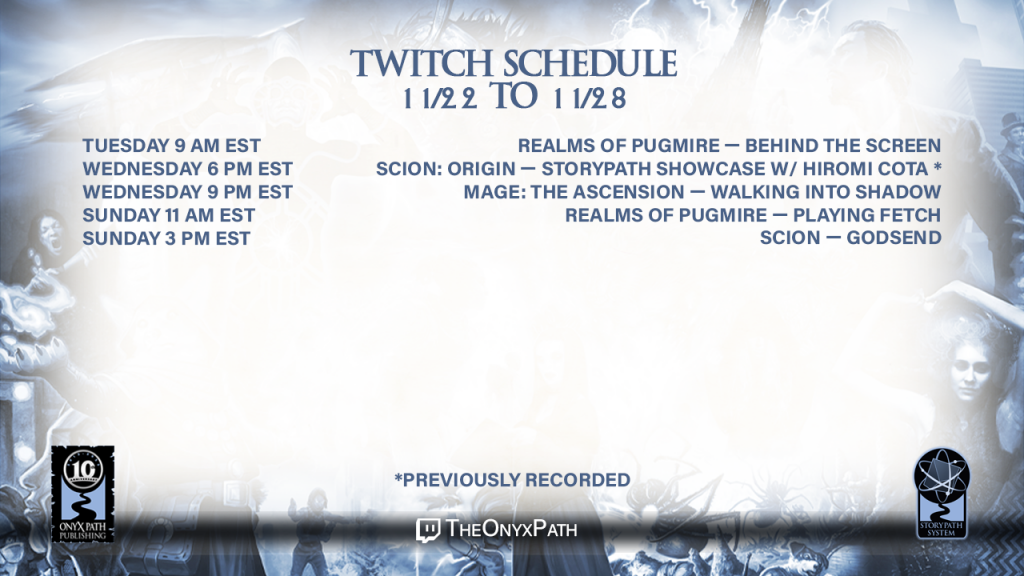 The Onyx Path News discusses recent and upcoming releases! You can find it on our YouTube channel (click the bell to be informed when we go live!) but if you missed the last episode, here it is: https://youtu.be/5298BqosMmc
---
Virtual Tabletop!
The Scion: Origin and Scion Hero Compendiums are now available on Roll20!

https://marketplace.roll20.net/browse/publisher/1716/onyx-path-publishing

Scion is just the start! They Came From Beneath the Sea! and other
Onyx Path RPGs are in development for Roll20 virtual tabletop!

The first of our official Scion sheets designed for Foundry VTT are
now available!

Direct Link: https://foundryvtt.co
Looking for more virtual tabletop resources? We have a selection of
Tokens, Encounters, and more available now at DriveThruRPG!

Get 'em here: https://bit.ly/3SnrNJ7

---
Our Sales Partners!
We're working with Studio2 to provide our traditionally printed books out into your local game stores. Game stores can order via their usual distributors, and can also contact Studio2 directly. And individuals can check out our projects via the links below!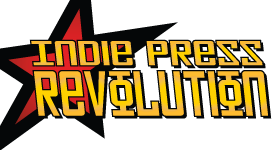 Looking for our Deluxe or Prestige Edition books, dice, and screens? Try this link! http://www.indiepressrevolution.com/xcart/Onyx-Path-Publishing/
The Legendlore Hardcover and Screen are 50% off on IPR: https://www.indiepressrevolution.com/xcart/Deals-and-Specials/
As always, you can find Onyx Path's titles in PDF and PoD versions at DriveThruRPG.com!
DTRPG Black Friday/Cyber Monday sale starts this week. We'll have a lot of our PDF catalog on sale, with special deep discounts on select titles on Friday and Monday. We have featured titles on DriveThruRPG, DriveThruFiction, and Storytellers Vault.

The Legendlore PDF and PDF screen are 90% off on DTRPG!
https://www.drivethrurpg.com/product/370797
https://www.drivethrurpg.com/product/377510
Amazon and Barnes & Noble!
You can now read our fiction from the comfort and convenience of your Kindle (from Amazon) and Nook (from Barnes & Noble).
Check out the Trinity Continuum: Aeon novellas Dawn and Meridian in the Kindle store!
---
On Sale This Week!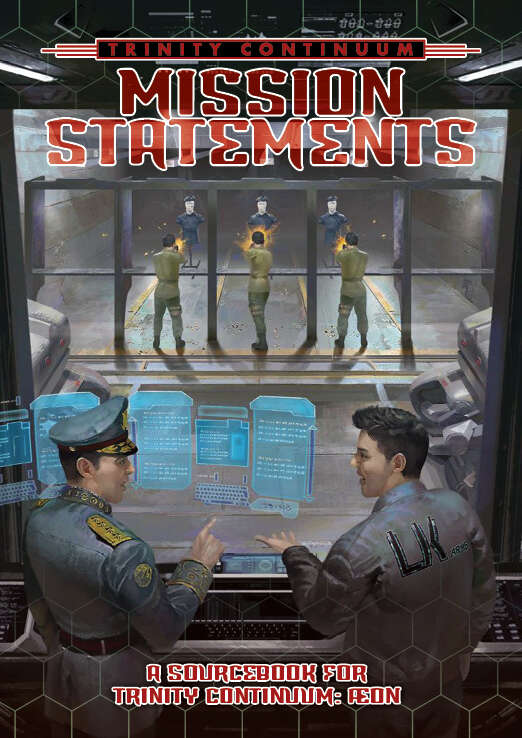 When you need to know what you need to do…here comes Mission Statements for the Trinity Continuum: Aeon this Weds in PDF and physical book PoD formats on DTRPG!
Inside, you will find:
Information about the Æon Trinity and the United Nations of the 22nd century, including their history, structure, drives, and continued influence on humanity.
A look behind the scenes of ten metacorporations, including Orgotek, BioSystems, the deep space International Consortium of Ecomining, and media giant OBC.
A wealth of antagonists to enrich stories and challenge players. The Shabeel of Karroo, Qin conspiracies, mind-altered terrorists, and more await.
New technologies used by these groups, including illegal black-market goods and restricted Code Indigo biotechnology.
Detailed systems for running organizations as Storyguide characters, with vulnerabilities for characters to exploit and notes on the ways organizations respond to these threats.
Requires both Trinity Continuum: Æon and the Trinity Continuum Corebook to play.
---
Conventions!
Because dates for physical conventions are subject to change due to the current COVID-19 outbreak, we don't yet have a list of upcoming physical conventions. Instead, keep an eye out here for more virtual conventions we're going to be involved with!
Game Night With Onyx Path Publishing at Start.Playing is THIS FRIDAY the 25th! Our special focus this month will be Legendlore! (But any of our game lines are welcome!)
Please spread the word about GMing games as much as
possible. Details on how list a game are at the bottom of the page in
the FAQ:

https://startplaying.games/event/game-night-onyx-path
---
And now, the new project status updates!
Our full list of projects will be available monthly on our blog! Check out October's full list report here: http://theonyxpath.com/release-roundup-october-2022/
DEVELOPMENT STATUS FROM EDDY
Here are the projects that moved to the next stage of production:
First Draft
Exalted – Exalted Essence Adventure Trilogy
Danielle: This is going to be three separate, but semi-connected adventures taking characters from low Essence to higher Essence. I'm looking forward to seeing what the team comes up with.
Exalted – Exalted Essence Jumpstart
Danielle: This is going to be a jumpstart (woo-hoo!) and all the ready made characters for each Exalt type.
Final Draft
Exalted – Dragon-Blooded Novella 2 (Roy)
Danielle: This was an extremely fun read, and Lauren really knocked it out of the park. I can't wait for everyone to get a chance to read it.
Post-Approval Development
Exalted – Pillars of Creation (was Exalted Essence Companion)
Danielle: I doubt the team will have much to do on this before sending it off to editing, glad it got approved so quickly!
Editing
Scion – Tasty Bit – Boon Companions
Eddy: Got some great feedback from the Scion team to tie this more closely into some of the core ideas in Scion: Hero, so now it's off to editing!
---
ART DIRECTION FROM MIKE CHANEY!
In Art Direction
Ex3 Sidereals KS – TUESDAY.
Squeaks in the Deep Companion – Getting more sketches in.
In Layout
Proofing
TC Adventure! – Inputting 2nd proof fixes and working on symbology.
Indexing
At Press
Scion Dragon Screen – Printing started.
Scion Dragon – Shipping to KS fulfiller.
Scion Dragon Wallpaper – Going out to KS backers.
Scion Masks of the Mythos – Shipping to KS fulfiller.
Scion Masks of the Mythos Screen – Printing started.
Scion Masks of the Mythos Wallpaper
DMR VTT
Legendlore VTT
Vinsen's Tomb VTT
Pugmire Core VTT
Squeaks in the Deep VTT – Getting them ready to go out to KS backers.
TCFBTG Monsters from the Crypt! – Out to KS backers, gathering errata.
Squeaks in the Deep Jumpstart – PoD files uploaded.
TC: Aberrant – Proteus Nova Compendium
CtL Hollow Courts Novella – Out to KS backers, gathering errata.
TC: Mission Statements – PDF and PoD versions on sale Weds on DTRPG!
---
Today's Reason to Celebrate!
Thanksgiving. Here in the US, it's one of the least-commercialized of holidays. So much so that it gets plowed under by the oncoming Santa, his reindeer, and all the presents and stars and lights and candy-canes. Yet still, a day to take a breath and give thanks – even if it's between football games, or MST3K Turkey Day episodes, or rants from your drunken uncle – that still sounds like something valuable. Even in the midst of family gatherings, maybe it's something intrinsically personal and affirming and worthwhile. I know it is for me.