We're Everywhere! [Monday Meeting Notes]
Eagle-eyed Mr. Richard Fayder, of Fort Lee New Jersey, sent us this example of how Onyx Path has twisted its way into the gestalt of popular culture everywhere. Thanks, Richard, and enjoy your puzzles!
We certainly have a lot of stuff going on, and the stuff we are doing grows in breadth every project we create. Changeling 20th introduced deluxe dice, and Pugmire added regular but game specific dice. Pugmire has also spread our dark path to audio dramas and even interactive audio dramas based on the game world.
(By the way, the Pugmire Kickstarter has less than 24 hours to run! It is now our Kickstarter with the single greatest percentage over the funding goal, and we couldn't be happier! So please, if you have not already done so, check it out and pledge to help us bring a totally new game world into being. That's a daunting task that your pledges can help make happen! https://www.kickstarter.com/projects/200664283/pugmire-fantasy-tabletop-rpg)
But while we're moving forward in that way, I know that there has been a lot of frustration with how a bunch of our magnus opuses (opusi?) have seemingly been stuck in the production process for decades. We feel it, and we know you, our beloved community, feel it as well.
Up until now, I haven't really pulled the curtain back about our most recent reason for delays with some of our projects, even though our oft-quoted mantra of "quality over deadlines" has certainly still been true.
I really didn't want to go into too much detail while still negotiating contracts and procedures with our new license granters, the new White Wolf Publishing. Plus, from the point that their purchase of the WW properties from CCP was revealed, every single change has freaked somebody out, and dealing with that doesn't make it any easier to do our jobs.
Now, though, I've been through multiple discussions with WWP, we've hammered out terms and conditions, and most importantly for you, our dedicated community, we've put in place and are sending projects through a spankin' new approvals process.
That means, I can explain to you folks that the transition from CCP to WWP  challenged Onyx Path on a lot of levels. Because of the negotiations, we had no knowledge of whom was buying the WW IPs, just that something was happening. So we had no idea where we stood with the new owners. Would they be OK with us doing that voodoo that we do so well? We just didn't know. We felt like this person, below: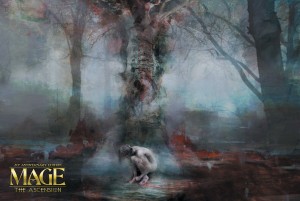 Even after Tobias and Martin went to great pains to get into communication with me, it was still a madhouse for them in terms of the flood of emails and messages and meetings that exploded on them after the sale was announced.
And here is the first time I'm going to say something about WWP I want to get across to all of you reading this: these guys handled that madness better than most folks I've ever seen in their position. The pressures that came down on them are simply not something that can be understood unless you have been through a start-up company that now owns total control over a 20+ year set of IPs that have multiple fanbases and multiple licensees.
Of course, for us, the situation was different. We had our community also yelling, some at us, and even harder for us, and we had our creators just as freaked out, concerned, angry, you name it, as our community at large. Plus, they were in the midst of projects at various stages: would this purchase ruin those projects?
So we basically went ahead with those projects we knew could be finished and as the terms of our relationship with WWP became clearer, it was possible to add more projects to that list. Or, in the case of any 4th Editions for the cWoD, when we learned that one of WWP's major initiatives was a new unified version of the World of Darkness, we were able to say for sure that our 4E plans couldn't be done as we had originally planned.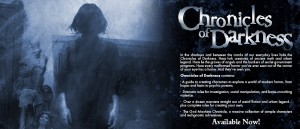 If you remember the twists and turns of how we had to negotiate with CCP to do second editions for the nWoD lines, with first having to do Chronicle Books because they didn't want us doing 2nd Editions, and then being OK with 2nd Edition branding once we had already done a couple of Chronicle Books, then you might appreciate why we held back on some of the nWoD projects we were working on. While I thought we'd eventually be given the OK to proceed, I didn't know. And sinking time, effort, and dollars into projects and then having them cancelled has crashed bigger companies than Onyx Path.
But, as noted in previous blogs in this series, we came to a resolution that actually is far and away a huge boost for what was nWoD: the renaming of the line to Chronicles of Darkness.
Which brings us to the next challenge we had to overcome in order to get our projects out: the approvals process. This is what we've been caught in since January, and which we have been fine tuning in order to come up with a system that fulfills WWP's need to be sure about what is being published, and our need to be creative and not crushed by procedure.
And here is the second time I add in a note about WWP: this is not my first time working with a license and they are, so far, knock on wood, don't say the name of the Scottish play, the most collaborative licensors I've worked with. Blizzard, Sony, WOTC, CCP – all of them dictated terms and we had to live with them. We've been working with WWP to establish terms that can work for both companies, and that is a breath of fresh air.
Unfortunately, getting us all to the point of having a working pipeline for approvals really delayed a whole bunch of projects in the interest of having a system later on that has those approval times built in. On top of the CofD delays and on top of the general WW IP buyout slowdown, that means that some projects like Mage 2nd Edition got hit with a triple whammy.
So please, my apologies for how long this process has affected our projects and for only being comfortable with hinting at what was happening on this blog (go ahead and read through them and you might catch the hints I was giving as to what part of negotiations we were at). I know from the outside that these delays have seemed inexplicable. I hope you can all understand that I just didn't think explaining the situation in public while I was negotiating was a strategy for business success.
We only have to clear through the layout backlog as we did for development, and we should have cleared the path for greater Onyx Path-ing in this year to come.
Thanks for your patience!
BLURBS!
KICKSTARTER!
THESE ARE THE LAST HOURS of the Pugmire Kickstarter! Pledge to enable us to create a beautiful full color, hardcover, 180+ page, 7″ x 10″ core rulebook that we can also get into game stores. We're at over 1200% and need you to join this pack of merry dogs!
We're striving right now towards what may be our last Stretch Goal of also creating a cat kingdom version of Pugmire with the Monarchies of Mau Early Access PDF. If we pass it, backers will get the cat version to start adding in kitties before anyone else!
ON SALE!
GM's Day Sale at DriveThruRPG.com has 9 days left!
Get all kinds of Onyx Path PDFs on sale at craaaaazy prices! V20 Red List, V20 Children of the Revolution, and the Aberrant Storytellers' Guide are just three of the possibilities!
The Demon Storyteller Guide has dropped its cover and is on sale as a PDF and a physical copy PoD on DTRPG! http://www.drivethrurpg.com/product/170165/Demon-Storytellers-Guide
The Demon Storyteller's Guide includes:
Expanded information on angels, including a look at how Incarnations apply to them
A extensive look at the spy genre and its permutations and how they apply to Demon
Three "setting hacks," including an examination of Demon in the Bronze Age
Dreams of Avarice has risen from the sands and PDF and PoD versions are on sale now! http://www.drivethrurpg.com/product/170167/Dreams-of-Avarice
Dreams of Avarice is a personal manifesto penned by the Arisen called the Heretic. This in-character richly illustrated 6″ x 9″ volume exposes secrets and hypocrisies that underlie the world of Mummy: the Curse.
The Chronicles of Darkness Core Rulebook looms out of the shadows, and is now on sale with PDF and PoD versions on DTRPG: http://www.drivethrurpg.com/product/168428/Chronicles-of-Darkness
Chronicles of Darkness RPG rulebook contains:
A guide to creating characters to explore a world of modern horror, from hopes and fears to psychic powers.
Dramatic rules for investigation, social manipulation, and bone-crunching violence.
Over a dozen monsters straight out of weird fiction and urban legend… plus complete rules for creating your own.
The God-Machine Chronicle, a massive collection of sample characters and techgnostic adventures.
Formerly titled nWoD Core Rulebook 2nd Edition.
The Pugmire Early Access book is for sale in both PDF and PoD formats! Backers will still get the PDF for free and a discount on the PoD versions until the Kickstarter is over!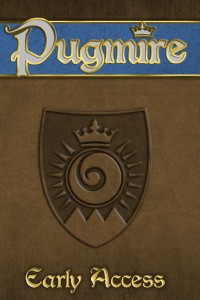 Condition Card PDFs for both Chronicles of Darkness http://www.drivethrurpg.com/product/171574/Chronicles-of-Darkness-Condition-Numina-and-Dread-Power-Cards and Werewolf: the Forsaken 2nd Edition http://www.drivethrurpg.com/product/171573/Werewolf-the-Forsaken-2nd-Edition-Condition-Cards are now up dealt up at DTRPG, with PoD cards going on sale on Wednesday!
If you are into the Pugmire KS, here are also six Pugmire posters available as free PDFs or $.99 physical posters, suitable for framing:
Start spreading the Code of Man!
CONVENTIONS!
Gen Con 2016 planning has started. We booked our rooms in record time, so we are sure of a place to sleep to recharge our tired Onyx brains!
Here are some cons Fast Eddy Webb will be attending! Talk to him about V20 and Pugmire and Sherlock Holmes and Oxford Commas:
---
And now, the new project status updates!
DEVELOPMENT STATUS FROM ROLLICKING ROSE (projects in bold have changed status since last week):
First Draft (The first phase of a project that is about the work being done by writers, not dev prep)
M20 Book of Secrets (Mage: the Ascension 20th Anniversary Edition)
Exalted 3rd Novel by Matt Forbeck (Exalted 3rd Edition)
CtL fiction anthology (Changeling: the Lost 2nd Edition)
Ring of Spiragos (Scarred Lands)
VtM Endless Ages fiction anthology (Vampire: the Masquerade 20th Anniversary Edition)
BtP Building a Legend (Beast: the Primordial)
Scarred Lands Player's Guide 5E: Ghelspad (Scarred Lands 2nd Edition)
Trinity Continuum Core Rulebook (The Trinity Continuum)
DA V20 Dark Ages Companion (Vampire 20th Dark Ages)
Trinity Continuum: Aeon Rulebook (The Trinity Continuum)
Redlines
Mummy Fiction Anthology (Mummy: the Curse)
Wraith: the Oblivion 20th Anniversary Edition
Changeling: the Dreaming 20th Anniversary Edition
Dagger of Spiragos (Scarred Lands)
EX3 Quickstart (Exalted 3rd Edition)
Scarred Lands The Wise and the Wicked (Scarred Lands 2nd Edition)
Second Draft
Arms of the Chosen (Exalted 3rd Edition)
The Realm (Exalted 3rd Edition)
Dragon-Blooded (Exalted 3rd Edition)
Signs of Sorcery (Mage: the Awakening Second Edition)
Cavaliers of Mars
Night Horrors: Conquering Heroes (Beast: the Primordial)
Development
W20 Changing Ways (Werewolf: the Apocalypse 20th Anniversary Edition)
V20 Lore of the Bloodlines (Vampire: the Masquerade 20th Anniversary Edition)
Beast Ready Made Characters (Beast: the Primordial)
Changeling: the Lost 2nd Edition, featuring the Huntsmen Chronicle (Changeling: the Lost 2nd Edition)
Beckett's Jyhad Diary (Vampire: the Masquerade 20th Anniversary Edition)
W20 Pentex Employee Indoctrination Handbook (Werewolf: the Apocalypse 20th Anniversary Edition)
CofD Hurt Locker (Chronicles of Darkness)
DA Tome of Secrets (Vampire 20th Dark Ages)
Scion: Alpha (Scion 2nd Edition)
Editing
Dark Eras Companion (Chronicles of Darkness Dark Eras)
W20 Shattered Dreams (Werewolf: the Apocalypse 20th Anniversary Edition)
Shattered Dreams in-book stretch goals (Werewolf: the Apocalypse 20th Anniversary Edition)
W20 Kinfolk (Werewolf: the Apocalypse 20th Anniversary Edition)
Post-Editing Development:
Scarred Lands Player's Guide: Ghelspad (Scarred Lands 2nd Edition)
EX3 Backer Charms (Exalted 3rd Edition)
Indexing:
Beast: the Primordial Core Book (Beast: the Primordial)
ART DIRECTION FROM MIRTHFUL MIKE:
In Art Direction
W20 Shattered Dreams – Last of the additional art should be in this week.
Promethean: the Created Second 

Scarred Lands PG
Dark Eras Companion
Secrets of the Covenants – Art due in this week.
Necropolis Rio – Cover contracted
W20 Kinfolk

–

Art underway
V20 Ready Made Characters – KMJ contracted and working on it.
In Layout
Mage: the Awakening Second
V20 Black Hand – Fixing a couple of snags.
V20 Ghouls
WtF2 The Pack
Proofing

Ex 3 core book – From RichT: Indexing is rolling along really well.
Dark Eras 
Beast Anthology
At Press
M20 Deluxe Edition – from printer to shipper this week
Chronicles of Darkness Cards – on sale this week
Gauntlet of Spiragos 5e
Forsaken 2 Condition Cards – on sale this week
Beast Screen – proofs approved, being printed
Lore of the Clans LtD Edition – proofs approved, being printed
Lore of the Clans Screen – proofs approved, being printed
Special- projects on hold in the art and production area until an external factor is resolved
Wraith 20 – Can't go further until art notes come in, still being developed by Rich Dansky.
Pentex Employee Indoctrination Manual – Some added and amended text needs to come in.
---
TODAY'S REASON TO DRINK: To RPG books and pizza! Perfect together, and identical business models!