Welcome back to our media spotlight blog, with this week's light once again shining on the fine folks at Simulacra Studios!
The Spotlight
Yes, we've covered the work of Simulacra Studios before, but don't let that stop you from checking them out for the first time. They're arguably the best group of Aberrant actual players out there today (if you know of others of similar calibre, by all means tell us!) and their shows are always entertaining.
If you missed their previous seasons of Trinity Continuum: Aberrant, then don't despair: they've just started Season Three of Atomic Youth, named "Hey Jealousy." Now is the perfect time to hop on, so please do so and let them know your thoughts:
The Round-Up
Keep an eye on our Twitch schedule for all manner of World of Darkness games and videos taking place in February as we hit every game with a 90% sale on DriveThruRPG and Indie Press Revolution! Take advantage while you can.
If you're not already following The Onyx Path on YouTube and Twitch, now's an ideal time to do so. We produce a wealth of content on Twitch every week with a group of stellar partners and content creators, and much of that content makes its way to our YouTube channel too. Check it out for yourselves:
https://www.twitch.tv/theonyxpath
https://www.youtube.com/c/TheOnyxPathRPG
And here's our upcoming schedule: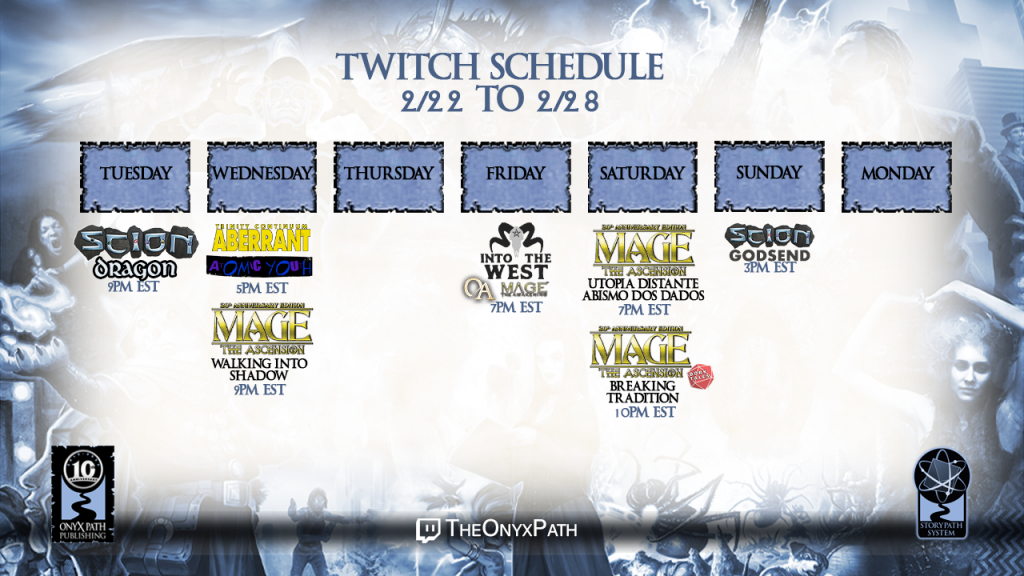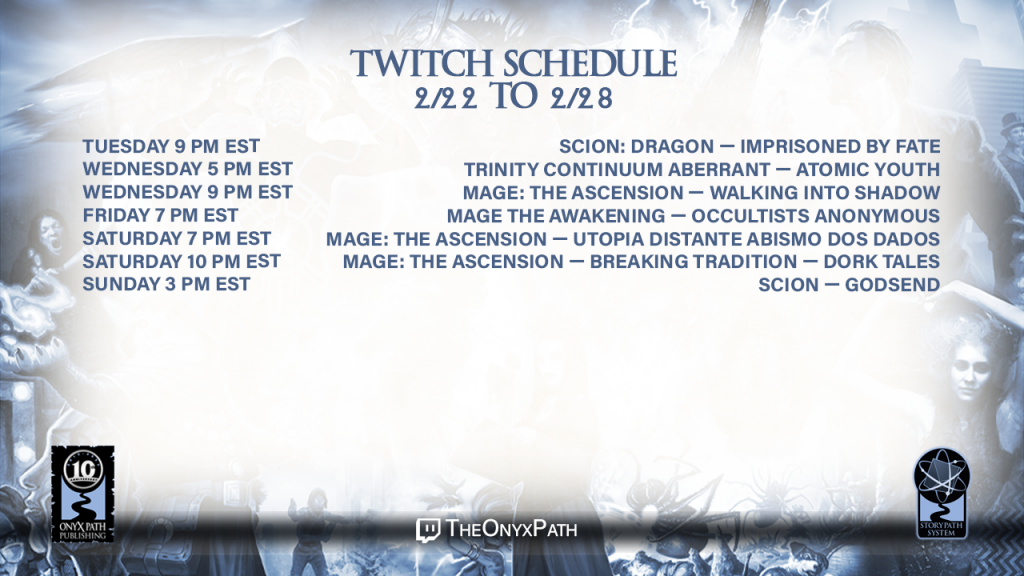 It's a Mage-focused week this week, and that's not really a surprise given the 90% off sale currently on M20 books! Lots of content for you, so don't turn yourselves inside out with a Paradox event just yet.
Meanwhile, the latest Onyx Path News over on our YouTube channel is available for everyone to view. If you want to catch it live, click on the bell on our channel so you're notified each Friday when it streams!
The Storypath Showcase on They Came from Beneath the Sea! concluded recently, and you can find its final episode right here for all your aquatic enjoyment:
And Scion: Dragon – Imprisoned by Fate has just got started over on our YouTube channel, so start a new show with Chaz Callendar's fantastic team!
If you're interested in the Scarred Lands setting, author Alain Giorla just released Vigil Watch: Valmatia over on the Slarecian Vault. It's a superb book with so much setting information and usable content for your D&D games, and you can find an interview about it right here:
And if you want a sneak peek into the way the RPG industry works, upcoming projects, and reflections on old ones, check out Eddy Webb and Danielle Lauzon as they embark on another session of Lunch and Crunch:
Dork Tales continue with their Mage: The Ascension chronicle every Friday at 19:00 PST. Check out our Twitch channel or theirs over on twitch.tv/dorktales to watch live or follow to watch them once they're uploaded!
The amazing Occultists Anonymous continue their stellar Mage: The Awakening show over on our Twitch, too, with the next episode coming on Friday at 19:00 EST! And if you've missed any of their episodes, you can find them all on their YouTube channel here: https://www.youtube.com/channel/UCZi12ZR6Yy8WHjNYvgdQ8Kw
Also running Mage, we have the ominously titled Walking Into Shadow coming this Wednesday at 21:00 EST! We're certainly loading up on Mage: The Ascension content for our Lore of the Traditions Kickstarter! Check out and enjoy this new show, also on our Twitch channel!
Plus plus, we have our very first Portuguese language stream, as our friends in Brazil run Mage: The Ascension – Utopia Distante Abismo Dos Dados! That's coming on Saturday at 19:00 EST, so tune in then and give them your support.
Ekorren has produced an excellent video all about the God-Machine Chronicleover on their channel, so if you've ever wanted to delve into the secrets behind the Chronicles of Darkness, here's a good place to start:
https://youtu.be/pE7L14-_2W8
Devil's Luck Gaming have concluded their epic Exalted: Essence actual play, which you can find on their Twitch channel (http://twitch.tv/devilsluckgaming) along with their entire back catalogue accessible via their website here: https://devilsluckgaming.com/
Do give DLG your support, as their content really is top quality.
Meanwhile, The OpCast are delving into Trinity Continuum: Aeon's setting secrets with Episode Three of their show right here. They're such an enjoyable, relaxing listen, and really informative with it: https://anchor.fm/opcast/episodes/SETTING-SECRETS-Trinity-Continuum-Aeon-Part-3-e1dt7p4
Where I Read…
And now for something completely different, as we look at a few of the active "WIR" threads over on RPG.net, where folks read through our books chapter by chapter and give them deep reviews. Live currently, we have a thread for:
They Came from Beyond the Grave!
So if you're more inclined toward reading your reviews, this is a fine place to go.
Do you want to create media?
If you do, you should use the attached form to submit your suggestions for podcasts, review shows, actual plays, deep dives, and more! We'd love to hear from you so we can profile you on our blog and elsewhere: The Form