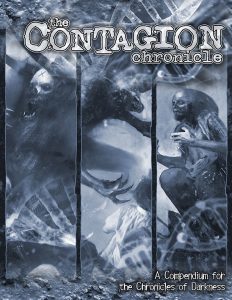 Now available in PDF and PoD from DriveThruRPG: The Contagion Chronicle for Chronicles of Darkness!
The world is ill. You have everything to lose through its sickness.
Loss. Change. Chaos.
Your own blood will rebel against you. Your own herd.
Your own loved ones. Do not believe that just because you've had a hundred years on this earth, you'll be exempt. Just because you were ignorant of it until now does not make you immune. Your waking to the reality of this world — of the great machine in its heart, and the sickness in its veins — is just the first step. You must find others like you and me and make them swear to drive back this Contagion. This world doesn't have long left. You may be a monster, but perhaps with other monsters, you can drive back the destruction of everything.
The Contagion Chronicle includes:
The first Chronicles of Darkness book to provide guidance on playing creatures of all kinds in a shared story.
Systems and powers enabling teams of vampires, werewolves, mages, Prometheans, changelings, Sin-Eaters, hunters, mummies, Beasts, demons, and Deviants all in the same group, encouraging you to explore all permutations of crossover.
A new mythos — the terrifying Contagion — acting as a catalyst for unifying disparate monsters into allied groups known as the Sworn and the False.
Over ten settings from diverse locations all around the globe, each wracked with its own Contagion, and all waiting to be explored.
Sales
The Exalted Sale on Indie Press Revolution ends in just a few days!
The Scion: Origin Phone PDF is 70% off as today's Deal of the Day on DriveThruRPG!
Kickstarter Update
The Kickstarter for Scion 2nd Edition Book 3: Demigod has one week remaining! We funded to 100% in 75 minutes, 200% in less than 12 hours! We're currently at 334% of our $35,000 goal, or $116,791, thanks to our 1897 backers, and we've hit several stretch goals:
Scion: Demigod Reference Screen
Scion: Demigod Companion: New Boons, new creatures, new Guides, new followers, solo play, new relics, cults & covenants, relic crafting
Backer T-shirt
Did you miss one of our previous Kickstarters? The following Kickstarted products are still open for preorders via BackerKit:
Community Spotlight
The following community-created content for Scarred Lands has been added to the Slarecian Vault in the last week:

The following community-created content for Realms of Pugmire has been added to Canis Minor in the last week:
The following community-created content for Storypath has been added to the Storypath Nexus in the last week: