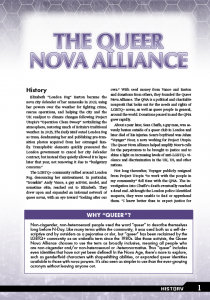 Now available in PDF from DriveThruRPG: The Queer Nova Alliance, a Storypath Tasty Bit for Trinity Continuum: Aberrant!
The Queer Nova Alliance is an advocacy organization at the forefront of combating homophobia, transphobia, and anti-LGBTQ+ violence and legislation worldwide, working with allied nonprofits and political action groups. Behind their group chats and get-togethers, however, is a fully-fledged nonprofit funded by charitable donations from QNA members, who include some very wealthy novas.
This new Allegiance is designed for use with the Trinity Continuum: Aberrant.
This PDF is part of the "Storypath Tasty Bits" program, where every month in 2022 Onyx Path offers a small product that ties into one of its Storypath games.
Other Recent Releases
Did you miss one of these recent releases?
Sales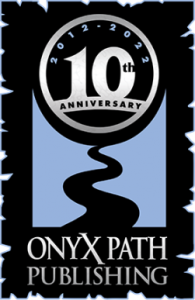 It's Onyx Path's 10th Anniversary! Every month in 2022, we'll be celebrating another one of our published game lines.
November is Legendlore month! You can get Legendlore titles for 90% off!
Indie Press Revolution also has 50% off the Legendlore physical rulebook and screen!
Stay tuned for more OPP10 sales the rest of this year!
Crowdfunding Update
The campaign for Sidereals: Charting Fate's Course launched last week on Kickstarter and we're at 534%! We hit our goal in only nine minutes, 200% after 45 minutes, and 300% after three hours! We're sitting at a comfortable $160,319 of our $30,000 goal, thanks to our 1714 backers, and have already blasted through the following stretch goals:
Sidereals ST Screen
Supplemental Content x8: Arts of Destined Battle: The signature fighting styles of the other four divisions of the Bureau of Destiny. For Starry Eyes Only: ST advice and plot hooks for Sidereal missions. Secrets of Jupiter's Tome: More Terrestrial and Celestial spells, and new sorcerous initiations tailored for Sidereals. The Streets of Heaven: Details on a number of heavenly districts. Salon of Celestial Personages: quick character traits for a number of gods and other denizens of heaven. Thousand Weapon Arts: Even Blade style, Flowing Whip Arm style, Threshing Grain nunchaku style, Crimson Killing Field Style. Bureau Intelligence Briefing: Handouts for new players introducing them to the basics of the setting. Hallowed Vaults Unsealed: Starmetal artifacts and evocations.
Sidereals Jumpstart
Sidereals Novella
Did you miss one of our previous campaigns? The following crowdfunded products are still open for preorders via BackerKit:
Community Spotlight
The following community-created content for Scarred Lands has been added to the Slarecian Vault in the last week:

The following community-created content for Realms of Pugmire has been added to Canis Minor in the last week:
The following community-created content for Storypath has been added to the Storypath Nexus in the last week: