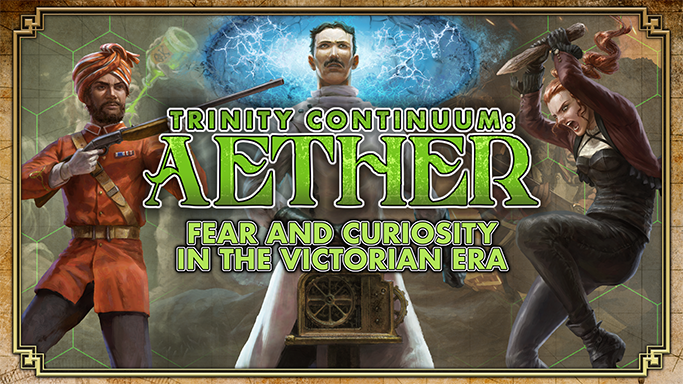 Trinity Continuum: Aether is a game of steampunk adventure, exploration, and mystery set in 1895 in the Trinity Continuum. In the decade prior, Nikola Tesla identified and learned to harness Aether, an energy source capable of spinning new realities or unwinding the effect to restore reality. Now, Aether users dot the globe, silently spinning and unwinding with ease while Victorian-era society goes about unaware of the dangerous experiments taking place in underground laboratories, dark alleys, and foreign worlds.
In Trinity Continuum: Aether, you play as Squires, Gogs, or even Magogs. Squires are individuals capable of wielding Aether devices to spin reality. Gogs have learned to use Aether to enact a temporary change, either in themselves or others. Magogs have stepped outside the bounds of humanity, enacting permanent physical changes, and are able to use Aether without the aid of a device or prompt.
In this game, you can join the war to stop the Martian invasion; hunt down monsters who use Aether for nefarious purposes; use Aether to spin fantastic new realities; protect reality by unwinding dangerous Aether events; and explore strange places and lost civilizations.

The primary purpose behind this Kickstarter campaign is to enable Onyx Path to create a hardcover edition of the Trinity Continuum: Aether book compatible with the Trinity Continuum core rulebook and setting expansions (such as Trinity Continuum: Æon and Trinity Continuum: Aberrant). Your support will allow Onyx Path to produce a fully-developed PDF and hardcover edition for this setting. With your help we create a 7″ x 10″ hardcover with an evocative, action-packed cover image and a Trinity Continuum trade dress. We estimate the book to be between 250-300 pages, with a full-color interior and endpapers on high-quality paper stock.