Goodbye, My Friend [Monday Meeting Notes]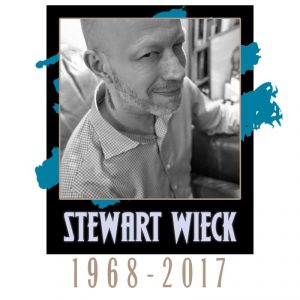 This is the blog post I never, ever, expected to have to write.
My friend, Stewart Wieck, co-founder of White Wolf Magazine and White Wolf Game Studio, creator of Mage: The Ascension, and founder of Nocturnal Media, was finishing a light session of fencing last Thursday when he was struck down by a heart attack and died.
Even writing the above, putting it into cold black and white words, just rips me apart.
And frankly, that list up there of his accomplishments doesn't even touch on the reality of the man, of his grace and kindness. It doesn't speak of passion for writing, and creating, and learning. Of his dry wit and his silly side.
Most of all, it doesn't speak of the sort of man who can decide that he was going to create in a field he loved, tabletop RPGs (back when we just called them RPGs, as there were no others), and made it happen step by step while inspiring others to come to his side and storm the walls of heaven.
Or the TSR castle at Gen Con, for those of you who remember that!
I was one of those people, and in 1986, I sent in art in response to an ad Stew posted in Dragon Magazine looking for illustrators for his upstart White Wolf Magazine. We shared a love of comic books, genre fiction, and RPGs, but were really little alike. Except we both kept our commitments. I delivered the art, issue by issue as the circulation increased, and once Stew saw that I was going to do that with the same quality and regularity as he put forth in getting the writing in and the magazine out, he handed over the art direction duties to me as well.
We had a bad spot when a marketing guy Stew had begun working with to propel the magazine into what was supposed to be a huge increase in circulation ran out with all the ad payments. I thought the magazine was over. But Stew went back to every advertiser and somehow convinced them to pay again so that the issue could be printed. I couldn't have done it, but that was Stewart Wieck – he could explain what needed to happen, and he was so sincere and so obviously a good guy, that people would jump in to help.
Without the magazine, Stew wouldn't have been working closely with Lion Rampant when they were looking for a CEO to keep them rolling. I remember him calling and asking whether I thought he should accept their offer. I thought it was a no-brainer as he had "just graduated college, and a game company wants you to be their CEO? If you keep them afloat, you're a hero – if you can't, then nobody could have".
Stew went one step better, though, and became a partner with Mark Rein*Hagen instead of just the CEO. Oh, and part of the deal was to change the company name to White Wolf Game Studio. Also, Mark had this interesting idea for an RPG: something to do with playing a vampire…
Now, I say that kind of lightly, but the reality is that without Stewart adding both his creative talents (vampires being descended from Cain is just one of his contributions) and his head for business, it is entirely possible that Vampire: The Masquerade would never have been published. And beyond that, his wit and grace and patience provided a center to the WW creative team – a calm in the center of a storm of egos, passions, and crazed creative impulses that could have torn the young company apart.
For years, Stew had the idea that I needed to come down to Atlanta and art direct the company, and for years I let him know that I would need a real salary that we both knew just wasn't possible. I had a little girl I was raising by myself, and was working a full-time job, and teaching, and doing freelance work, of which WW was my biggest client.
In December of 1991, he called me up, and the first thing out of his mouth was, "Rich, we can do it. Vampire is huge, we are reprinting it as fast as it is selling out, and next year it's time to bring you down here."
Which was great, except, like I said, I was raising my little girl by myself, I had a house and dogs, and all of my support systems were where we were. As well as a girlfriend that I had been dating for only a month. To put it bluntly, I was scared shitless. But I trusted Stewart Wieck. He had never let me down. He told me it would be OK.
We were in ATL and I was in charge of all WW visuals and production in May of '92.
White Wolf grew, exploded really, and Stew was not just riding herd on all of the expanding crew, he was creating the third game in the World of Darkness, Mage: The Ascension. A game where you change the world by exerting your will and beliefs upon it. Go figure that's what this guy would come up with.
With three wildly successful games powering the company, and his equally creative and business-savvy brother Steve brought on as CEO, Stewart decided to pursue his dream of WW also being a fiction publishing house. New fiction work for our RPG lines, and also new experimental offerings that might not have been published by the mainstream houses. And my favorite part, republishing the giants that he and I had read so avidly in our early years. Fritz Liebers's Fafhrd and the Grey Mouser stories, the legendary Harlan Ellison, and the ultimate delight of working with Michael Moorcock and republishing his Eternal Champion novels, including the legendary Elric. Also known as the White Wolf. We had come full circle.
Always, it was Stew who made the deals possible. Stew who juggled what could be done with what needed to be done, and who any of us could go to for a calming talk when things got too crazy. I certainly did!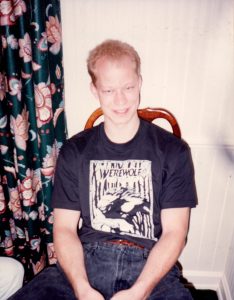 But nothing lasts forever. Working with writers took up time for writing. And if anybody deserved a chance to recover their personal Muse, it was Stew. He was still connected to WW and working on projects, still always, always, available to talk over phone or email (we would have loved Skype then), but he stepped back from the day to day struggles.
Until, several years ago, he was back! Back with Nocturnal Media, a new company he founded. We immediately went in together on buying the Scarred Lands property from CCP as we had both helped create it back in the day and wanted to team-up again like we had done so many times. And the Stew who could pull publishing deals together returned as well, as both older creators and younger became part of Nocturnal's creative circle.
This year at Gen Con, he and I were looking forward to sharing our booth space, our respective companies shoulder to shoulder, he and I shoulder to shoulder once again.
But it was not to be.
Over the years, Stew and I exchanged so many messages. Emails and letters and packages. But most importantly, for years and years he'd send me a message on the anniversary of my first wife's death, just to let me know he remembered. He always signed them, "Your friend, Stewart Wieck".
Goodbye, my friend.
And now you can get these books in the Barnes and Noble Nook store too!
From the massive Chronicles of Darkness: Dark Eras main book, we have pulled this single chapter, Dark Eras: Requiem for Regina (Vampire: The Requiem Elizabethan London 1593). We have shared the world with monsters for millennia. In Elizabeth's London, vampires built their own empire brick by bloody brick while Elizabeth I cemented her grip on newly Protestant England. Carefully balancing demands from those with Catholic and Lutheran sympathies, she forged a police state. Yet London emerged as a thriving cultural center, and from the crucible emerged a Kindred society forever changed.
On sale in PDF and physical copy PoD versions Wednesday on DTRPG!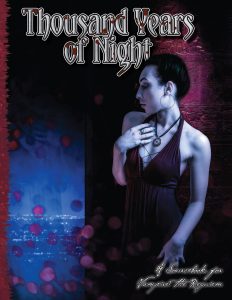 What dark secrets do the eldest vampires hold? Find out in Thousand Years of Night for Vampire: The Requiem! Advance PDF version available now on DriveThruRPG.com. http://www.drivethrurpg.com/product/214130/Thousand-Years-of-Night
You may think that with a multitude of people coming, going, dying and running away, we'd be tired, done, or ready to give up.
Instead, I find myself restless, looking for the next thing. 
There's always a next thing, and I for one am not yet ready to die.
– Elder Kincaid, Daeva Crone
This book includes:
• Detailed instructions on creating elder vampires, including how to base chronicles around them
• A look into the lives of elders, how they spend their nights, who they work with, and why including their roles in both their clans and covenants
• New Devotions, Merits, and Rituals for elder vampires
• The kinds of creatures that pose a threat to elder vampires, including Inamorata, Lamia, Sons of Phobos, a new elder conspiracy, and more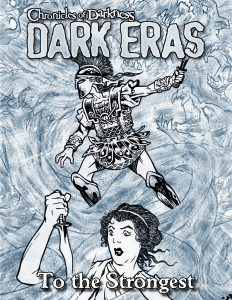 From the massive Chronicles of Darkness: Dark Eras main book, we have pulled this single chapter, Dark Eras: To The Strongest (Mage Death of Alexander 330-320 BCE). In the rise and fall of Alexander the Great's Empire, armies marched and cultures clashed. In the birth pangs of Hellenistic civilization, Awakened sorcerers all over the ancient world met, fought, and joined together. In the chaos of Alexander's assassination and the wars that followed, Cults became Orders amid conflicts still burning in the present day.
http://www.drivethrurpg.com/product/208162/Dark-Eras-To-the-Strongest-Mage-the-Awakening
On sale in PDF and physical copy PoD versions on DTRPG!
From the massive Chronicles of Darkness: Dark Eras main book, we have pulled this single chapter, Dark Eras: The Wolf and the Raven (Werewolf and Geist Vikings 700-1100). The Viking expansion across Europe comes at a pivotal time in history, as new faiths rose to challenge the old and new ways threatened to sweep ancient tradition aside. The Forsaken sail with raiders and explorers, seeking new lands to claim and new spirits to conquer, while Sin-Eaters walk the battlefields bringing the honored dead to their final rewards. The world grows larger and more dangerous by the day, but there are great rewards for those brave enough to fight for them.
On sale in PDF and physical copy PoD versions on DTRPG! http://www.drivethrurpg.com/product/210621/Dark-Eras-The-Wolf-and-the-Raven-Werewolf-the-Forsaken-Geist-the-SinEaters