Now Available: More Journals for V20 and W20!
Chronicles of Darkness, Sales, Scarred Lands, Vampire: The Masquerade, Werewolf: The Apocalypse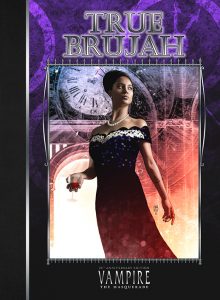 Now available from our RedBubble store: Vampire: The Masquerade 20th Anniversary Edition Bloodline Journals! You loved last week's Clan journals, so we're following those up with some of the most popular Bloodlines, using Mark Kelly's depictions from Lore of the Bloodlines!
But that's not all! We've also added Werewolf: The Apocalypse 20th Anniversary Edition Tribe Journals:
Kickstarter Update
Last week we launched the Fetch Quest deck-building card game Kickstarter! With 7 days remaining:
We funded in 21 hours, and have since raised $17,016 of our $6,000 goal, or 284%
We've got 381 backers
We've passed three stretch goals:

A Kickstarter backer T-shirt
Fetch Quest Booster Cards: 6 Pioneers from the Monarchies of Mau
Did you miss one of our previous Kickstarters? The following Kickstarted products are still open for preorders via BackerKit:
Sales
Our Chronicles of Darkness Sale via Indie Press Revolution continues, with 40% off the following Chronicles of Darkness items from previous Kickstarter campaigns:
Community Spotlight
The following community-created content for Scarred Lands has been added to the Slarecian Vault in the last week:
The following community-created content for Pugmire has been added to Canis Minor in the last week:
The following community-created content for Vampire has been added to the Storytellers Vault in the last week: