Now Available: V20 Ready Made Characters
Sales, Vampire: The Masquerade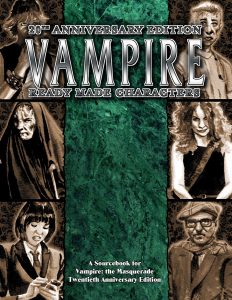 Now available from DriveThruRPG in PDF and print-on-demand: V20 Ready Made Characters
Running a one-night game of Vampire: The Masquerade 20th Anniversary Edition? Wanting to start up a new chronicle, but your players aren't sure what to play? Looking for some examples of how to use the material in Lore of the Clans?

Thanks to our generous Kickstarter backers, these thirteen ready-made characters cover each of the vampire Clans. Each character is provided with background, roleplay suggestions, art, and some potential coteries and plot hooks — everything you need to start your endless nights as one of the Kindred.

Vampire: The Masquerade 20th Anniversary Edition and Lore of the Clans are needed to use these characters.

This book includes:

Thirteen pre-generated player characters, with both starting and experienced character sheets.
A brief breakdown of the character's history and roleplaying suggestions.
Six possible coteries for these characters, complete with coterie charts.
Seven plot seeds to help the Storyteller jumpstart her chronicle.