Outrageous Thrice-glorious Edition of the Exalted Technique! [Monday Meeting Notes]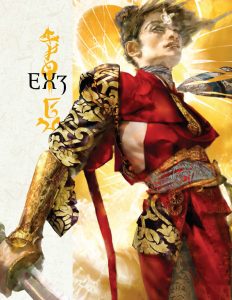 Last week, we put Exalted 3rd Edition on sale!
(I know, I know: "Finally!")
Truth though, it was a long time coming. No one can deny that. Thanks to all of you who stuck with us as we wrestled this mammoth project into being.
And as the number of sales are showing, I have a lot of dedicated Exalted fans to thank!
So: Thanks Again, folks!
For all of you, it's the actual game you can play, and talk about again. For John Morke and Holden Shearer and their writing team, it is the actual book that they have labored over these several years available for everybody to get, read, and play. The start of their edition of Exalted.
For Onyx Path, it is the third section of our drive to revitalize the old White Wolf game lines finally happening. Right on the edge of my original 5-Year Plan, but happening nevertheless! Phew! We are just so very happy the book has been received so very well. I feel like we are finally fulfilling the potential we committed to when Onyx Path was first created.
It's a huuuge book, a gorgeous book! It brings back the mystery needed for adventure, and features systems that both enhance the thrill of combat and enable players to solve problems without a physical fight.
When Fast Eddy Webb and I sat down with Holden and John in New Orleans to talk with them about the next edition, we had no way of knowing that the project would go through the massive changes it did. We had no way of knowing about Kickstarter then and how EX3's would break and set records that would hold for years.
Hell, we had no way of knowing how intense the EX3 Kickstarter would be, or how complicated. None of our previous ones had exploded as EX3's did!
(I mean that in every sense of the word.)
That does bring up a downside to the Kickstarter experience I only just realized: I almost forgot that last Wednesday was the actual "this book is now real!" release, because I was so wrapped up in the steps to fulfill the rewards for our KS backers. I saw the PDF/PoD versions as a step towards getting the Deluxes created (which it is) and wasn't mentally celebrating the release until I was messaged by a backer who was thrilled it was all happening.
"Well, duh."
(I said)
"I am so smart, SMRT!"
Hence, all the lines I just wrote above.
Note to self: enjoy these moments, getting your core book into the community's hands is one of the great payoffs of what we do. Thanks again, folks, for moments like that, they ain't no fun without you.
While all the Exalted 3rd Edition hoopla has been hooping, we've been rolling along as you can see below. As we are creating, one of the exciting things we are hearing about is more and more folks playing our games and video posting their sessions, or streaming them live.
Continuing the EX3 theme, we have ExalTwitch streaming their games, and you really need to see the effort these folks have put in. Here are the ExalTwitch schedule/characters/info etc: http://exaltwitch.webs.com/
And their previous sessions: https://www.youtube.com/playlist?list=PLiS0McnLDI6Q0PmHK9Z7W61UCjzx9HN2r
There is also an ongoing Roll20 plays Mage20 game happening, and here is their playlist: https://www.youtube.com/playlist?list=PLTj75n3v9eTkXCNzUSeNzeTi4unkvghuY
And finally, something we are still just amazed about!
The gang at the Geek & Sundry "spin-off" No Survivors will be playing Pugmire on May 16th! https://www.twitch.tv/geekandsundry
I was going to say more, but honestly, I've got to get back to compiling pitch ideas and setting up the Changeling 20th BackerKit and I want to get this blog out ASAP for folks wanting to see the very likely Pugmire Twitch session I mention above! See ya next week!
BLURBS!
ON SALE!
Here's the link to the press release we put out about how Onyx Path is now selling through Indie Press Revolution: http://theonyxpath.com/press-release-onyx-path-limited-editions-now-available-through-indie-press-revolution/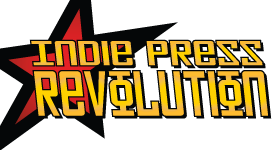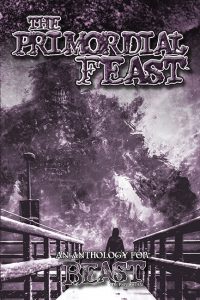 Some…things. Arise. The Primordial Feast fiction anthology for Beast: the Primordial goes on sale this Wednesday at DriveThruRPG.com in PDF, ebook and PoD versions!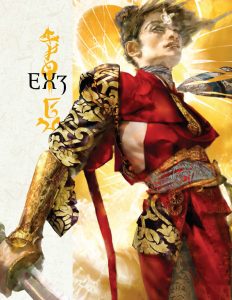 Children of the Unconquered Sun arise!
Exalted 3rd Edition in both PDF and PoD versions is now on sale at DriveThruRPG.com: http://www.drivethrurpg.com/product/162759/Exalted-3rd-Edition
This is your tale. This is Exalted. What legends will they tell of your deeds?
Exalted 3rd Edition depicts both a revitalized and expanded Creation, and the triumphant return of the Solar Exalted—but whether their rebirth will herald the salvation or destruction of the world, none can say. The system redesign takes the best parts of the previous editions and streamlines the mechanics for maximum playability.
Exalted 3rd Edition includes:
New Fiction – Read a new tale by original Exalted developer and author Geoff Grabowski.
New Artwork – See the Realm in a new light with stunning artwork by both new and classic Exalted artists working under the direction of Maria Cabardo.
Expanded Locales – Expand your campaigns with a detailed overview of the sprawling and decadent Second Age of Man. In addition to classic locales such as Chiaroscuro and Nexus, find many new locations not detailed in previous editions, from the treacherous intrigues of Port Calin to the proud warriors of the frigid plains and forests of Medo, held in check only by the iron hand of the Realm.
Intrigue and Mystery – Discover a revitalized Realm, still standing at the brink of civil war, but more dangerous than ever before; and the Lunar dominions which harry its borders, seeking redress for ancient crimes while pursuing modern ambitions.
Expanded Character Creation – Create and play Solar Exalted characters and compelling mortal heroes with more information and fleshed out details.
Combat System – Fight with a new cinematic combat engine, primed to deliver dynamic, exciting, and easily resolved battles between heroes, gods, and armies.
Charms – Explore a vibrant new Charm set encompassing both classic Solar powers from previous editions and all-new powers to shift the course of Creation.
…and much, much more!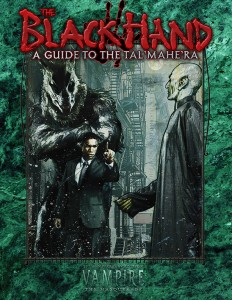 The Black Hand returns! V20 The Black Hand: Guide to the Tal'Mahe'Ra Advance PDF is available on DTRPG! http://www.drivethrurpg.com/product/179023/V20-The-Black-Hand-A-Guide-to-the-TalMaheRa
Beware the Beast: the Primordial PDFs and PoDs NOW on sale at DTRPG.com! http://www.drivethrurpg.com/product/162443/Beast-The-Primordial
You are a Beast, and you must feed. Your Hunger drives you, and your Hunger might damn you. Indulge too lightly and your Horror will take matters into its own hands, roaming the Primordial Dream for sustenance and awakening murderous hatred in spiritually weak individuals. Feed too deeply and too often, and you become sluggish, sacrificing the raw edge of Hunger for the languor of Satiety. You must decide how to grow your Legend – will you be the monster incarnate, the thing that all other monsters fear? Or are you doomed to die under a Hero's sword?
This book contains:
The complete guide to playing a Beast in Chronicles of Darkness
A game system designed for crossover with the other Chronicles of Darkness lines
A look at the Beasts and their broods all around the world, from Vancouver to Tokyo
Rules for Heroes, the deluded individuals who think that this is their story
The Demon Storyteller Guide has dropped its cover and is on sale as a PDF and a physical copy PoD on DTRPG! http://www.drivethrurpg.com/product/170165/Demon-Storytellers-Guide
The Demon Storyteller's Guide includes:
Expanded information on angels, including a look at how Incarnations apply to them
A extensive look at the spy genre and its permutations and how they apply to Demon
Three "setting hacks," including an examination of Demon in the Bronze Age
The Chronicles of Darkness Core Rulebook looms out of the shadows, and is now on sale with PDF and PoD versions on DTRPG: http://www.drivethrurpg.com/product/168428/Chronicles-of-Darkness
Chronicles of Darkness RPG rulebook contains:
A guide to creating characters to explore a world of modern horror, from hopes and fears to psychic powers.
Dramatic rules for investigation, social manipulation, and bone-crunching violence.
Over a dozen monsters straight out of weird fiction and urban legend… plus complete rules for creating your own.
The God-Machine Chronicle, a massive collection of sample characters and techgnostic adventures.
Formerly titled nWoD Core Rulebook 2nd Edition.
CONVENTIONS!
Gen Con 2016 planning has started. We're starting to plan our booth demo schedule and our 2016-2017 Brochure and a Scion/Trinity/StoryPath brochure, too.
Here's a con Fast Eddy Webb will be attending! Talk to him about V20 and Pugmire and Sherlock Holmes and Oxford Commas:
MomoCon (

May 26-29, 2016

, Atlanta, GA)
Matt McFarland (2Ms) and Matt McElroy (3Ms) are guests at Marcon: http://marcon.org/ (May 6-8th). They'll be doing a "What's up with Onyx Path?" panel on Saturday the 7th. Some Onyx Path brochures and some Condition Cards will be given away.
---
And now, the new project status updates!
DEVELOPMENT STATUS FROM ROLLICKING ROSE (projects in bold have changed status since last week):
First Draft (The first phase of a project that is about the work being done by writers, not dev prep)
M20 Book of Secrets (Mage: the Ascension 20th Anniversary Edition)
Exalted 3rd Novel by Matt Forbeck (Exalted 3rd Edition)
CtL fiction anthology (Changeling: the Lost 2nd Edition)
Ring of Spiragos (Scarred Lands)
VtM Endless Ages fiction anthology (Vampire: the Masquerade 20th Anniversary Edition)
BtP Building a Legend (Beast: the Primordial)
Scarred Lands Player's Guide 5E: Ghelspad (Scarred Lands 2nd Edition)
Trinity Continuum Core Rulebook (The Trinity Continuum)
Trinity Continuum: Aeon Rulebook (The Trinity Continuum)
M20 Gods and Monsters (Mage: the Ascension 20th Anniversary Edition)
V20 Dark Ages Anthology (Vampire: the Masquerade 20th Anniversary Edition)
VtR A Thousand Years of Night (Vampire: the Requiem 2nd Edition)
Scion: Origins (Scion 2nd Edition)

Scion: Hero (Scion 2nd Edition)
Redlines
Dagger of Spiragos – Pathfinder Version (Scarred Lands)
EX3 Quickstart (Exalted 3rd Edition)
Scarred Lands The Wise and the Wicked  (Scarred Lands 2nd Edition)
Second Draft
Arms of the Chosen (Exalted 3rd Edition)
The Realm (Exalted 3rd Edition)
Dragon-Blooded (Exalted 3rd Edition)
Cavaliers of Mars
Changeling: the Dreaming 20th Anniversary Edition
Wraith: the Oblivion 20th Anniversary Edition
V20 Dark Ages Companion (Vampire 20th Dark Ages)
Development
W20 Changing Ways (Werewolf: the Apocalypse 20th Anniversary Edition)
Beast Ready Made Characters (Beast: the Primordial)
Changeling: the Lost 2nd Edition, featuring the Huntsmen Chronicle (Changeling: the Lost 2nd Edition)
W20 Pentex Employee Indoctrination Handbook (Werewolf: the Apocalypse 20th Anniversary Edition)
CofD Hurt Locker (Chronicles of Darkness)
Scion: Alpha (Scion 2nd Edition)
Signs of Sorcery (Mage: the Awakening Second Edition)
Night Horrors: Conquering Heroes (Beast: the Primordial)
Editing
V20 DA Tome of Secrets (Vampire 20th Dark Ages)
The Prince's Gambit (Vampire: the Masquerade 20th Anniversary Edition)
CofD Dark Eras Companion Cleopatra Mummy content (Chronicles of Darkness)
MtC Mummy Novel (Mummy: the Curse)
V20 Lore of the Bloodlines (Vampire: the Masquerade 20th Anniversary Edition)
Post-Editing Development:
Scarred Lands Player's Guide: Ghelspad (Scarred Lands 2nd Edition)
Beckett's Jyhad Diary (Vampire: the Masquerade 20th Anniversary Edition)
Indexing:
ART DIRECTION FROM MIRTHFUL MIKE:
In Art Direction
W20 Shattered Dreams 
Scarred Lands PG
Dark Eras Companion
Necropolis Rio
W20 Kinfolk
EX3 Backer Charms – Finals in for WWP approval.
Beckett's Jyhad Diary
CofD Hurt Locker – Contracting. Got fulls and most of the halfs AD'd… just waiting on some artists to email me back.
Mummy Novel
V20 DA Tome of Secrets – working out the buy and my artist roster.
In Layout
Promethean: the Created Second 

V20 Ready Made Characters
Secrets of the Covenants
Ex 3 Screen
Curse of the Blue Nile
Proofing

Ex 3 core book – From RichT: Prepping the actual deluxe traditionally printed files.
Mage: the Awakening Second – At WWP for approvals.
WtF2 The Pack – At WWP for approvals.
V20 Ghouls
At Press
Beast Screen – At shipper.
Beast Prestige Edition
Beast Anthology
Dark Eras 
V20 Black Hand
Special- projects on hold in the art and production area until an external factor is resolved
Wraith 20 – Art direction and layout can't go further until art notes come in, still being developed by Rich Dansky.
Pentex Employee Indoctrination Manual – Some added and amended text needs to come in.
---
TODAY'S REASON TO DRINK: Exalted 3 = Platinum, baby! So great to see so many people excited about the book!