Storytellers Vault now open!
Press Releases, Vampire: The Masquerade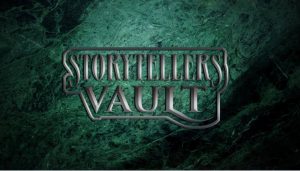 Vampire fans! Have you ever wanted to publish your own By Night setting book? Or cover a bloodline in-depth? Or perhaps you've been working on some Vampire fiction and would like to share it with others? Now, how would you like to be able to sell it? Welcome to White Wolf's Storytellers Vault, now live! You'll be able to publish your own material from any one of VTM's current editions: First Edition, Second Edition, Revised Edition, and the 20th Anniversary Edition.
White Wolf Entertainment and DriveThuRPG Launch "Storytellers Vault", a Creators Content Program for Vampire: The Masquerade

Stockholm, Sweden – August 11, 2017

White Wolf Entertainment, creator of the World of Darkness and Vampire: The Masquerade are partnering with DriveThruRPG to allow independent content creators to publish material set in the World of Darkness using the Storytellers Vault.

For over a quarter century, fans of the World of Darkness have aspired to bring their own unique World of Darkness creations to the masses, and now they can as part of the Storytellers Vault, White Wolf's new creator content program. Beginning with Vampire: The Masquerade, aspiring writers, artists, and game designers can publish their non-canonical table top RPG supplements and fiction stories worldwide in the language of their choosing, and making half of the revenue as their royalty. To assist content creators making the best possible products, Storytellers Vault offers a considerable variety of graphical layout tools including pre-made design templates, and art-packs to choose from.

"World of Darkness fans have always shared their stories with the world, and now is the time we help them to do that in an even greater scale" says CEO Tobias Sjögren. "The magic of the Storytellers Vault is supporting fans that love and want to create content from all eras of our games, we can't wait to see what they produce and how everyone enjoys it!"

The Storytellers Vault features:

Self-publish service for table top RPG material set using any of the four previously published editions of Vampire: The Masquerade
Content creators themselves set the price for the material they publish and receive 50% of the revenue
Access to over 15 templates and art packs produced helps content creators make their work look as professional as the official products from any set era
Publishing in any language supporting the vast global World of Darkness community
Additional content supporting other game lines and historical settings in the White Wolf catalogue will be progressively unlocked beginning in October 2017

The Storytellers Vault is now available at www.storytellersvault.com.

About White Wolf

White Wolf is a licensing company focused on creating the best participatory brands in the world. Since its original entry into the roleplaying game market in 1991, White Wolf's World of Darkness has grown to be one of the most recognized and successful brands in the hobby game space with collective book sales in excess of 10 million copies during this time. White Wolf's World of Darkness brands, which include Vampire: The Masquerade, Werewolf: The Apocalypse, Wraith: The Oblivion, and Orpheus, has been licensed for television series, console and computer video games, interactive media events, and a myriad of merchandise and other entertainment products. www.white-wolf.com Contact: press@white-wolf.com

About DriveThruRPG

DriveThruRPG.com is part of a family of premiere online marketplaces including RPGNow, DriveThruRPG, DriveThruCards, DMsGuild, DriveThruComics, DriveThruFiction, and Wargame Vault. Together, we have been selling digital and print-on-demand comic books, roleplaying games, and fiction since 2001. As of 2016, we have launched multiple community content programs as well as our Community Card Creator for fans to create content for some of their favorite roleplaying and card games. www.onebookshelf.com Contact: matt@onebookshelf.com