They Came From Mid-Winter! [Monday Meeting Notes]
Of course, Mid-Winter is a lot colder, but inside where the convention is, it's nice.
Above, is an illustration from They Came From Beneath the Sea! of the sorts of terrors, horrors, and monsters, you face while playing our new game. Right now, its Kickstarter is doing really well for a totally new game, yet we'd love more backers getting a chance to playtest via the Early Access version available to every backer.
And, we'd also love folks to download the backer previews of the actual text and let us know what you think. Feedback now would be super helpful.
Even though it is Storypath-powered game, we've added enough extra materials that allow for not only a straight-forward style of playing, but also some pretty hilariously meta sessions as well, and we'd love to hear how those new elements like Quips and Props work around your table.
Although, as Matthew lets us know in the Media-focused part of the Blurbs below, at least one group is mixing They Came From! with their World of Darkness gaming! We had expected a bit of Trinity Continuum or Scion mixing since They Came From! is also a Storypath system game, but it's cool that folks are diving in with other mash-ups as well.
In mentioning Mid-Winter, I was, of course, mentioning the convention that all of us from Onyx Path will be attending at the end of the week. We'll have all of our game lines being played, sometimes with the very folks who wrote and created them, so it's a rare chance to play with our whole crew.
We'll also have our Q&A event late Thursday afternoon in the opulent Founder's Room. You have to sign up, but once you enter that sanctum, we have a bunch of announcements of upcoming projects, some alcohol, and we pretty much do an AMA right there in a far more intimate space than your usual panel/seminar meeting room.
Previous years have been hilarious, and lots of stories were shared. It's the right sort of way to meet up at a con where we're already mixing it up with the attendees in games, in the restaurants and bars, and even the hotel lobbies.
Lest you think it's us that are being all spontaneously open and stuff all by our lonesome, that's not the case. Mid-Winter has a deliberate openness and friendliness that's fostered by the whole crew that runs it – so you get a lot of attendees that go every year. I'm personally looking forward to seeing our Mid-Winter friends again this year!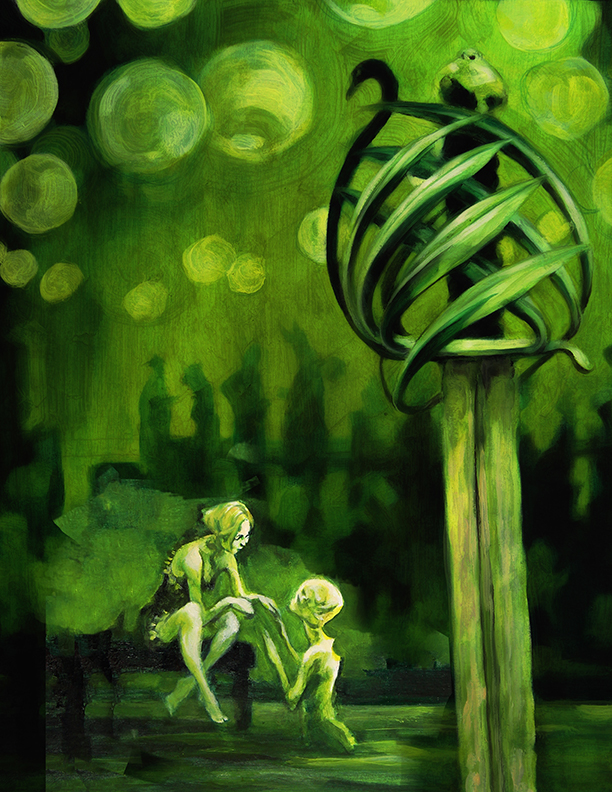 Now, the other part of Mid-Winter is that almost our entire Onyx Path Monday Meeting team will be there in order to have our annual Onyx Path Summit.
The Summit is where we'll look at what went down in 2018 and look towards how we want 2019 to go. We'll do some team-building exercises, and we'll laugh a bit, and probably cry a bit too. It's a rare chance to get us all together, and it sets the tone and direction for our decisions throughout the year.
Since that's happening, and we'll also be announcing new projects at the con, it makes sense that I talk about our plans for 2019 more next week, and so this week I'm going to give you our thoughts about what were the highlights of 2018 – the year that was.
Usually, it's just our crew doing this, but this year Matthew asked for thoughts from our YouTube viewers, so I'll be including some of the ones that talk directly about Onyx Path highlights – even though it's awesome that folks had a great D&D campaign last year or that sort of thing.
Here's the link for that vid and the comments: https://youtu.be/hgs2PdZyR-s
Here Then, the 2018 Highlights:
From Mighty Matt McElroy: A highlight for me was seeing the community content programs for Pugmire and Scarred Lands expand with new titles and fresh ideas from the fans of those games. I can't wait to see what people come up with for 2019.
From Dynamic Dixie Cochran: My highlight was coming on full time and immediately doing the (pretty successful) Dragon-Blooded Kickstarter! I'm also excited we started the Pathcast and shipped Changeling: The Lost Second Edition. (I can't pick one thing!)
From Erlan P on YouTube: Happy holidays The best gaming experience was playing Scion, the Wolfsheim story. The players decided to fight the werewolf to stop the Kindernacht. They fought all the main werewolf character and the Fenrir. The battle was so brutal that at the end of it one character died, two were incapacitated (one even losing a whole arm!) and the only one standing was at -4, just barely moving. It was supposed to be an impossible battle, they should had realized it eventually and ran, but no one gave up, and at the end they were victorious.
From Mirthful Mike Chaney: Dragon-Blooded pdfs going out a little earlier than promised and Lost 2e shipping early.
From David F on YouTube: Favorite moment tied to gaming in 2018 was watching my wife light up when I told her that her likeness would be used in Geist 2.0 (close tie with Scion for her favorite game).
From Monica Valentinelli: A highlight for me was seeing the D&D community geek out about Scarred Lands, Mau, and Pugmire at GameHole Con. It was fun to nerd out.
From Fast Eddy Webb: Getting Monarchies of Mau into backer hands, and early to boot!
From Drew1749 on YouTube: My favorite gaming experience this year was the Changeling 20th Anniversary game one of my friends ran for us. The premise of the game was fairly simple but was so much fun, we were the guardians of a freehold that existed within a middle school in Ohio. As such the heroes were all given jobs as members of the school's faculty regardless of qualifications. There were several groups of changelings in the freehold, each with different assignments and responsibilities. Some students were also Changelings and we had to protect the students and freehold in general from outsiders and fae intrusions.
There a lot more to Drew's comment, and it's all good stuff so check it out if you can, but I had to keep these to a paragraph. Sorry, Drew.
From Impish Ian Watson: Not to beat a dead horse, but it was great having the Kickstarter for the Trinity Continuum, getting the backer PDFs out, and hearing from so many excited fans about the new books.
From Stray Reaper on YouTube: Best Gaming Experience for 2018 definitely has to be returning to my friend's kitchen sink Chronicles of Darkness game. I got to finally play around as an Acanthus.
From Brandon S on YouTube: The highlight for me this year has been my World War II Werewolf the Apocalypse 20th game (which I take far too much joy in stylizing as WWIIWW) set behind enemy lines in Arnsberg, Germany mere days before the British dambusters flooded the area.
From Matthew "The Gentleman Gamer" Dawkins: My highlight was Vampire-themed, and could be one of two things. It was either the release (to wide acclaim) of Beckett's Jyhad Diary, or the excellent writing and successful Kickstarter funding of Chicago by Night for V5. We turned that book around in an efficient manner, and I feel due to the diversity and mixed experience of the writing team, we put together one of the best Vampire sourcebooks ever made.
And finally, from Thiago H: I always like Scion, but got the same problems everyone knows. Crunked system, complicated character creation, the combat system was hard do explain (but I thought it amazing anyway). And then, 2nd edition came. And man, I got really surprised. The system is amazing, character creation is awesome, we have heroism, the players can contribute actively in the narrative, they really weave LEGENDS as the group progresses. I fell deeply in love with everything.
Thiago also has a lot more to say that I couldn't fit, but well worth reading. Thanks!
Finally here's a bit of a wrap-up that could count as my highlight of last year, Ian's year-end review of all the many projects we released last year, as well as a list of all of our Kickstarters. Phew! http://theonyxpath.com/release-retrospective-2018/
Just look at them all, with so much more to come in 2019! Do I have to say it? It's almost like we proving that Onyx Path has:
Many Worlds, One Path!
BLURBS!
---
KICKSTARTER: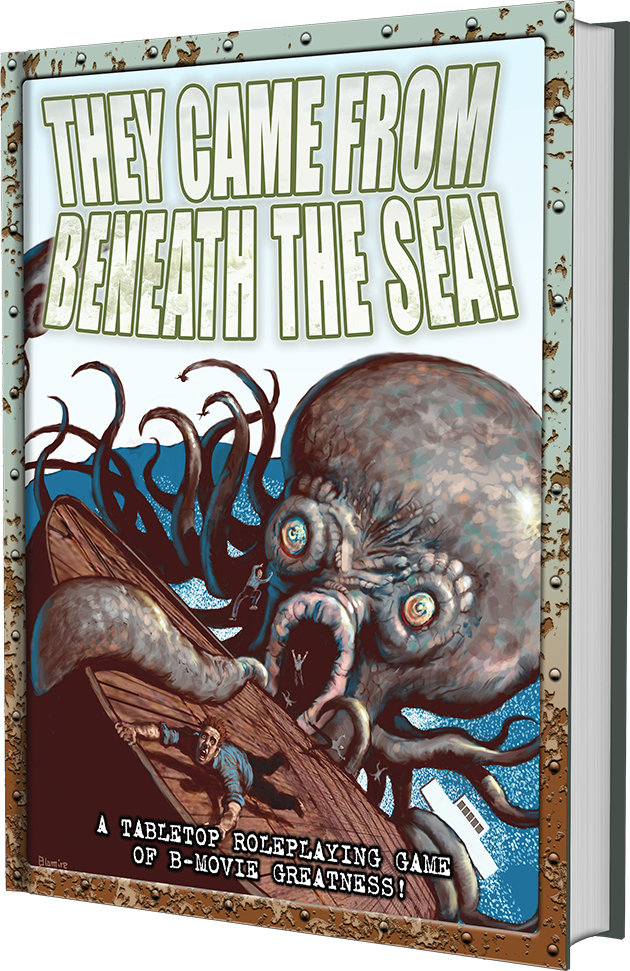 They Came From Beneath the Sea! (TCFBtS!) funded on Kickstarter in less than 48 hours and we've passed through the first couple of Stretch Goals including getting Larry Blamire to illustrate a horizontal scene usable on a screen, two entries for a book of additional soggy Threats, a T-Shirt, an added Adventure Scenario, and we are rising up on the next goal!
TCFBtS! has some very different additions to the Storypath mechanics we'll be explaining during the KS that take an excellent 50's action and investigation genre game and turn it to 11! You can see the actual play here:
Check out the teaser:https://youtu.be/kxLydk4t76s
Hope to see you there back in the 50's, fighting watery menaces and cracking wise!

ONYX PATH MEDIA
This Friday's Onyx Pathcast is coming direct from the Mid Winter Convention, where our three troubadours of terror have a rare opportunity to actually all be in the same room while recording! Plus an equally rare chance to talk with almost everybody from Onyx Path and a huge number of our creators, fans, and random Milwaukeans trying to get in from the cold!
https://onyxpathcast.podbean.com/
And Here's More Media About Our Worlds:
On our channel Matthew Dawkins is recapping his campaign of Scion that he's named "Tokyo Noir". It sounds like a lot of grisly fun and mixes the children of Bishamon, Kissh?ten, and Loki in a murder mystery. Matthew is involving viewers in deciding the direction of the game, so get in early with your suggestions! https://youtu.be/cKpHy3W4Z-E
YouTuber Stuart Armstrong has put together an interesting video on crossing over They Came from Beneath the Sea! with the World of Darkness! Check it out and give his channel a subscription: https://youtu.be/2wBFny9mSng
One of our forumites, Cinder, has started a written recap of their campaign of They Came from Beneath the Sea! It's in its early stages right now, but you can subscribe to the thread for updates: http://forum.theonyxpath.com/forum/main-category/cavaliers-of-mars-and-pugmire/1278691-explorers-of-the-fathoms-tcfbts-actual-play
The Story Told RPG Podcast interviewed Matthew Dawkins regarding They Came from Beneath the Sea! and his fun, informative interview can be found here for all interested listeners: http://thestorytold.libsyn.com/bonus-episode-4-they-came-from-beneath-the-sea-with-matthew-dawkins
The Twin Cities by Night Crew have a Scion 2nd Edition three part series that will be released this week.
The murder of a Scion of Ra halts the progress of the sun across the sky. In response a group of strangers are unknowingly brought together by their divine heritage to investigate the crime.
ELECTRONIC GAMING: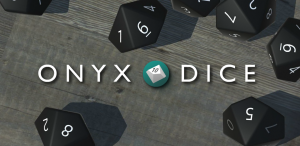 As we find ways to enable our community to more easily play our games, the Onyx Dice Rolling App is now live! Our dev team has been doing updates since we launched based on the excellent use-case comments by our community, and this thing is both rolling and rocking!
ON AMAZON AND BARNES & NOBLE:
You can now read our fiction from the comfort and convenience of your Kindle (from Amazon) and Nook (from Barnes & Noble).
If you enjoy these or any other of our books, please help us by writing reviews on the site of the sales venue you bought it from. Reviews really, really help us with getting folks interested in our amazing fiction!
Our selection includes these fiction books:
OUR SALES PARTNERS:
We're working with Studio2 to get Pugmire out into stores, as well as to individuals through their online store. You can pick up the traditionally printed main book, the Screen, and the official Pugmire dice through our friends there! https://studio2publishing.com/search?q=pugmire
And we've added Prince's Gambit to our Studio2 catalog: https://studio2publishing.com/products/prince-s-gambit-card-game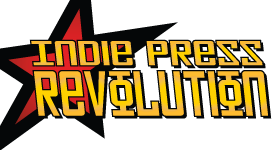 Looking for our Deluxe or Prestige Edition books? Try this link! http://www.indiepressrevolution.com/xcart/Onyx-Path-Publishing/
Here's the link to the press release we put out about how Onyx Path is now selling through Indie Press Revolution: http://theonyxpath.com/press-release-onyx-path-limited-editions-now-available-through-indie-press-revolution/
And you can now order Pugmire: the book, the screen, and the dice! http://www.indiepressrevolution.com/xcart/manufacturers.php?manufacturerid=296
DRIVETHRURPG.COM:
This week, we're offering PDF and PoD versions of the Changeling: The Dreaming Map of Concordia on DTRPG and in a variety of materials on our RedBubble store!
CONVENTIONS
Start getting ready for our appearance at MidWinter THIS WEEK in January in Milwaukee! So many demos, playtests, secret playtests, and Onyx Path Q&As you could plotz!
---
And now, the new project status updates!
DEVELOPMENT STATUS FROM FAST EDDY WEBB (projects in bold have changed status since last week):

First Draft (The first phase of a project that is about the work being done by writers, not dev prep)
M20 The Technocracy Reloaded (Mage: the Ascension 20th Anniversary Edition)
M20 Victorian Mage (Mage: the Ascension 20th Anniversary Edition)
City of the Towered Tombs (Cavaliers of Mars)
Mummy: The Curse 2nd Edition core rulebook (Mummy: The Curse 2nd Edition)
Geist2e Fiction Anthology (Geist: The Sin-Eaters 2nd Edition)
Pirates of Pugmire (Realms of Pugmire)
Distant Worlds (Trinity Continuum: Aeon)
Dragon-Blooded Novella #1 (Exalted 3rd Edition)
Across the Eight Directions (Exalted 3rd Edition)
Exalted Essay Collection (Exalted)
Legendlore core book (Legendlore)
Creatures of the World Bestiary (Scion 2nd Edition)
Chicago Folio/Dossier (Vampire: The Masquerade 5th Edition)
Let The Streets Run Red (Vampire: The Masquerade 5th Edition)
Kith and Kin (Changeling: The Lost 2e)
Scion: Demigod (Scion 2nd Edition)
Redlines
Deviant: The Renegades (Deviant: The Renegades)Scion Companion: Mysteries of the World (Scion 2nd Edition)
Memento Mori: the GtSE 2e Companion (Geist: The Sin-Eaters 2nd Edition)
C20 Novel: Cup of Dreams (Changeling: the Dreaming 20th Anniversary Edition)
Second Draft
Tales of Good Dogs – Pugmire Fiction Anthology (Pugmire)
Heirs to the Shogunate (Exalted 3rd Edition)
Scion Ready Made Characters (Scion 2nd Edition)
Witch-Queen of the Shadowed Citadel (Cavaliers of Mars)
Development
Hunter: the Vigil 2e core (Hunter: the Vigil 2nd Edition)
CofD Contagion Chronicle (Chronicles of Darkness)
Lunars: Fangs at the Gate (Exalted 3rd Edition)
WoD Ghost Hunters (World of Darkness)
Oak, Ash, and Thorn: Changeling: The Lost 2nd Companion (Changeling: The Lost 2nd)
CofD Dark Eras 2 (Chronicles of Darkness)
Night Horrors: Nameless and Accursed (Mage: the Awakening Second Edition)
Scion Jumpstart (Scion 2nd Edition)
Manuscript Approval:
Wr20 Book of Oblivion (Wraith: The Oblivion 20th Anniversary Edition)
Trinity Continuum: Aberrant core (Trinity Continuum: Aberrant)
Editing:
Aeon Aexpansion (Trinity Continuum: Aeon)
Dystopia Rising: Evolution (Dystopia Rising: Evolution)
M20 Book of the Fallen (Mage: the Ascension 20th Anniversary Edition)
In Media Res (Trinity Continuum: Core)
Tales of Excellent Cats (Monarchies of Mau)
V5 Chicago By Night (Vampire: The Masquerade)
V5 Chicago By Night Screen (Vampire: The Masquerade)
Spilled Blood (Vampire: The Requiem 2nd Edition)
Post-Editing Development:
C20 Players' Guide (Changeling: the Dreaming 20th Anniversary Edition)
Signs of Sorcery (Mage: the Awakening Second Edition)
Night Horrors: Shunned by the Moon (Werewolf: The Forsaken 2nd Edition)
Adventures for Curious Cats (Monarchies of Mau)
Indexing:
Scion Origin (Scion Second Edition)
Scion Hero (Scion Second Edition)
ART DIRECTION FROM MIRTHFUL MIKE:
In Art Direction
Dystopia Rising: Evolution – Bunch of art out for approvals.
The Realm – Contracted.
Ex3 Monthly Stuff –
Chicago By Night – Contracting next bits.
C20 Player's Guide – More art coming in and going to WW for approval.
Aeon Aexpansion – Going over the notes.
They Came From Beneath the Sea! – KS rolling.
EX3 Lunars – Most KS finals are in.
Signs of Sorcery – One more piece and then over to layout.
In Media Res – Contracted.
Hunter: The Vigil 2 – KS art in progress.
Shunned By the Moon – Got the notes, contacting artists.
Book of Oblivion

Marketing Stuff
In Layout
Proofing
Scion Hero – Indexing.
Scion Origin – Indexing.
M20: Gods and Monsters
Pugmire Roll of Good Dogs and Cats
Trinity Core – Gathering errata.
Trinity Aeon – Gathering errata.
Ex3 Dragon Blooded – Sending errata to devs.
CtL2e Condition Cards
Ex Novel 2 (Aaron Rosenberg)
At Press
Wraith 20th – New cover proof approved. Everything else is printing.
Wraith 20 Screen – Printed.
Scion Dice – At Studio2.
Lost 2e Screen – At Studio2, shipping with books to KS backers.
Scion Screen – At Studio2.
Changeling: The Lost 2e – PoD proof coming.
CtL2 Jumpstart – PoD processing.
Fetch Quest – Manufacturing finishing.
---
TODAY'S REASON TO CELEBRATE:
After much brouhaha, my granddaughter Natalia came into this world yelling loudly on Jan. 2nd. Yelling loudly being a pretty typical method for dealing with the world in our family.