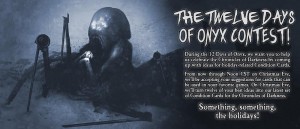 Ho! Ho! Ho! We had so much fun creating the Overly Specific Condition Cards and a special Condition Card for Halloween, we decided we wanted to try something new. During the 12 Days of Onyx, we want you to help us celebrate the Chronicles of Darkness by coming up with ideas for holiday-related Condition Cards.
From now through Noon CST on Christmas Eve, we'll be accepting your suggestions for cards that can be used in your favorite games. On Christmas Eve, we'll turn twelve of your best ideas into our latest set of Condition Cards for the Chronicles of Darkness. Thanks to Mirthful Mike, you'll be able to download the PDF for free on Christmas at DriveThruRPG.com.
Please note: Mirthful Mike has given us an update that the maximum word count for our holiday-themed Condition Cards is 110 words. This is to ensure that the text is readable and presentable on the card. Thanks!
The holiday-themed Condition Cards should be designed for use in the following games:
We will also accept entries for these announced chronicle books, too*.
Mage: The Awakening 2nd Edition, featuring the Fallen World Chronicle
Promethean: The Created 2nd Edition, featuring the Firestorm Chronicle
Changeling: The Lost 2nd Edition, featuring the Huntsman Chronicle
Hunter: The Vigil 2nd Edition, featuring the Slasher Chronicle
To help us track your submissions, the only requirement we have, is that you use this thread on our forums if you want your proposed card text to be considered in the contest.
We hope you'll have fun coming up with new Conditions! We'll poke our heads back in to give you a periodic contest update and share some of your ideas.
To get those sugarplums dancing in your heads, here's a sample card we whipped up for Hunter: The Vigil:
Nogged
You're drunk on spiked eggnog, hopefully enough to get you through holiday conversations about Bill's new car or Suzy's raise. You get +1 to Social actions that require a little extra forbearance.
Beat: You get through a stultifying holiday conversation.
Resolution: You sleep off your liquid courage.
* Please note that no other second edition games have been announced yet, and while we love all our games, Condition Cards don't work with them as they were designed.